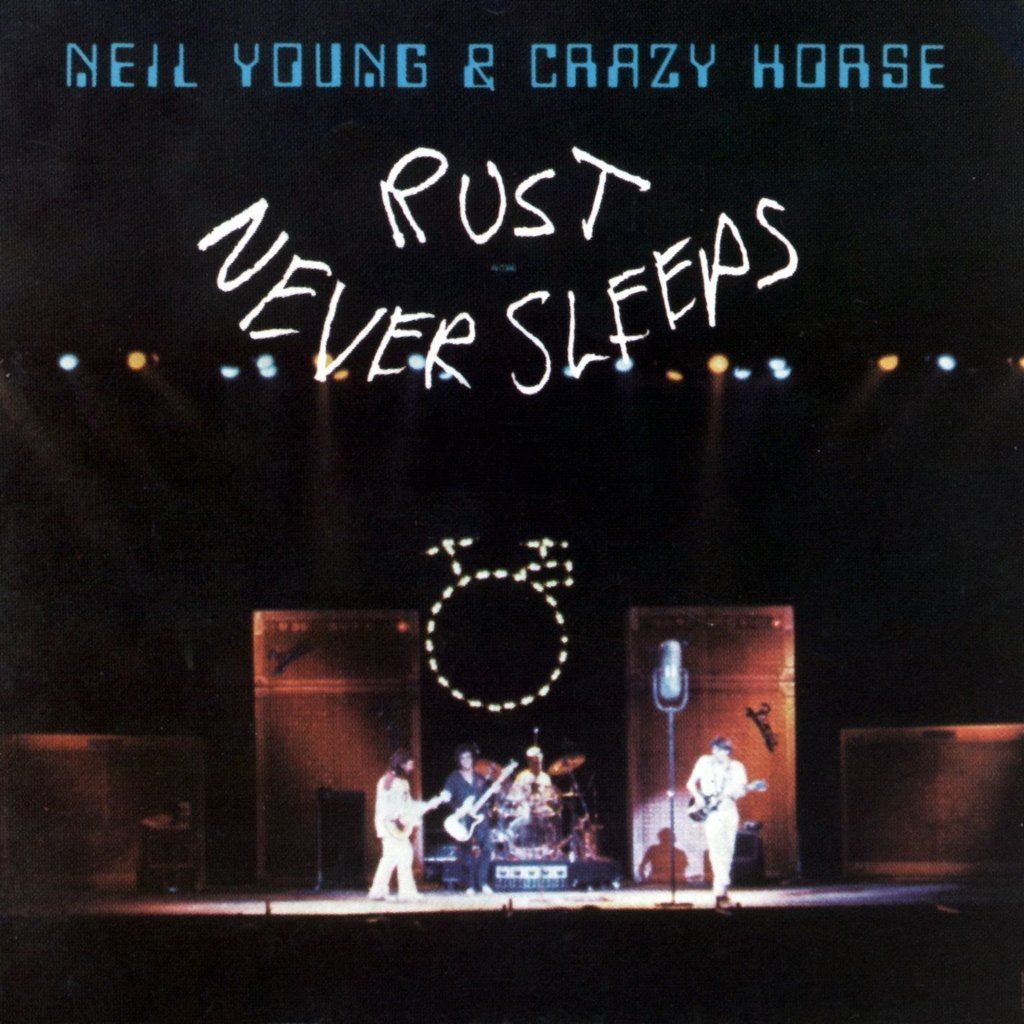 Produced by Neil Young, David Briggs and Tim Mulligan
Side one
1. "My My, Hey Hey (Out of the Blue)"
2. "Thrasher"
3. "Ride My Llama"
4. "Pocahontas"
5. "Sail Away"

Side two
1. "Powderfinger"
2. "Welfare Mothers"
3. "Sedan Delivery"
4. "Hey Hey, My My (Into the Black)"
Personnel
Neil Young – guitar, harmonica, organ, vocals
Frank "Poncho" Sampedro – guitar, vocals on side two
Billy Talbot – bass, vocals on side two
Ralph Molina – drums, vocals on side two
Nicolette Larson – vocals on "Sail Away"
Karl T. Himmel – drums on "Sail Away"
Joe Osborn – bass on "Sail Away"

********
If I had to tell you my favourite Neil Young Album there would be absolutely no hesitation in saying 'Rust Never Sleeps'. It's an interesting album that is acoustic on one side and crazy wild electric on the other. I was first interested in it because of his referencing Johnny Rotten in the first and last track on the album but once that initial fascination was gone a genuine love for the rest of the album took over. I absolutely love 'Powderfinger' and 'Pocahontas'.
Most of the album had actually been recorded live during a Neil Young/Crazy Horse Tour in 1978 and overdubbed in the studio at a later date. Audience noise is removed as much as possible though it does come through on a couple of tracks.
"My My, Hey Hey (Out of the Blue)", "Thrasher" and "Ride My Llama" were recorded live at the Boarding House in early 1978 and all of side two was recorded during the late 1978 tour. Two songs from the album were not recorded live: "Sail Away" was recorded without Crazy Horse during or after the Comes a Time recording sessions, and "Pocahontas" had been recorded solo around 1975.
The title is borrowed from the slogan for Rust-Oleum paint, and was suggested by Mark Mothersbaugh of the new wave band Devo. It is also an aphorism describing Young's musical self-renewal to avert the threat of irrelevance.
Paul Nelson, writing in Rolling Stone magazine, found its first side virtuosic because of how Young transcends the songs' acoustic settings with his commanding performance and was impressed by its themes of personal escape and exhaustion, the role of rock music, and American violence: "Rust Never Sleeps tells me more about my life, my country and rock and roll than any music I've heard in years." The Rolling Stone Critics Poll for 1979 would go on to name it as The Album of The Year.
Click on the links to enjoy further performances.