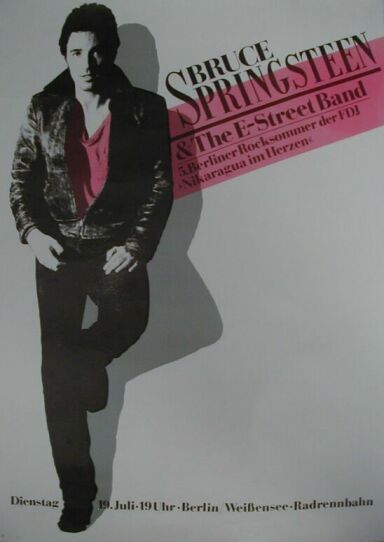 On this day back in 1988 Bruce Springsteen and the East Street Band rocked East Berlin in front of at least 160,00 cheering fans (though the numbers for the show are sometimes mentioned as being as high as 300,000!).
Note from

Brucebase

:
Oddly, this show was announced by the promoters as a "Concert for Nicaragua" (see Poster and ticket stub pictured), which upset Bruce and prompted him to give his infamous German-language speech* prior to "Chimes Of Freedom" about "not being here for or against any certain government, but to play rock 'n' roll for (you) East Berliners...in the hope that one day, all barriers will be torn down." A few minutes before the concert started, Bruce had the words translated and written down in phonetic spelling by his personal German driver, George Kerwinski, and the speech originally included the word "walls" instead of "barriers" – this was changed at the proverbial last minute because it was (rightly) considered too delicate by Jon Landau. Kerwinski had to literally climb onstage during the show and tell Bruce to say "barrier". Bruce does his introduction in German while the band plays in the background. Of course, the entire speech was censored in the original East German television and radio broadcasts anyway, although it was shown on various TV news reports in West Germany. The original broadcast of the concert did not include "Out In The Street" and "Boom Boom" - they were only shown on later re-broadcasts.
* Bruce's short speech during the introduction for Chimes of Freedom:
"Es ist schön, in Ost-Berlin zu sein. Ich bin nicht für oder gegen eine regierung. Ich bin gekommen um Rock'n'Roll zu spielen für Ost-Berlinern, in der hoffnung dass eines tages alle Barrieren abgerissen werden."

"It's nice to be in East Berlin...I want to tell you that I'm not here for or against any government, I have come to play rock'n'roll for the East-Berliners...in the hope that one day all barriers will be torn down..."
Setlist
Badlands
Out In The Street
Boom Boom
The River
The Promised Land
Spare Parts
War
Born In The USA
Chimes Of Freedom
Paradise By The C
I'm A Coward (When It Comes To Love)
I'm On Fire
Dancing In The Dark
Light Of Day
Born To Run
Hungry Heart
Glory Days
Can't Help Falling In Love
Bobby Jean
Cadillac Ranch
10th Avenue Freeze-Out
Sweet Soul Music
Twist And Shout