For the final time in this series of Alphabet Beats (it's possible that a revisit might happen but no promises!) we return to The Letter Z which is for....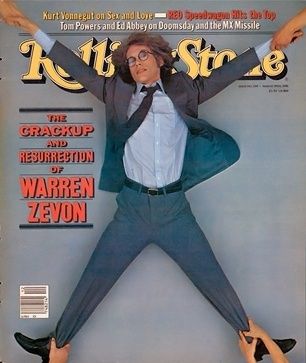 Warren Zevon's first album, released in 1969 was a commercial failure produced by Zevon himself after a fall out with Kim Fowley who originally had been scheduled to produce it. Warren said that the album was released to "the sound of one hand clapping". Sales were very poor and the critics all but ignored it. An attempt at a follow up failed as well as Warren Zevon jumped on board with the Everly Brothers playing keyboards for them and was their band leader and musical director.
But come 1975 he was heading to Spain where he ended up living and working in a small tavern not too far outside of Barcelona. But in September of the same year he was back in LA working with Jackson Browne on a new album that would eventually be released in May of the following year.
(My love of reading liner notes really comes to the fore with Warren Zevon, so please forgive me for getting a little excited when speaking of the artists who played on his albums because I find this kind of stuff thrilling!)
What is of great interest is some of the artists who worked on the Self -Titled album with him: Jackson Browne (of course as he was the producer but played on tracks), Lindsey Buckingham and Stevie Nicks (both of whom had only recently joined Fleetwood Mac and therefore not really well known), Phil Everly, Glenn Frey and Don Henley (The Eagles), J.D. Souther (early writer for The Eagles), Bonnie Raitt, and Carl Wilson (Beach Boys). Whilst the album was not a massive seller it did help lay the groundwork for what was to come.
His third album 'Excitable Boy' was a Top Ten Album (peaking at #8) and it contained the song that he is probably known for the world over, 'Werewolves of London'. 'Werewolves' actually has Mick Fleetwood playing Drums and John McVie on Bass. Linda Ronstadt (who would record a number of Warren's songs) and Jennifer Warnes are on Backing Vocals and J.D. Souther and Jackson Browne were present again.
For Bad Luck Streak in Dancing School he basically has The Eagles (Felder, Frey, Henley, Joe Walsh) playing alongside Ronstadt and Jackson Browne again.
After the release of The Envoy in 1982 he was dropped by Asylum as the album was not a success. Zevon only discovered he had been dropped after reading about it in the Rolling Stone magazine! He went into a bit of a tailspin after this and didn't surface again until 1987's Sentimental Hygiene. On this one he had Peter Buck, Mike Mills and Bill Berry of R.E.M. (Michael Stipe appears on backing vocals on 'Bad Karma'). Also working on this album were Mike Campbell, Stan Lynch, Bob Dylan, Flea, Brian Setzer and even Neil Young turns up on a track!
I could go on and on about this. Let's just say that Warren Zevon was a pretty connected guy. I wanted to mention his last studio album 'The Wind' which includes guest appearances by close friends including Bruce Springsteen, Don Henley, Jackson Browne, Timothy B. Schmit, Joe Walsh, David Lindley, Billy Bob Thornton, Emmylou Harris, Tom Petty, Dwight Yoakam, T-Bone Burnette, Ry Cooder, and Mike Campbell. His son Jordan Zevon appears on the album also (not for the first time).
Warren Zevon passed away 7th September 2003 after being diagnosed with inoperable peritoneal mesothelioma (cancer of the abdominal lining that is associated with exposure to asbestos).
Enjoy Every Sandwich: The Songs of Warren Zevon, released in 2004, is a tribute album to the late Warren Zevon by many famous musicians. It includes two unreleased Zevon songs: "The Wind", sung by actor Billy Bob Thornton; and "Studebaker", sung by Warren's son Jordan Zevon.

The album's title comes from an interview Zevon did on the Late Show with David Letterman following Zevon's having been diagnosed with terminal lung cancer. Letterman asked Zevon if there was anything he understood now, facing his own mortality, that he didn't before. Zevon replied, "Just how much you're supposed to enjoy every sandwich."
Listen Here to the Album

.
1. "Searching for a Heart" – Don Henley
2. "Werewolves of London" – Adam Sandler
3. "Reconsider Me" – Steve Earle with Reckless Kelly
4. "Poor Poor Pitiful Me" – Jackson Browne with Bonnie Raitt
5. "My Ride's Here" (Live) – Bruce Springsteen
6. "Lawyers, Guns and Money" – The Wallflowers
7. "Studebaker" – Jordan Zevon
8. "The Wind" – Billy Bob Thornton
9."Splendid Isolation" – Pete Yorn
10. "Mutineer" (Live) – Bob Dylan
11. "Monkey Wash Donkey Rinse" – David Lindley and Ry Cooder
12. "Don't Let Us Get Sick" – Jill Sobule
13. "Ain't That Pretty at All" – Pixies
14. "Keep Me in Your Heart" – Jorge Calderón/Jennifer Warnes
15. "Keep Me in Your Heart" (Strings Only) – arranged by Van Dyke Parks