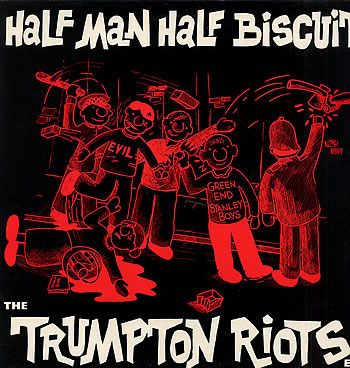 The fourth in the latest series Music is the Doctor brings together 20 tracks of fantastically crazy music that somehow loosely connect together into the theme of Television/Television shows. So we'll begin with the above record by the wonderful Half Man Half Biscuit and see where we go from there.
1. Trumpton Riots - Half Man Half Biscuit.
One of the great Indie Singles by HMHB. Sheds a whole new light on the epic childrens tv show!

2. Batman - The Jam.
A wonderful little slice of theme tune madness from the Guildford Three.

3. International Rescue - Fuzzbox.
Thunderbirds Are Go indeed with Brummie ladies take on by lads from Tracy Island.

4. Fireball XL5 - XTC.
Heard this last week on Gary Crowley's show for first time in ages. A real gem that XTC used to perform live in their set.

5. Captain Scarlet - Siouxsie and the Banshees.
Another Theme that was part of the Banshees set way back at the beginning. It's a bit rough sounding but hey they were not as finely tuned as an Orchestra back then!

6. Kryptonite - Three Doors Down.
Superman indeed, every Superhero has a weakness.

7. Where's Captain Kirk? - Spizz Energi.
The age old question that Spizz is still asking. One of the top indie singles of all time.

8. Where's Bill Grundy Now? - Television Personalities.
One of my favourite EP's and it contains the loveable 'Part Time Punks' as well.

9. Top of the Pops - The Rezillos.
The show that The Clash vowed they would never go on but every other band from the times did.

10. TV Stars - The Skids.
A song loaded with Soap Stars. B-Side of the fantastic 'Into the Valley'.

11. I Am the Six O'Clock News - Larry Norman.
A wee gem from the early 1970's from Christian Rocker Larry Norman.

12. News at Ten - The Vapors.
Another news related one from Guildford lads The Vapors.

13. John Kettley is a Weatherman - A Tribe of Toffs.
The Weather always follows the News and so this one is thrown in for good measure!

14. Good Morning Britain - Aztec Camera with Mick Jones.
Morning TV hasn't really changed much over the years. I love this anthem from Roddy Frame, orginally released on the 'Stray' Album.

15. Peter Gunn - Art of Noise.
I love Cop Shows. There's hardly one on the TV that I haven't watched at least once. This goes back to those vintage shows.

16. What's On The Box? - The Straps.
Not many would have heard of The Straps before (unless you hung around Brixton Squats and went to see the UK Subs back in the late 70's). I wasn't totally sure if this track would even be on You Tube but there it was alongside a few live versions of it. Johnny Grant (aka Jock Strap) is the man on the mic.

17. TVOD - The Normal.
Daniel Miller is a fascinating character and I can remember when this came out we were scratching our heads trying to work out what it all meant...more than 30 years down the road I'm still scratching!

18. Televisions Over - The Adverts.
It would be remiss to not include this one in a theme dealing with television. I have always rated Tim Smith as a great lyricist and he wrote so many brilliant tracks for The Adverts and continues to do so today as a Solo Artist.

19. Television Drug of the Nation - The Disposable Heroes of Hiphoprsy.
I have to confess that I know little about these guys. The song is one when I first heard it I really liked it and it has kind of stuck around in my conciousness ever since.

20. The Revolution Will Not Be Televised - Gill Scott Heron.
Probably one of the finest tunes about revolution you are ever likely to hear anywhere! Don't need to say much else about it as the song speaks for itself.