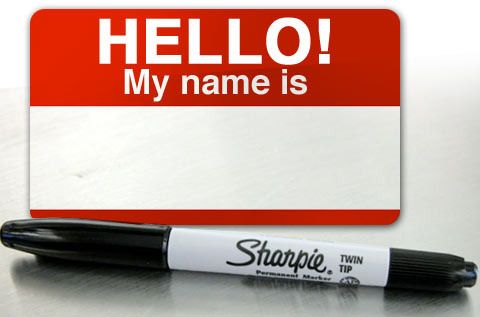 Over on Facebook my news feed is constantly loaded with these type of What's Your Star Wars Name, what's your name if you were in Grease, if you were a fish what would you be called etc and I never do them. So instead of posing a question about what your name is I thought a 20 Track Playlist of songs that have names in the title or within the song itself and once again it's going to be an eclectic mix across the musical stratosphere.
1. What's My Name - The Clash
A good one to kick off with and setting the theme for this week's Music is the Doctor Playlist.
Taken of course from their classic debut album and a song that still rings true today when many people are more known for what they are rather than who they actually are.
2. Sweet Jane - Cowboy Junkies
I have a fond affection for the CW's Trinty Sessions, It still sounds great all these years on I think. Released in 1988 and recorded in Ontario's Church of the Holy Trinity. A great cover of The Velvet Underground's cracking tune.
3. Jilted John - Jilted John
A wee gem that my mate Ralph says is an absolute classic on Vinyl. There's three people in the song John, Julie and of course Gordon who Julie dumped John for. Ah the complex world of relationships!
4. I Love You Suzanne - Lou Reed
Well it seemed fitting to include a tune from the man himself seeing as we had the cover earlier. From 1984. Lou looks super cool in a pretty cheesy video.
5. Hit the Road Jack - Ray Charles
I was tempted to stick the Big Youth version here but Ray Charles was nothing but the personification of cool.
6. A Boy Named Sue - Johnny Cash
When I was a kid this was a huge hit. Some people should be locked up for what they call their kids. Famous people are the worst ones for it!
7. Jimmy Jimmy - The Undertones
So good they named him twice! Kidding!
You sometimes forget how fantastic the singles of Fergal and the Boys were. Had this one on Green vinyl when it came out. Saw it recently on EBay for £17.95!
8. Jenny - The Lurkers
Jenny is a popular name in song and for some strange reason, especially among the punks Jenny was always kinda crazy! I can testify that is true as when I was younger I knew a crazy girl called Jenny who was in love with me despite my lack of interest. She took to spraying on walls around the West End declaring her love for me!
9. Lost in the Night - Secret Affair
Mac the Knife is the subject of this blistering tune. Taken from their third album 'Business as Usual' - a forgotten classic.
10. Lean on Sheena - Bouncing Souls
Well it could have been the Ramones' 'Sheena is a Punk Rocker' but I've gone for NJ band Bouncing Souls. Taken from their 2006 'The Gold Record'.
11. What's the Frequency Kenneth? - R.E.M.
'Monster' is an underrated album I think and I absolutely love this single from it. Who Kenneth was I don't know, he was someone that was mentioned by a couple of thugs who attacked TV news anchor Dan Rather in New York and as they hot him they kept asking "Kenneth, what's the frequency?"
12. Peggy Sang the Blues - Frank Turner
Plenty of Peggy's in songs, a couple by Buddy Holly of course but I've gone with this more modern one by Frank. Dedicated to my friends The Wasters.
13. Kevin Carter - Manic Street Preachers
From the excellent 'Everything Must Go' album. The Kevin of the song is apparently Kevin Carter the Pulitzer Prize winning Photographer who was one of the first journalists to capture an image of a public execution in South Africa by necklacing (a burning tyre placed around the neck of a person). He committed suicide at the age of 33.
A note left on the passenger seat of his car read: "The pain of life overrides joy to the point that joy no longer exists."
14. Kelly's Gone Insane - Duncan Reid and the Big Heads
Another crazy girl! Duncan Reid used to be in The Boys and since leaving them has released two fantastic albums. This track comes off the debut album. His band The Big Heads are a fantastic bunch as well (Alex - guitars/vocals, Sophie - the axe hero and Ciara - drums).
15. Just Like Eddie - Heinz
I know it's cheesy but it's classic cheese!
16. Oh Patti (Don't Feel Sorry for Loverboy) - Scritti Politti
Reached #13 in the charts back in 1988. I loved Scritti Politti back in the day. They had some smashing singles.
17. (Just LIke) Johnny Thunders - Vic Godard and the Subway Sect
Not quite a tribute to former NY Doll Johnny Thunders.
18. Joan of Arc - OMD
Not to be confused with the song Maid of Orleans (The Waltz of Joan of Arc) which was actually the single that followed this one and both are on the Architecture and Morality album.
19. The Miracle (of Joey Ramone) - U2
I know they take a lot of heat but I do believe that they have an honest heart when it comes to their respect for Joey and the Ramones.
20. Mary's Place - Bruce Springsteen and the E Street Band
From The Rising Album and here performed on their last tour. Mary turns up a lot in the songs of Bruce.