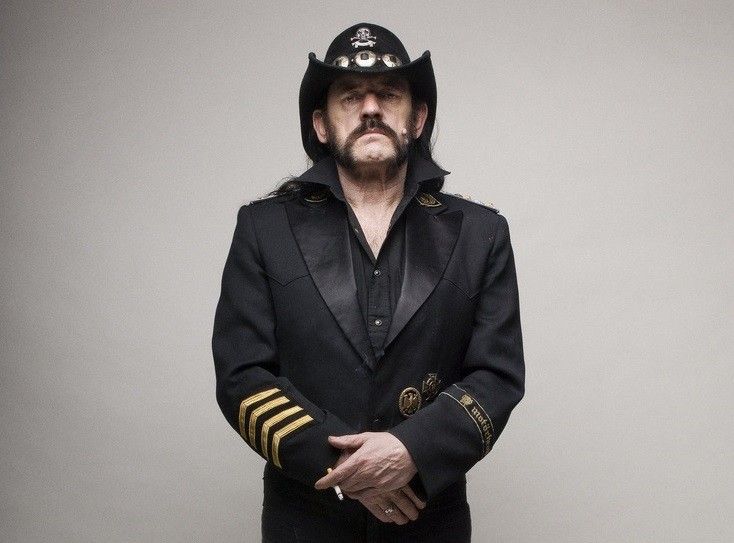 (Picture by Roberts John)
When The Sky Comes Looking For You -
Motörhead (2015)
Motörhead Frontman Lemmy Kilmister passed away four days after his 70th Birthday (24 December). Reports say that two days before his death (26th December) he was diagnosed with an extremely agressive Cancer. He died at his home in Los Angeles on 28th December 2015.
As part of The Rockin' Vickers Lemmy released three singles in the 1960's:
In 1969 he joined Psychedelic band Sam Gopal (formerly known as Sam Gopal's Dream) and released the album Escalator and single Horse / Back Door Man.
In 1972 he joined Hawkwind as Bassist (which he had not played in previous bands). It was here he developed his famous stance and style of playing. He sung lead vocals on Hawkwind's huge hit single 'Silver Machine' (that reached #3 in the UK Singles Chart in 1972). Lemmy was fired from the band in 1975.
Teaming up with Pink Faries guitarist Larry Wallis he set about forming the band that he has become most famous for,
Motörhead. The name was taken from a song that Lemmy had written for Hawkwind's fifth studio album Warrior on the Edge of Time. The song did not make the album until it was reissued on CD.
Originally the name of the band was "Bastard" that but having been informed by his manager that they'd never get a slot on Top of the Pops with the name it was changed to
Motörhead. They made their live debut in July 1975 at The Roundhouse in London, a recording of it exists, it's not brilliant sound by any means but it's worth a listen.
After their debut album On Parole (recorded between December 1975 and February 1976 - produced by Dave Edmunds!) was rejected by United Artists they released their debut single in 1977 on Stiff Records - Leaving Here/White Line Fever. Well, UA put a block on Stiff distributing the single but it did appear on French label Skydog and Swedish label Blitz Records. The original Stiff one is a bit of a rarity, it did finally get a release when Stiff issued a Limited Edition 10 disc Boxset of their first 10 Singles in 1979. The On Parole album would finally see the light of day in 1979 after the band had gained some success (typical record label cashing in!).
Chiswick Records signed the band and would eventually release the debut album,
Motörhead

(the band had basically re-recorded On Parole over a weekend, ditched two songs Fools and Leaving Here, and added were White Line Fever, Keep Us On The Road and a cover Train Kept A-Rollin'. There were some band changes with Fast Eddie Clarke (he had actually joined in 1976) on Guitar and Phil "Philthy Phil Animal" Taylor on Drums in what is now known as the classic
Motörhead line-up.
Over the course of 38 years, and with various line-ups 22 Studio Albums , 9 Live Albums, 10 Compilation Albums, 4 EP's and 29 Singles
would be released under the
Motörhead banner. Their final album, Bad Magic was released in August 2015.
Lemmy also released a couple of albums under the name The Head Cat (Fools Paradise and Walk The Walk, Talk The Talk). The group included Slim Jim Phantom from The Stray Cats and Danny B. Harvey of The Rockats. There's also an album Lemmy Slim Jim & Danny B from 2000 before they took the name The Head Cat (the album used to be up on You Tube but they seem to have taken it down. Here's a track from it though - Stuck On You).
He's guested and collaborated on loads of projects over the years and one of the most famous ones I guess is HeadGirl (
Motörhead and Girlschool) for the St Valentines Day Massacre EP. It reached #5 in the charts. A brilliant cover of Johnny Kidd and the Pirates

'Please Don't Touch'

and
Motörhead performing Girlschool's Emergency and Girlschool performing
Motörhead's Bomber.
* Warning: Does contain Strong Language
Lemmy wanted the music to be "fast and vicious, just like the MC5". His stated aim was to "concentrate on very basic music: loud, fast, city, raucous, arrogant, paranoid, speedfreak rock n roll ... it will be so loud that if we move in next door to you, your lawn will die".