I couldn't quite make up my mind about this so I've chosen two great compilations that offer up a wealth of classic Reggae tunes.
Both are worthy of the title The S4L Reggae (Compilation) Album of the Year 2015.
The well-established and deep-rooted links between reggae and punk are celebrated on a 19-track compilation from Universal Music Catalogue. 'Punky Reggae Selecta' conjures the streetwise, cutting edge music scene of the 1970s with a smart selection of hard-hitting reggae tracks that influenced the new wave of punk artists, by Steel Pulse, Aswad, Third World and many more.

The album begins with a track that perfectly captures the relationship between these two different forms of rebel music. Jamaician reggae favourite Junior Murvin recorded the original in 1976, and it was seized upon by the London band soon to join the vanguard of the punk movement, The Clash. Their version was on their self-titled debut album of 1977, after which Murvin's recording was included in the film 'Rockers' and belatedly gave him a top 30 UK pop hit in 1980.

The compilation also includes tracks by some of the most politically aware commentators on the reggae scene of the time, such as Burning Spear ('Marcus Garvey') and the aforementioned Steel Pulse, with 'Prodigal Son,' from their landmark 'Handsworth Revolution' album of 1978.

The anthemic 'Legalise It,' by former Wailers member Peter Tosh, and 'Crazy Baldhead' by Johnny Clarke also feature, reflecting a time in which reggae was played over the sound systems of punk clubs by the likes of Don Letts (more about him later) and over the airwaves of BBC Radio 1 by John Peel.

'Punky Reggae Selecta' also showcases such heroes as Lee 'Scratch' Perry, with 'Roast Fish and Cornbread,' and Max Romeo and the Upsetters, who feature with both 'War Ina Babylon' and 'Chase The Devil.' Other reggae greats such as Prince Far I, Augustus Pablo and U-Roy also help to demonstrate how reggae fed the punk revolution.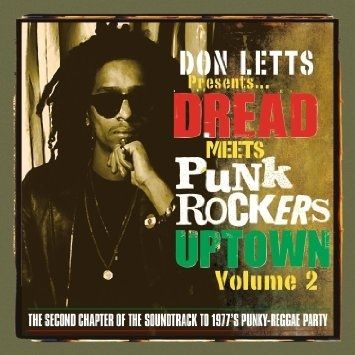 Compiled and annotated by DJ, recording artist and film director, Don Letts, 'Dread Meets Punk Rockers Uptown Volume 2', finally provides a long awaited follow-up to the widely acclaimed first volume, issued some 14 years ago. The 2CD, 38 track set comprises many of the tracks Don spun at the UK's first punk club, The Roxy, which were instrumental in turning a whole generation of punks onto reggae back in the late seventies. The set features notes and images in the booklet included, courtesy of the Don himself.
There's a couple of songs that are included that are also on Punky Reggae Selecta but that merely shows what great tunes they are. Other artists on Don Letts' selection include The Twinkle Brothers, Black Uhuru, Toots and the Maytals, Tapper Zukie, Inner Circle, Culture, Big Youth, The Mighty Diamonds, The Abyssinians and The Gladiators to name but a few.