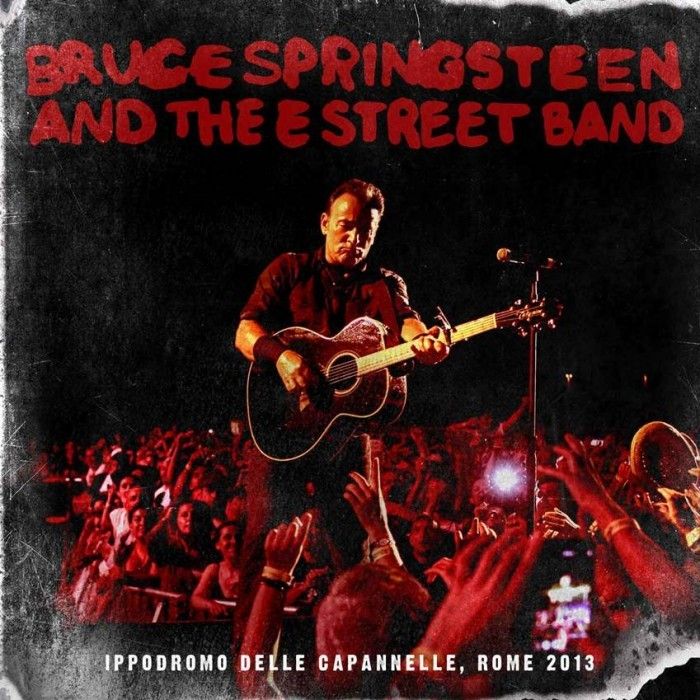 July 2013 found the E Street Band in Europe, playing mostly festivals on The Wrecking Ball Tour. The performance in Rome stands out for a quartet of songs from The Wild, The Innocent, & The E Street Shuffle. Kitty's Back, Incident on 57th Street, Rosalita and New York City Serenade featuring the Roma Sinfonnietta string section were performed together for only the second time since 1975.
This new official release was dropped late last night.
You can get it from Springsteen's Website.
Added Note from Springsteen HQ. This is obviously due to a number of complaints regarding the sound quality.
PLEASE NOTE: We are remixing this show and will repost when remixing and remastering is complete. All fans who bought the original mix will be able to download the new mix for free.
Here's the bootleg of the show on 11th July 2013.
Official Video of New York Serenade
Eleven songs from the first four albums, plus "Roulette" written in 1979, made this 25th show of the 2013 tour a superb, highly unusual set. If it weren't for the 16-year-old emo kid taking pictures next to me while Bruce sang "Incident on 57th Street," I could easily have imagined myself at a show where the singer wore a wool cap or long sideburns. Then add "Summertime Blues," which had been a set opener during the Darkness on the Edge of Town series of concerts; Bo Diddley's "Mona," a steady companion for "She's the One" back then; and The Isley's Brothers' "Shout" and "Twist and Shout," and you have more than half the set's songs written prior to 1980 — and still only a rough idea of how inspired was Bruce Springsteen during his fourth and last Italian show this summer.

After three full days off in Roma, the two fabulous sets delivered in Germany still echoing, the E Street Band took the stage at 8:50 pm, and it was instantly clear that the gentleman from New Jersey had something up his sleeve. His buddy Nils Lofgren had already promised through his Facebook status that they were "working on Rome surprises," advising of an "epic night ahead." (Nils, incidentally, is the only one who had played this venue before — Le Capannelle, a hippodrome located in the northeast of the city — 31 years ago with Neil Young during his Trans tour. Young will perform here with Crazy Horse in less than two weeks.) It's not that "Spirit in the Night" is at all a rarity — during this 2012/2013 tour it has been frequently played — but as an opener, it immediately establishes a level of intimacy and soul power at the same that it makes you expect the unpredictable.

As strong as the pair "My Love Will Not Let You Down" and "Badlands" might be, it's songs four and five that throw sparks and give you shivers, because of the connection between "Death to My Hometown" and "Roulette." Almost 35 years separate the writing of the two songs, but both lyrics talk about destruction, fear, crimes, homes unguarded, spiritual and physical robbery. No matter where you place it, the character is in danger, he has "a song to sing" and has to sing it "hard" and "well." Even in nights when the Wrecking Ball album seems to evaporate a bit, "Death to My Hometown" stays strongly and beautifully in the sets, evoking the sound of the bagpipes and delivering, intact, the anger that pervades that stunning collection of songs released a year ago. Ireland really seems around the corner (and many of us are ready to go to that beautiful country for another handful of shows before the Legendary E Street Band returns home). Then, so soon after Leipzig, the hard-edged, astonishing "Roulette" makes the set again and brings back some of that Tunnel of Love Tour flavor that some of us missed so far. Springsteen sang it hard and sang it well, meaning every single word as if it were his first delivery of this song about the meltdown at the Three Mile Island nuclear power plant. Along with "Lucky Town," which follows — and reaffirms that its author has suddenly opened up the box containing memories of 1992 — "Roulette" provides a powerful, guitar-driven segment that precedes an incredible request-fest.

When Bruce starts staring at the many signs held forth among thousands of arms, the first titles that he reaches for are "Girls in Their Summer Clothes," "Summertime Blues," and "Stand on It." While the first one doesn't make the show, the other two work very well together. The rockabilly flavor of the Eddie Cochran classic is perfect as a bridge to "Stand on It," which in 1985 backed the "Glory Days" single and was an evident tribute from Bruce to that rock 'n' roll era — especially to Jerry Lee Lewis' "killer" piano style. A request from "Gaia and Andrea" to celebrate their wedding anniversary, "Stand on It" is delivered with a sonorous horn section: first Jake Clemons, then Curt Ramm and Clark Gayton take solos before the rest of the quintet explode like we're in a crowded 1940s ballroom.

"Brilliant Disguise" is another very welcome request; among the many veterans, you can spot in the crowd generations of new fans, from Tunnel, from the early '90s albums to the hits from the Y2K and so on). After that, we all jump into a rocket ship that flies us to another planet and comes back 45 minutes later.

In days of "full album" shows, Bruce picks the four longest songs from his second record — more than a "half album" — and makes our day. No one from this planet could have predicted a sequence of "Kitty's Back" immediately followed by the complete side two of The Wild the Innocent & the E Street Shuffle. Since Bruce never announced it, each song as it comes is more astounding than the one before: "Incident on 57th Street," into "Rosalita," into — yes, finally! — "New York City Serenade." The Wild & Innocent closing track was, before tonight, surely among the wildest dreams of every soul attending the show. After being put to rest by Springsteen in 1978, it was only played ten times since 1999, and only in the U.S. This stunning, long-awaited European debut is enriched by the Roma Sinfonietta, a string section directed by Leandro Piccioni, a group of musicians whose collaborations rank from Michael Nyman to Quincy Jones, and from Roger Waters to, last but not least, Ennio Morricone, whose C'era una volta il west (Once Upon a Time in the West) serves as the walk-in and walk-out music for this incredible night at Le Capannelle.

We could have gone home at this point, right after we heard, live, side two of one of the most beautiful and most underrated pop albums of all time, and our hearts would've exploded anyway. But Bruce Springsteen is special, we all know, even if we are always ready to complain about track lists and career moves (I do, all the times, as do many of my buddies); his blend of passion, sincerity, energy, fun makes him, at 63, the best performer in the world and his show the place to be, every night, and the next one.

From "Shackled and Drawn" (Cindy Mizelle's contribution and her interplay a là Merry Clayton makes me think of this as the "Gimme Shelter" of our times) to the very last note of the acoustic, intense "Thunder Road," Bruce manages to turn what may look like a regular show ending into a triumph. He completes his half-Born to Run (can we say that two "half-albums" in this case are better than one?) and giving us the best long coda possible to "Twist and Shout": a full rendition of "Shout" that literally puts everybody in the house on his or her knees.

When at the end of the back-to-back Isley Brothers songs an exausted Bruce Springsteen shouts into the microphone, "I'm just a prisoner of rock 'n' roll," I see a small group of 14-15 year old girls smiling at each other while somebody takes a picture of them. They want that guy in the picture with them, they make sure he is on the big screen behind them. They might not know what rock 'n' roll really means and where it came from, but they trust him.
- Ermanno Labianca reporting