The Scream is the Debut Album from Siouxsie and The Banshees. Released on this day in 1978 it is an album that is a regarded as a classic of it's time. With good reason as well as it set out the stall of Siouxsie and The Banshees that showed they were well and truly prepared to move beyound the confines of Punk as it was then understood. It is regarded as a landmark album in terms of Post-Punk (quite where they find all these terms and squeeze bands into the mold of that "genre" is beyond me). Personally I still regard it as a Punk album, though one that broke the mould created by the music press and Record Labels, and make no apologies for doing so.
One thing was totally clear with the Debut Album was that the band had made a lot of progress musically, this had come about through constant live performance and having the opportunity to record prior in a studio to getting a Record Deal with Polydor (they had already completed two sessions for John Peel - more of that later).
When they formed in 1976 to play at the 100 Club Punk Festival on 20th September they had consisted of Siouxsie on vocals, Sevrin on bass, Sid Vicious on Drums (!) and Marco Pironi on guitar. They played one track only, which consisted of 'Deutschland Uber Alles', 'Knocking on Heaven's Door', 'Twist and Shout', and 'The Lords Prayer' all lumped together into a 20 minute improvised jam (Listen Here Part One and Part Two). It was pretty rough.
They had intended to break up after that one show but were asked again to play and within a couple of months they had added Kenny Morris on Drums and Peter Fenton on Guitar (but he was replaced because he was deemed a "a real rock guitarist" and by July 1977 John McKay held the position).
On 29th November 1977 the band entered the Maida Vale Studios to record their first session for John Peel. Tracks for teh session were: Love In A Void, Mirage, Metal and Suburban Relapse. In February 1978 they went back to Maida Vale to record their second session, tracks this time included: Hong Kong Garden (which six months later would actually be their Debut Single for Polydor but at this point they were still not signed), Overground, Carcass and a cover of The Beatles' Helter Skelter.
After finally finding a record label who would give them complete artistic control they signed to Polydor in June. As their Debut Single Hong Kong Garden was released on 18th August the band was in the studio taking a week to record the Debut Album and three weeks for Mixing. They obviously had a clear idea what the album would sound like as they had already recorded 6 of the tracks for John Peel and Demos had been made at Pathway as they laid down Metal Postcard, Suburban Relapse, The Staircase (Mystery), Mirage and
Nicotine Stain (Not sure of the dates for these demos). All of these tracks which was also included in the Deluxe Edition of The Scream that was reissued in 2005 and in 2007 released as
Voices On The Air.
There's also an iffy sounding Bootleg called Before The Scream that includes live material and demos. Despite the poor sound quality it's an interesting account of the early days that includes Captain Scarlet Theme Tune, Psychic, Scrapheap, Bad Shape, 20th Century Boy, The Lord's Prayer, Make Up To Break Up, Love In A Void, Helter Skelter and Hong Kong Garden. I haven't listened to it all as of yet but it's interesting enough to include here for your listening pleasure.
One of the things that's actually quite striking about The Scream is the absence of the Debut Single. Obviously having Complete Artistic Control meant they could easily make the decision not to include it. The other thing that is very clear from the album is that there isn't actually even a future single on it! Well, that's sort of not so true because Metal was released as a single in Germany in June 1979 with a German vocal and entitled Mittageisen and released in the UK at the end of September backed by Love In A Void (it would reach #47 in the charts in the UK).
Their second single (which normally would have come from the album, but didn't) The Staircase (Mystery) / 20th Century Boy did not go as high as the Debut (that peaked at #7) but did give them their second Top 30 single peaking at #24.
Upon release it pretty much received good reviews from what I remember. Sounds even awarded it Debut Album of the Year.
For the NME, Paul Morley, described the music on The Scream as "unlike anything in rock":
It is not, as some would say, chaotic – it is controlled. Each instrument operates within its own space, its own time, as if mocking the lines of other instruments. Known rock is inverted, leaving just traces of mimickry of rock's cliches – satire that often bursts with glorious justification into shaking celebration (as on "Helter Skelter"). It is easy to gain attention by doing something which is crudely obviously out of the ordinary, but the Banshees have avoided such futile superficialities: it is innovation, not revolution, not a destruction but new building. It has grown out of rock – Velvets, Station to Station, Bolan. And Siouxsie's staggering voice is dropped, clipped, snapped prominently above this audacious musical drama, emphasizing the dark colours and empty, naked moods.
There was a lot of great expectation about the album and it didn't disappoint.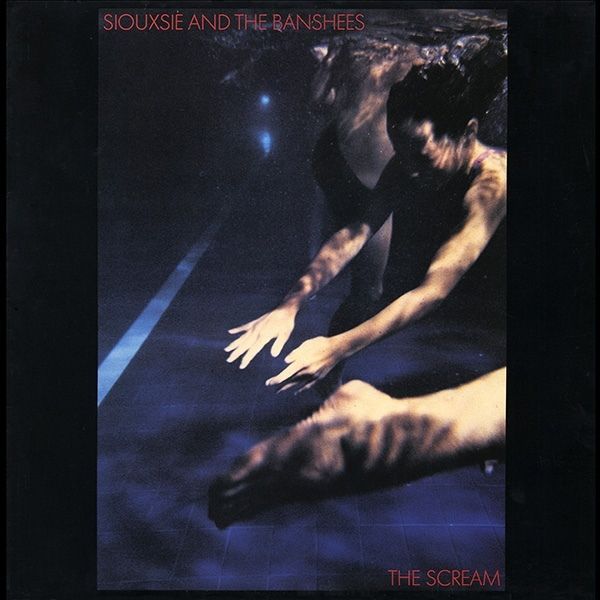 The Scream - Siouxsie and The Banshees
Produced by Steve Lilywhite
Released 13th November 1978
UK Chart #12
Siouxsie and The Banshees
Siouxsie Sioux – vocals
Steven Severin – bass guitar
John McKay – guitars, saxophone
Kenny Morris – drums, percussion
Here's a nice wee bonus. This is a show that I was at back when I was 14 years old. In October 1977 when they played at the Greyhound The Slits had supported them. For this show in February it was The Fall and that was first time apart from a film on TV of them singing Industrial Estate that I had laid eyes upon Mark E. Smith.
It's bizzare all these years on listening to this. Brings back so many memories of the people I used to hang around with and that crazy last train ride home from East Croydon hoping that the Teddy Boy's wouldn't storm the train and beat you up!