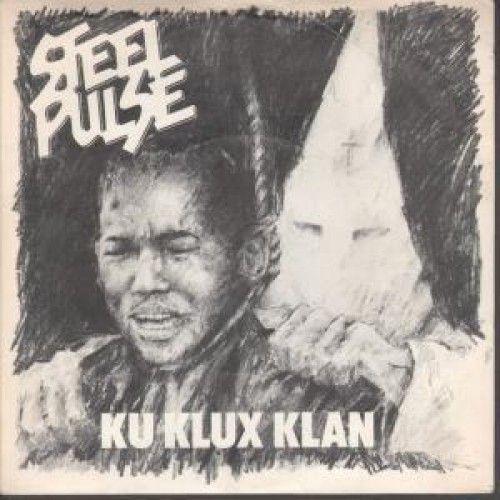 Ku Klux Klan / Ku Klux Klan (Dub) / Bun Dem (12" only)
Produced by Steve Lilywhite & Godwin Logie
12" Version (includes Dub)
Steel Pulse were formed in 1975 in Handsworth, Birmingham. Their first three singles were released on three different labels between 1976-77 and they signed to Island Records which was a very strong supporter of Reggae Music and not just British Reggae.
They didn't find a lot of love when they started from the Caribbean Clubs in and around the Midlands because of their belief in Rastafarianism. But one outlet welcomed them with open arms and that was the Rock Against Racism community and they played alongside many of the Punk and New Wave bands of the time building a following along the way.
Signing with Island Records was a great move and they didn't disappoint as they released an absolutely brilliant Debut Album - Handsworth Revolution and of course this classic single Ku Klux Klan.
12" B-Side
One of the lasting images I have of Steel Pulse is seeing them on a Rock Against Racism bill and when they came to perform the single Ku Klux Klan two members of the band put on Klan hoods! It was very unnerving to watch but very powerful at the same time.
We have to remember that during the times when this was released as a single that the UK was going through a very difficult phase with racism on the rise and right wing groups like the National Front were spreading their cancerous message of Anti-Immigration and committing all manner of violence upon any who opposed them... Just reading that back again and it's like switching on the TV and witnessing what is actually happening right now!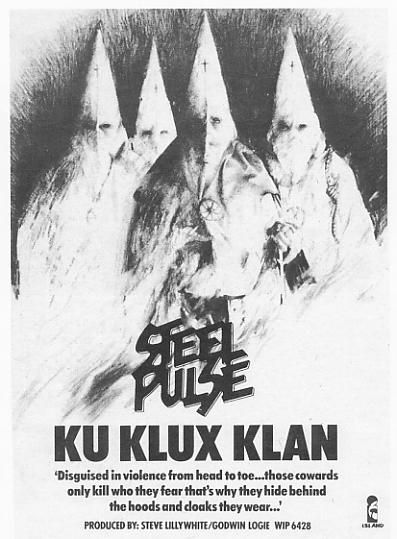 The adverts for the single were pretty outstanding as well. I don't know if in this day and age they would get away with it though!