Back in May I spotlighted Johnny Cash's Folsom Prison Blues album and today continuing the theme of great Live Albums I want to shine the light on the second of his Prison Albums - At San Quentin. It was recorded live on 24th February 1969 at San Quentin State Prison.
It was his 31st Album release and gave him a his first #1 album in the USA and in Canada. It was actually his only #1 album on the main Billboard Chart (though he did have a number on the Country Chart) whilst he was alive. His second album to reach #1 came three years after his death, American V: A Hundred Highways (his 93rd overall album!)
At San Quentin - Johnny Cash
Personnel
Johnny Cash - vocal, Acoustic guitar
June Carter Cash - vocal
Carter Family - vocals, Autoharp, Guitar
Marshall Grant - bass guitar
W.S. Holland - drums
Carl Perkins - electric guitar
Bob Wootton - electric guitar
The Statler Brothers - vocals
Singles from At San Quentin
US Billboard Country Chart #1
Granada TV from the UK were also on hand to make a documentary of the concert that was shown on the TV here in the UK and with the Legacy Release in 2006 it was included as a DVD in the package that contained the full concert from the Prison including the performances of Carl Perkins, The Statler Brothers, The Carter Family and June Cash.
One of the most famous pictures of Johnny Cash that was taken at this performance (see below) is that of him flipping the middle finger directly into the camera. In his liner notes for the 2000 reissue, Cash explains that he was frustrated at having Granada's film crew blocking his view of the audience. When the crew ignored his request to "clear the stage", he made the gesture.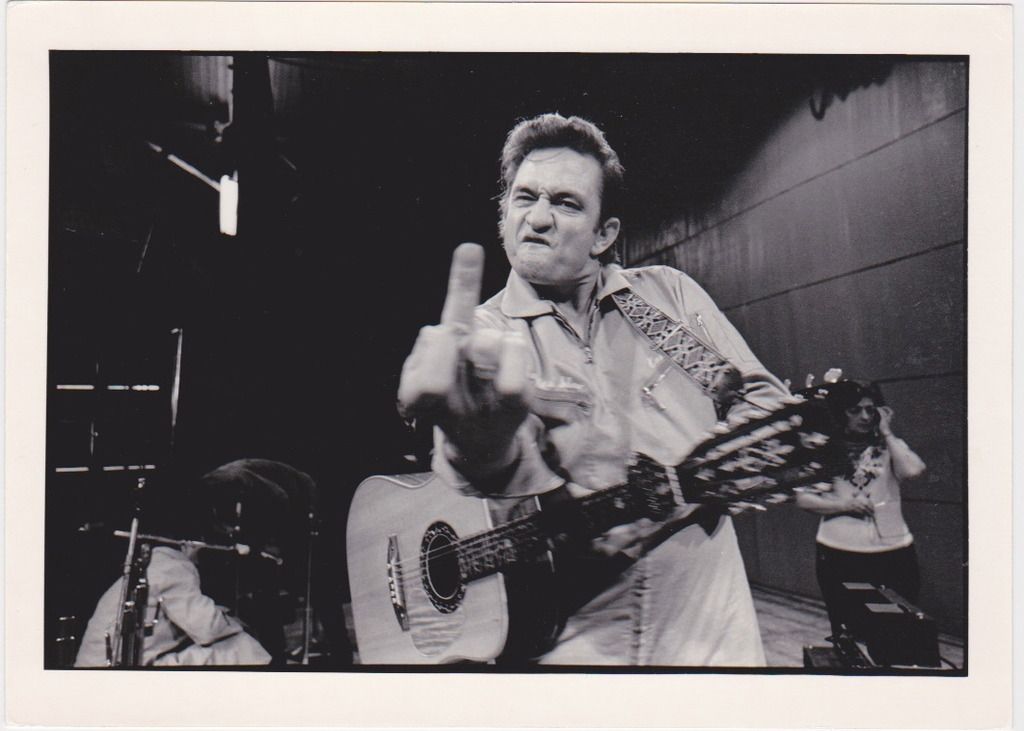 Let The Day Begin...Let The Day Start!