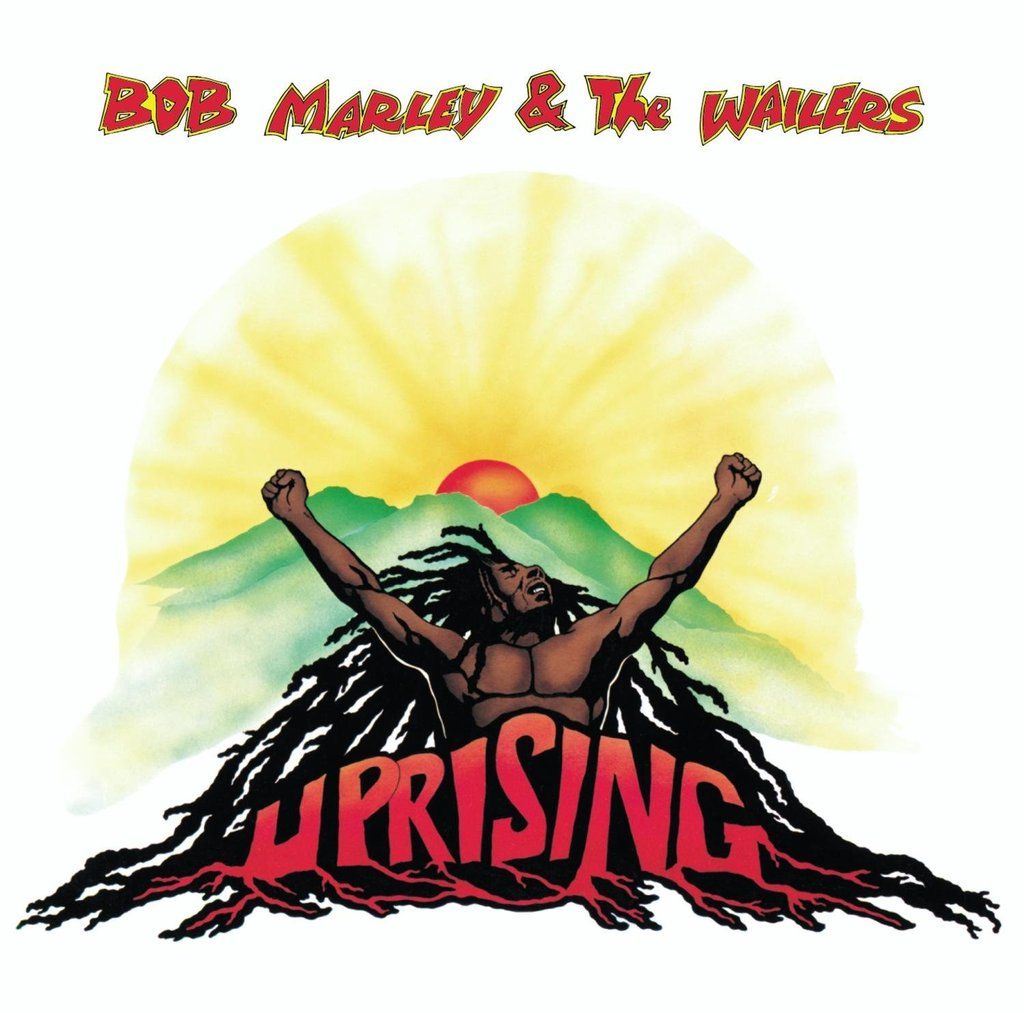 Uprising - Bob Marley & The Wailers
Produced by Chris Blackwell and Bob Marley
US Chart #45
Side One
1. "Coming in from the Cold"
2. "Real Situation"
3. "Bad Card"
4. "We and Dem"
5. "Work"

Side Two
1. "Zion Train"
2. "Pimper's Paradise"
3. "Could You Be Loved"
4. "Forever Loving Jah"
5. "Redemption Song"
****************************
When I was a kid the music of one Robert Nesta Marley was something that was not actually unknown to me. Thanks to a sister who had a thing for Reggae music and so Catch A Fire, Natty Dread, Live! (recorded at The Lyceum) and Rastaman Vibration were things that I had heard.
As I came to love Reggae music more with the likes of Culture, Tappa Zukie, Mighty Diamonds, Prince Far I and the Revolutionaries, I didn't actively buy many Marley records but did keep an ear out for what he was doing and I loved albums like Exodus and Kaya. One of the reasons I didn't buy was his sound was probably just a wee bit too comercial sounding than some of the other artists I was listening to.
As the years have gone on though I have found myself going back to some of his earlier music before he made a big splash here in the UK and also some of the great singles that he released like: Judge Not, Simmer Down, Hooligan, I'm Still Waiting, Stir It Up, Soul Shakedown Party, Small Axe, Soul Rebel, Keep On Moving, Trenchtown Rock, Lively Up Yourself, and Get Up Stand Up to name but a few.
As for the Uprising album, well it was his eleventh studio album and the last album he recorded prior to his death just short of a year after its release.
In July 1977, Marley was found to have a type of malignant melanoma under the nail of a toe. Contrary to urban legend, this lesion was not primarily caused by an injury during a football match that year, but was instead a symptom of the already-existing cancer. Marley turned down his doctors' advice to have his toe amputated, citing his religious beliefs, and instead the nail and nail bed were removed and a skin graft taken from his thigh to cover the area. Despite his illness, he continued touring and was in the process of scheduling a world tour in 1980.
The album Uprising was released in June 1980. The band completed a major tour of Europe, where it played its biggest concert to 100,000 people in Milan. After the tour Marley went to America, where he performed two shows at Madison Square Garden in New York City as part of the Uprising Tour.

Bob Marley also appeared at the Stanley Theater (now called The Benedum Center For The Performing Arts) in Pittsburgh, Pennsylvania, on 23 September 1980; it would be his last concert (I had a bootleg of this show for a number of years and it was finally officially released in 2011 titled Live Forever). The only known photographs from the show were featured in Kevin Macdonald's documentary film Marley.

Shortly afterwards, Marley's health deteriorated as the cancer had spread throughout his body. The rest of the tour was cancelled and Marley sought treatment at the Bavarian clinic of Josef Issels, where he received a controversial type of cancer therapy (Issels treatment) partly based on avoidance of certain foods, drinks, and other substances. After fighting the cancer without success for eight months Marley boarded a plane for his home in Jamaica.

While he was flying home from Germany to Jamaica, his vital functions worsened. After landing in Miami, Florida, he was taken to the hospital for immediate medical attention. Bob Marley died on 11 May 1981 at Cedars of Lebanon Hospital in Miami (now University of Miami Hospital) at the age of 36. The spread of melanoma to his lungs and brain caused his death. His final words to his son Ziggy were "Money can't buy life."
Let The Day Begin...Let The Day Start!