Mods Mayday '79 - Various Artists
Released 21st September 1979
A1–Secret Affair - Time For Action
A2–Secret Affair - Let Your Heart Dance
A3–Beggar - Don't Throw Your Life Away
A4–Small Hours - Hanging In The Balance
A5–The Mods - Tonight Is The Night
A6–The Mods - Let Me Be The One
A7–Squire - B-A-B-Y Baby Love
A8–Small Hours - Midnight To Six
B1–Beggar - Broadway Show
B2–Beggar - All Night
B3–The Mods - Love Only Me
B4–Squire - Walking Down The King's Road
B5–Squire - Live Without Her Love
B6–Secret Affair - I'm Not Free (But I'm Cheap)
B7–Small Hours - End Of The Night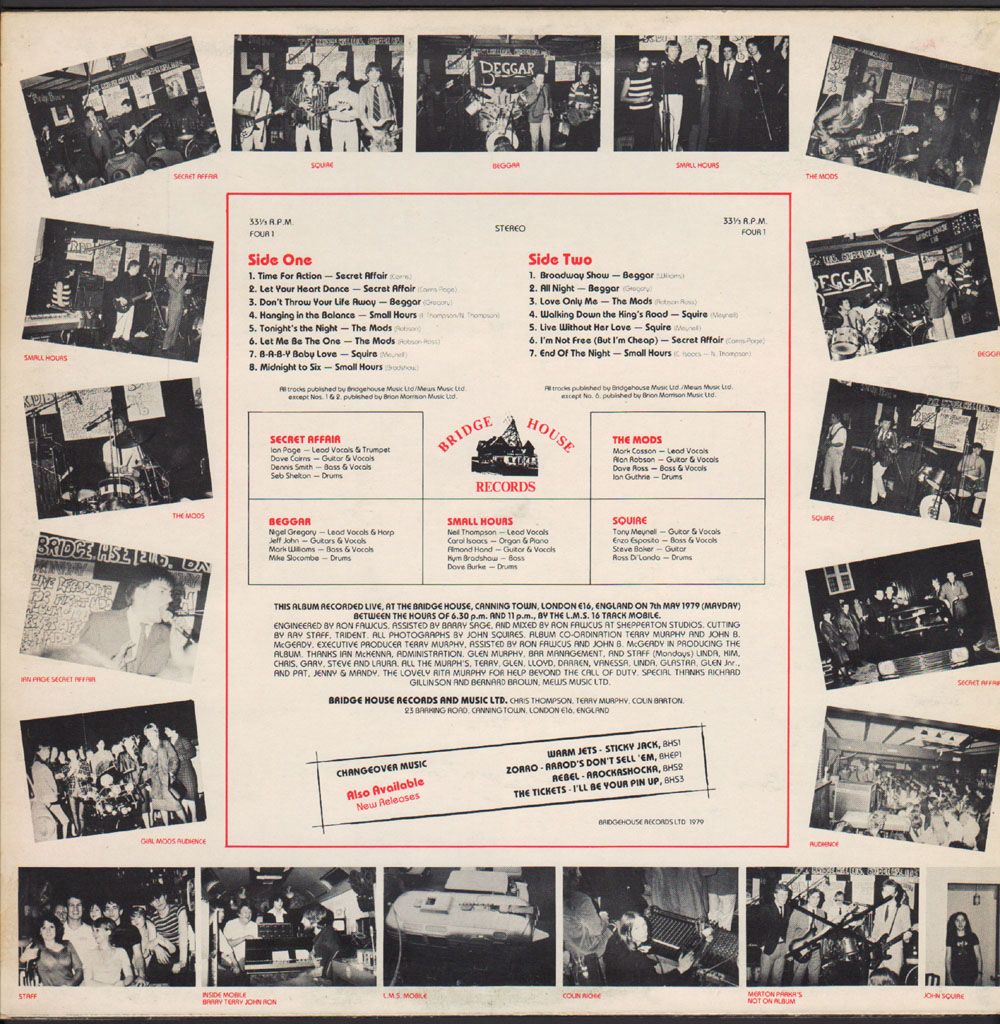 This is an album that really gets the old memories flowing as I can remember so clearly the terrible battles that were going on between the Punks and The Mods at the time. There was quite a number of shows at various venues around London that combined Punk and Mod bands on the same bill - this was not always a good idea and rarely went off without an incident or five!
Infact, one such battle took place a few days before this particular album was recorded and it was between Forest Hill Punks and Forest Hill Mods. It was on General Election Day, the day that Thatcher came to power! Thinking back I couldn't tell you if either side won as there was a lot of blood spilled that day on both sides! I always found it quite bizzare though because many of The Mods had been Punks only weeks before! That was a different age and thank goodness some of us have grown up from our youthful tribalism!
I have to admit there were a number of the bands from The Mod Revival in the late 70s that I actually really liked (and I don't mean just The Jam because I had been listening to them and buying their records since 1977). I really liked Secret Affair (not many Punks would confess that but it doesn't bother me), mainly because I had liked their previous band the New Hearts with Ian Page and Dave Cairns and was happy to see that they hadn't totally given up after the band seemed to fizzle out after only two singles. I absolutely loved The Chords as well right from the first night I had seen them at The Wellington at Waterloo. Long Tall Shorty, Back To Zero, Teenbeats, Purple Hearts and a few others as well caught my attention.
"OK, this song's for all Mods everywhere! It's a song called Time for Action" - and so opens the original album from 1979 on Bridge House Records. Ah yes, Time For Action, that rallying call to Mods everywhere to rise up and declare "We hate the Punk Elite", well thirty seven years later I think it is safe to say that most Mods and Punks totally misunderstood that lyric and took it as a cause to fight each other when the truth of the matter is that the Punks would have hated the "Punk Elite" as well for it was they who determined the attitude a Punk should have, what a Punk should wear, what a Punk should listen to etc...so much for old Johnny Rotten singing "I Wanna Be Me!" Punks weren't allowed to be themselves but were all conformed to what the likes of McLaren and Co. were telling them!
The album was recorded on the 7th May 1979 at The Bridge House in Canning Town. What I didn't really know at the time of release was that the first two songs on the album were actually the two final songs of the Secret Affair set that night in Canning Town.
It's funny because for years I've thought this album could have been so much better if there was just more than the three songs from the five bands represented: Secret Affair, Beggar, The Mods, Squire and Small Hours. The Merton Parkas would have been on it but I'm guessing that Beggars Banquet didn't grant permission to Bridge House Records to make use of anything from their set.
It wouldn't be until Sanctuary released the expanded version (that did include The Merton Parkas) that this finally came true. You can hear the expanded version below. Whereas on the original release the bands only had three songs each Squire kick off with six songs, Beggar have five, The Mods still have their original three, Small Hours - six songs, The Merton Parkas have a short set of six songs and Secret Affair carry the whole album really (as they did on the original release) with a very strong 14 song set (though two of the songs played in the Encore had already been played during their normal set). But listening to the expanded album I find myself just wanting to listen to the Secret Affair Set! I think that mainly has to do with the fact that whilst there were elements of the other bands that were pleasing to the ear hearing the originally released three songs seemed enough!
I wasn't really that fond of Squire, Beggar, or The Mods but did like Small Hours and managed to see them a few times live. As for The Merton Parkas, well they were nice enough blokes but musically they were not as appealing as say The Chords, Purple Hearts, Long Tall Shorty or Secret Affair. I was pleased though to see Mick Talbot move on from the Parkas and get some success alongside Paul Weller in The Style Council.
There will probably be a few of my old Mod mates pulling out what little hair they have regarding some of the things I've said here but it's better to be honest isn't it and admit that we don't all like the same things (it would be a boring world if we did)!
This is probably not the best live album on the planet (although it made a big splash for many Mods) and I include it today merely because for some reason it came to mind last night and I had a little listen to it for the first time in maybe twenty years and I enjoyed hearing the original release, especially the Secret Affair tracks.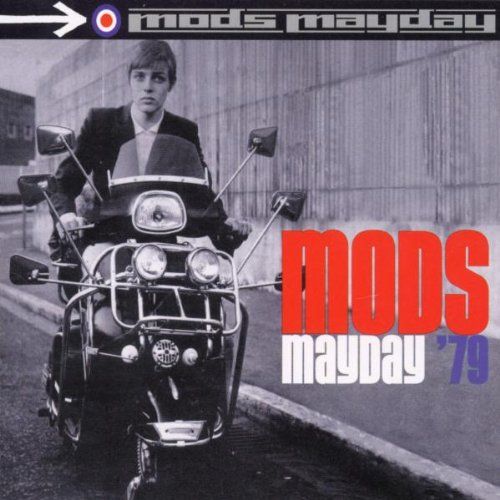 Disc One
Tracklist
1. It's A Mod Mod World (Squire)
2. The Face Of Youth Today (Squire)
3. I've Got You On My Mind (Squire)
4. B-A-B-Y Baby Love (Squire)
5. Walking Down The King's Road (Squire)
6. Live Without Her Love (Squire)
7. Don't Throw Your Life Away (Beggar)
8. All Night (Beggar)
9. Broadway Show (Beggar)
10. Friday Night (Beggar)
11. Doing Alright As I Am (Beggar)
12. Tonight's The Night (The Mods)
13. Let Me Be The One (The Mods)
14. Love Only Me (The Mods)
15. Underground (Small Hours)
16. The Mess (Small Hours)
17. Can't Do Without You (Small Hours)
18. Midnight To Six (Small Hours)
19. Hanging In The Balance (Small Hours)
20. End Of The Night (Small Hours)
Disc Two
1. Tears Of A Clown (Merton Parkas)
2. When Will It Be (Merton Parkas)
3. Plastic Smile (Merton Parkas)
4. I Don't Want To Know You (Merton Parkas)
5. Silent People (Merton Parkas)
6. What'd I Say (Merton Parkas)
7. Days Of Change (Secret Affair)
8. Glory Boys (Secret Affair)
9. Shake And Shout (Secret Affair)
10. Get Ready (Secret Affair)
11. My World (Secret Affair)
12. Sorry Wrong Number (Secret Affair)
13. Going To A Go-Go (Secret Affair)
14. Don't Look Down (Secret Affair)
15. Time For Action (Secret Affair)
16. Let Your Heart Dance (Secret Affair)
17. I'm Not Free (But I'm Cheap) (Secret Affair)
18. Time For Action (Encore) (Secret Affair)
19. Let Your Heart Dance (Encore) (Secret Affair)
Let The Day Begin...Let The Day Start!