Labour of Lust - Nick Lowe
US Chart #42
Based on Tracklisting for 2011
(Track 7 - Skin Deep is missing as it doesn't appear to be on You Tube)
Personnel
Nick Lowe – bass and vocals
Dave Edmunds – rhythm and solo guitars and backing vocals
Billy Bremner – rhythm and solo guitars and backing vocals
Terry Williams – drums

Additional personnel
Huey Lewis – harmonica on "Born Fighter"
Bob Andrews – Oberheim on "Endless Grey Ribbon"
Elvis Costello – backing vocals on "American Squirm"
Bruce Thomas – bass on "American Squirm"
Pete Thomas – drums on "American Squirm"
Labour of Lust was Nick Lowe's Second Studio album released by Radar. His debut, Jesus of Cool had done pretty well reaching #22 in the charts and had given Lowe a Top 10 Single with I Love The Sound of Breaking Glass (it peaked at #7).
It was recorded and released at the same time as Dave Edmunds' Repeat When Necessary and has basically the Rockpile band playing back-up.
Two singles from the album reached the chart, first Crackin' Up (#34) and secondly Cruel To Be Kind (which has the distinction of reaching #12 in four different countries - UK, Canada, USA and Australia!).
The song is credited to Nick Lowe and His Sound which in fact was Elvis Costello and the Attractions.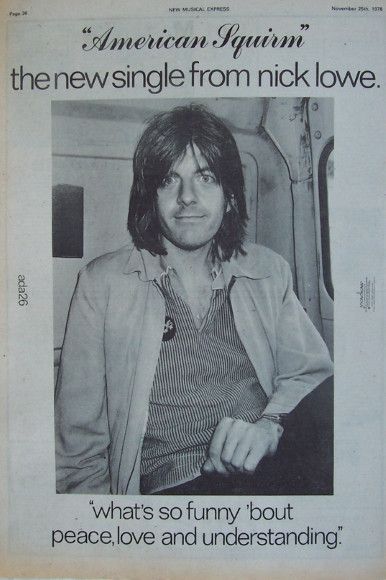 Nick Lowe actually has a great reputation as a Producer having given his hand to a number of the early singles and albums from Stiff Records.
When it comes to the songs on Labour of Lust Nick Lowe penned most of them but on the single Cruel to be Kind he must have been digging in his archives as the song was originally recorded for the final album 'It's All Over Now' (and album that didn't see the light of day until 1988 and then it was withrawn quickly) for Brinsley Schwarz and it was a Co-write with guitarist Ian Gomm and then on Love So Fine saw a collaboration with the Rockpile team. Switchboard Susan is the only song that's not his own and that was penned by Micky Jupp (a former Stiff artist that Lowe had produced for).
Let The Day Begin...Let The Day Start!