1. Talking About You (Berry)
2. 20 Yards Behind (Johnson)
3. Stupidity (Burke)
4. All Through The City (Johnson)
5. I'm A Man (Bo Diddley)
6. Walking The Dog (Thomas)
7. She Does It Right (Johnson)
8. Going Back Home (Green/Johnson)
9. I Don't Mind (Johnson)
10. Back In The Night (Johnson)
11. I'm A Hog For You Baby (Leiber/Stoller)
12. Checkin' Up On My Baby (Sonny Boy Williamson)
13. Roxette (Johnson) 36:19
14. Riot In Cell Block No. 9 (Leiber/Stoller)
15. Johnny B. Goode (Berry)
Personnel


Lee Brilleaux - vocals, guitar, harmonica, slide guitar
Wilko Johnson - guitar, backing vocals
John B. Sparks - bass guitar
The Big Figure - drums, backing vocals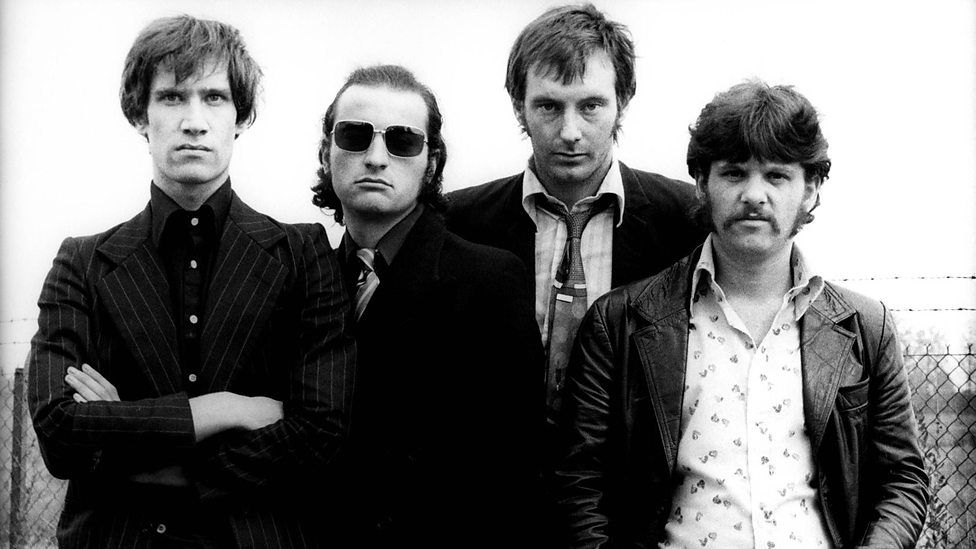 Dr. Feelgood are one of those bands who get thrown in with the whole Pub Rock Scene but really they were a band that transcended that little stage in the corner of the local boozer and embarked on a journey around the UK playing much bigger stages as they rightly deserved.
The original vinyl album had the first seven tracks, recorded in Sheffield, on Side 1, and the next six tracks, recorded in Southend, on Side 2. A free single, only issued with the first 20,000 copies, included the final two tracks. It was initially claimed that these final two tracks were recorded in Aylesbury: however, the text on the back of the 1998 Grand Records re-release (GRANDCD 21) states that tracks 8-15 were all recorded at Southend. This was finally corrected with the box-set release of "All Through The City" (2012), where it emerged that "Johnny B. Goode" had indeed been recorded at Friars in Aylesbury.
It reached the #1 spot on the UK Album Chart for one week only, in its first week of release, but hey a #1 Album is a #1 Album no matter how short a time it stays there! It did so as well on the back of not having a supporting single to go with it (a very rare thing indeed).
They had released two studio albums in 1975: Down By The Jetty and Malpractice (UK Album Chart #17). Stupidity was the third album (and first live one) and showed the band at their blistering best with a fine mix of original songs, mostly written by guitarist Wilko Johnson, and seasoned with some cracking R&B/Blues/Rock 'n' Roll cover versions.
Stupidity alongside Eddie and The Hot Rods debut album (also released in 1976) Teenage Depression is an important album for my own journey of musical discovery as a 13 year old kid back then.
Live on The Geordie Scene
(Visual Quality is pretty rough but it's worth checking out if you haven't seen it before)