Here Are The Sonics!!! - The Sonics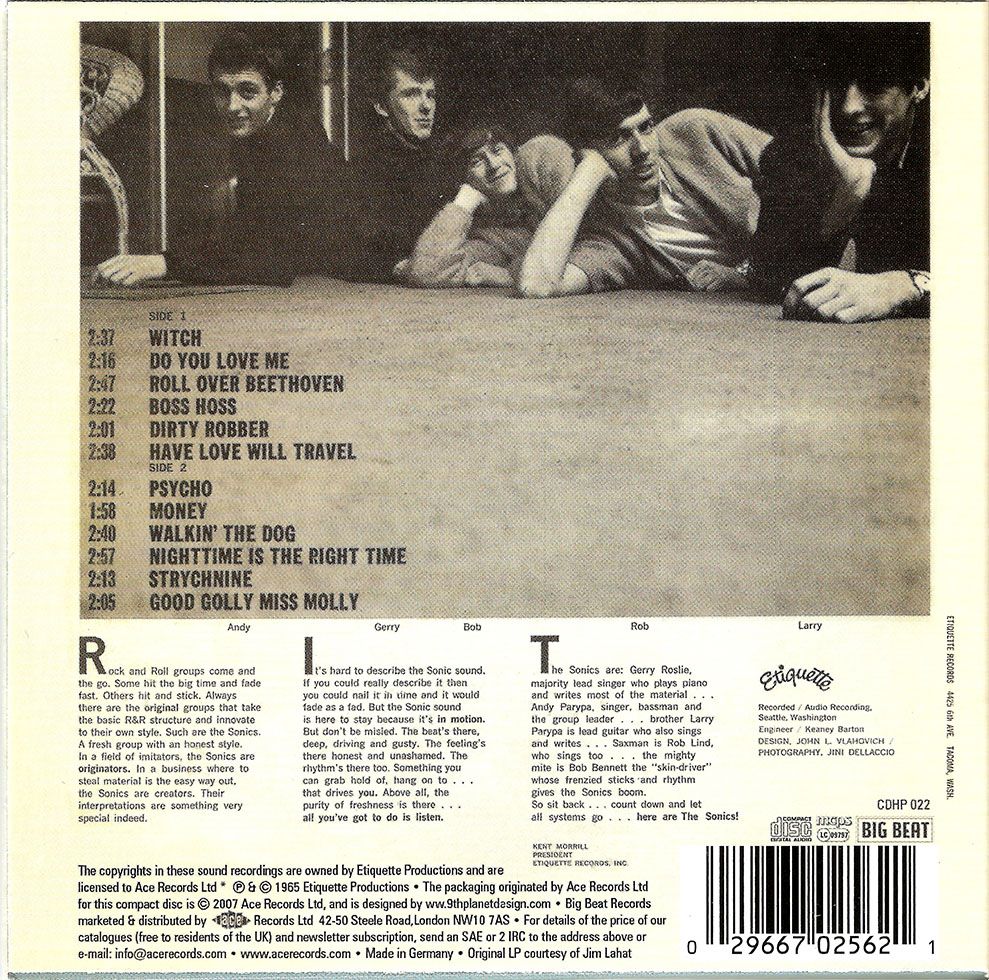 Gerry Roslie - organ, piano, lead vocals
Andy Parypa - bass guitar
Larry Parypa - lead guitar, vocals
Rob Lind - saxophone, vocals, harmonica
Bob Bennett - drums
This is The Sonics - The Sonics
Current lineup:
Gerry Roslie - organ, piano, lead vocals
Freddie Dennis - bass guitar, vocals
Larry Parypa - lead guitar, vocals
Rob Lind - saxophone, harp, vocals
Dusty Watson - drums

Touring Members:
Jake Cavaliere - Keyboard
Evan Foster - Guitar
The Clash have boasted in Garageland that "We're a Garageband", well it sounds better than "We're a Railway Storage Shed Band" doesn't it? But The Sonics are one of the original Garage Rock Bands from the 1960s.
Their influence upon Punk is huge (check out The Cramps and The Dead Boys as examples) and infact their influence even reaches out to bands like The Fall, The Fleshtones, The Fuzztones, The White Stripes, Nirvana to name but a few and artists like Bruce Springsteen.
The band formed in 1960 and were out of Tacoma, Washington. Larry Parypa was the founding member (and he's still present with them today!). The classic line-up of the band eventually came together until around 1963 and the following year they began to take seriously the whole music business game as they signed to Etiquette Records and released a number of singles (starting in November 1964 with The Witch /

Keep A-Knockin'

) before the label brought them altogether and released their Debut Album Here Are The Sonics!!!
After a second album in 1966 - Boom, and then moving to a new label the band began to fall apart with various members leaving to go to University or to join other bands. They reformed in 1972 for a show that was recorded and released by Etiquette Records (Live Fanz Only).
In 1980 vocalist Gerry Roslie put together a new Sonics band and released Sinderella - it contained versions of previous songs the band had performed in their heyday.
In 2007 the band resurfaced once again and this time Larry Parypa was on board and they continued playing live at various festivals and after a 40 year absence they released a brand new album in 2015.
Earlier this year it was posted that Gerry and Larry would no longer be continuing to play as part of the touring band but would still be involved with recording. Not quite sure how that's all going to work out!
Let The Day Begin...Let The Day Start!