Dedicated to Brian McGill
One of the biggest Devo fans I know
Q: Are We Not Men? A: We Are Devo! - Devo
Released 28th August 1978
UK Chart #12
Includes Live Performance of
Q: Are We Not Men? A: We Are Devo!
London HMV Forum
A1 Uncontrollable Urge
A2 (I Can't Get No) Satisfaction
A3 Praying Hands
A4 Space Junk
A5 Mongoloid
A6 Jocko Homo
B1 Too Much Paranoias
B2 Gut Feeling/(Slap Your Mammy)
B3 Come Back Jonee
B4 Sloppy (I Saw My Baby Gettin')
B5 Shrivel-Up
Personnel
Devo
Mark Mothersbaugh – lead and background vocals; keyboards; guitar
Gerald Casale – lead and background vocals; bass guitar; keyboards
Bob Mothersbaugh – lead guitar; backing vocals
Bob Casale – rhythm guitar; keyboards; backing vocals
Alan Myers – drums
Additional Musicians
Brian Eno – additional synthesizers on "Space Junk" and "Shrivel Up", distorted vocals on "Space Junk"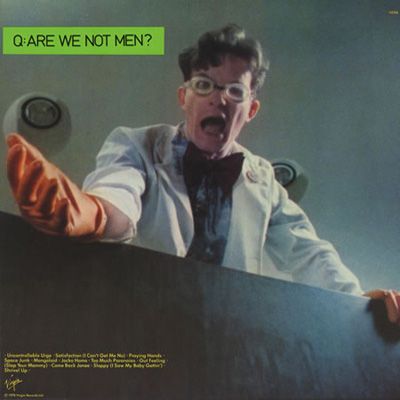 (Virgin Records 1978 Front Cover)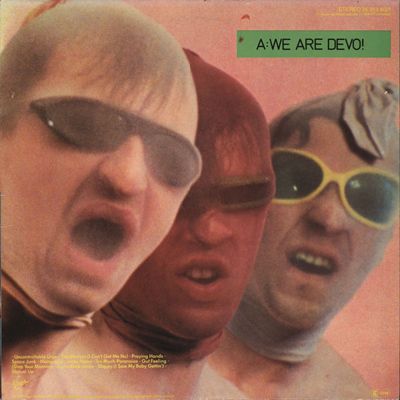 (Virgin Records 1978 Back Cover)
The album was also issued as a Picture Disc and on Blue Vinyl
Singles featured on
Q: Are We Not Men? A: We Are Devo!
Click on
the links below
to enjoy the music of Devo!
Originally Released on Booji Boy Records 1977.
Released in the UK by Stiff Records 1978 with Jocko Homo as the lead track.
Re-recorded for the album
Originally Released on Booji Boy Records in 1977.
Also released by Stiff Records in the UK in 1978.
Re-recorded for the album
Virgin Records 1978


UK Chart #60
When it comes to strange, nobody quite does strange like Devo!
The Debut Album from Devo, Q: Are We Not Men? A: We Are Devo! was released on this day in 1978.
A bizzare band that had been around since 1973 but had begun to make a name for themselves when they released a couple of quite magnificent singles in 1977 (they didn't get a UK release until 1978) that included an amazing reworking of '(I Can't Get No) Satisfaction'. Add to that the fact that David Bowie and Iggy Pop were championing their cause and supposedly with this influence Devo secured a deal with Warner Bros. and then having Brian Eno produce the album they looked set for big things!
Where the singles and the album had gained some chart success in the UK, back home in Akron, Ohio they were not having as much joy. Maybe they were just too quirky for America at the time (but the album has sold enough in the States for it to be award a Gold status).
The band received mixed reviews of the album in the States. Critic Robert Christgau of The Village Voice gave the album a positive rating of a B+, but noted, "In small doses it's as good as novelty music ever gets, and there isn't a really bad cut on this album. But it leads nowhere." Tom Carson, writing in Rolling Stone, claimed that "There's not an ounce of feeling anywhere, and the only commitment is to the distancing aesthetic of the put-on", and opined that "Devo lacks most of Eno's warmth and much of Bowie's flair for mechanized melodrama. For all its idiosyncrasies, the music here is utterly impersonal." Both seem quite harsh I think.
The band did manage to open the door to other bands from Akron, Ohio when Stiff Records released The Akron Compilation in 1978 (it came with a scratch and sniff cover!).
Let The Day Begin...Let The Day Start!