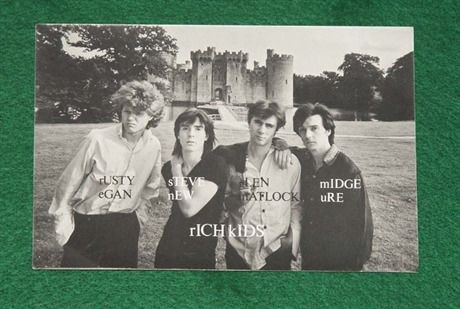 As I'm a day late with remembering that it was Glen Matlock's birthday yesterday I thought I'd post a little something special that I stumbled upon this morning - Rich Kids on Rock Goes To College. Incredible seeing this footage again after so many years.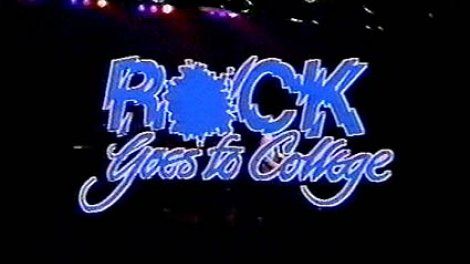 October 1978
Only Arsenic ( partial )
Introduction by Pete Drummond
Hung On You
Rich Kids
Burning Sounds
Holy Holy
12 Miles High
Forever & Ever
Marching Men
Lovers & Fools
Strange One
Empty Words
Ghosts Of Princes in Towers

Rich Kids Discography
Ghosts of Princes In Towers - Rich Kids
Released 18th August 1978
Side A
A1 Strange One
A2 Hung On You
A3 Ghosts Of Princes In Towers
A4 Cheap Emotions
A5 Marching Men
Side B
B1 Put You In The Picture
B2 Young Girls
B3 Bullit Proof Lover
B4 Rich Kids
B5 Lover And Fools
B6 Burning Sounds

Personnel
Midge Ure - lead (1-3, 5-10) and backing vocals, rhythm guitar
Steve New - lead guitar, backing vocals
Glen Matlock - bass, backing and lead (4, 11, 12) vocals
Rusty Egan - drums

Guests
Mick Ronson - keyboards on "Ghosts of Princes in Towers"
Ian McLagan - piano on "Cheap Emotions"


August 1978
*******************
Rich Kids were formed in London in 1977 with Glen Matlock, former Sex Pistol on Bass Guitar. Recruited to the band were also Steve New on Guitar and Rusty Egan on Drums and former Slik and PVC2 Guitarist and Vocalist Midge Ure.
The month before Midge Ure joined Rich Kids in 1977 he had been in PVC2 and had released a triple A-Sided Single that featured Put You In The Picture. It's a great single, if not a little rough sounding, it was after all recorded in one take! One of the excellent Scottish Punk Singles I reckon. Some remaining of PVC2 went on to form The Zones.
The Power Pop sound of Rich Kids didn't outlast 1979 as the band split due to musical differences, Egan and Ure wanting to experiment with Synths and add it to the music of the band whilst Matlock and New were wanting a more guitar and drums driven sound.
So with just three singles and an album under their belt they vanished and are forever known as one hit wonders! It's a shame really because they were actually quite good. The album came in for a lot of stick for its Production quality, more was clearly expected of the great Mick Ronson at the controls!
Midge Ure would go on to find success with Ultravox after the departure of John Foxx and Rusty Egan would enjoy some success alongside Steve Strange in Visage. Steve New went on to work with Iggy Pop, Chrissie Hynde, Sid Vicious to name but a few. He passed away in January 2010 following a battle with cancer. Glen Matlock has played with many artists (The Faces, The Damned, Iggy Pop, to name but a few) as well as being involved in his own band Glen Matlock and The Philistines and also The International Swingers alongside James Stevenson and Clem Burke.
Bonus Rich Kids Tunes
John Peel Session 1977.
Recorded 31st October 1977
First Broadcast 7th November 1977
1. Young Girls
2. Rich Kids
3. Burning Sounds
4. Bullet Proof Lover
John Peel Session 1978

.
Recorded 20th March 1978
First Broadcast 3rd April 1978
1. Ghosts Of Princes In Towers
2. Lovers And Fools
3. Empty Words
4. Here Comes The Nice