(Photo by Mark Heybourne)
I am very happy to be able to share this little interview with Andrew Dawes and Trond Lysaanes that I was able to do to over the past couple of days with the chaps, via Facebook. They are based in different lands but enjoy a happy working relationship together and they have recently released their Debut Album on Vinyl called Cover The Distance (more about that later after the interview).
I'm extremely grateful to both Andrew and Trond for taking the time and especially to Trond whose first language is not English but did a fine job providing the answers to the questions.
Andrew is no stranger to this blog as he was interviewed just a little over two years ago. You can read that particular Interview HERE.
S4L:
As an introduction I'd like it if you could both state your names, Country of Residence, your musical influences and what instruments you play and then a little bit regarding your partnership with each other.
AD:
Andrew Dawes, live in England, born Wales, Martin 6 string, Martin 12 string, Rickenbacker 12 string, bass. I also played a little bit of Fender Rhodes on the record. According to a review in
the Nottingham Post
I bring a British style of vocals that contrasts nicely with Trond's 'Dylanesque' style. I like to get on with things and am quite focussed and organised I think. Trond likes to try different things but is a perfectionist too. I think all those ingredients put together make us tick pretty well. The strongest influences on my music are The Jam, The Alarm and Billy Bragg.
TL:
I've never been called a perfectionist before haha! Trond Lysaanes, I live near Trondheim in Norway. Main instruments are a Martin Doyle Irish flute, numerous tin-whistles, a Tacoma acoustic 6-string and a Godin 5th Avenue 6-string semi-acoustic played through a Fender Hot Rod Deluxe. I have a band in Trondheim called In Other News, and I just became the drummer of my guitarist' band... I also play a bit of banjo and Irish bouzouki.

Main influences... ohh many, and they change as I discover more artists. Johnny Marr is one that Andrew brought my attention too, my song Channel 5 was very much inspired by Johnny Marr's song "New Town Velocity". A bit funny I think, me and Andrew had both discovered and loved the music of Dave Eugene Edwards before we met, I believe Andrew is more into Wovenhand and I'm more "into" or interested in 16 Horsepower. Other important artists for me, The Doors, Dave Sharp, Noel Gallagher, Christy Moore from the time I got involved in Irish music. Dylan of course, Warren Zevon, Jackie Leven... many more!
AD:
Some good examples a Trond being a perfectionist- we recorded Northern Light again for the 2nd session because he wasn't happy with the 1st version. Also, we were talking about having another song on the album- Seen. Trond wasn't 100% happy with it so it didn't make the cut. Trond is also great at soundchecks making sure everything is as good as possible.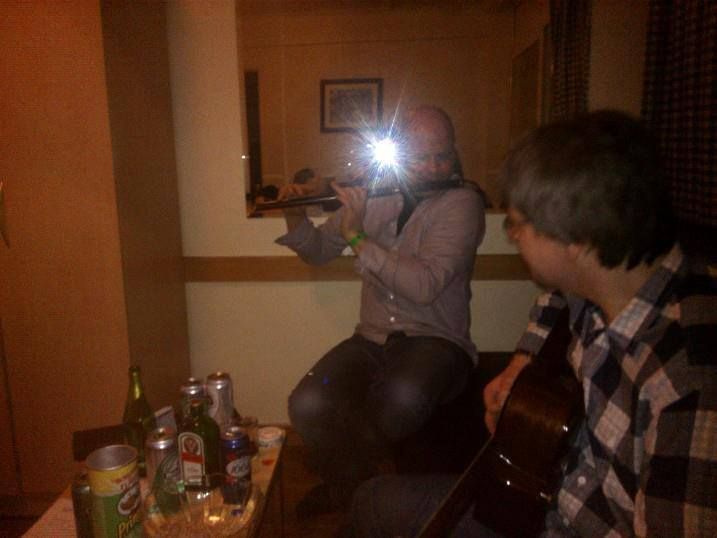 (Andrew and Trond having a Jam Session at The Gathering - Photo from Andrew Dawes)
S4L:
How on earth did you two begin making music together?
AD:
We jammed together for the first time on a Friday night at the Gathering in January, 2013. I was buzzing from another inspiring Mike Peters performance and wasn't gonna go to sleep for a while so suggested we have a jam as Trond had mentioned that he'd brought his Irish whistle. We jammed for ages having a great time!

We played together for the first time at a festival in Norway in August 2013. When we played Northern Light there was a really respectful hush in the crowd. I got the sense we'd done something special. When we came off the stage, I said we'd have to record together now.

It has been said (by the Nottingham Post again) that we must have a telepathic understanding as obviously we have little opportunity to practice together- maybe 3 or 4 times a year. There is definitely a spark there when we play together!
TL:
We don't write songs together, however Andrew is my main "touchstone" when it comes to song-writing. I often send him lyrics for advice, both artistic advice and to check the meaning of certain words since I am not a native speaker of your language. Apart from being a great guy who I love to spend time with he also adds lovely backing vocals and guitar harmonies (he's more advanced than me!) to my songs.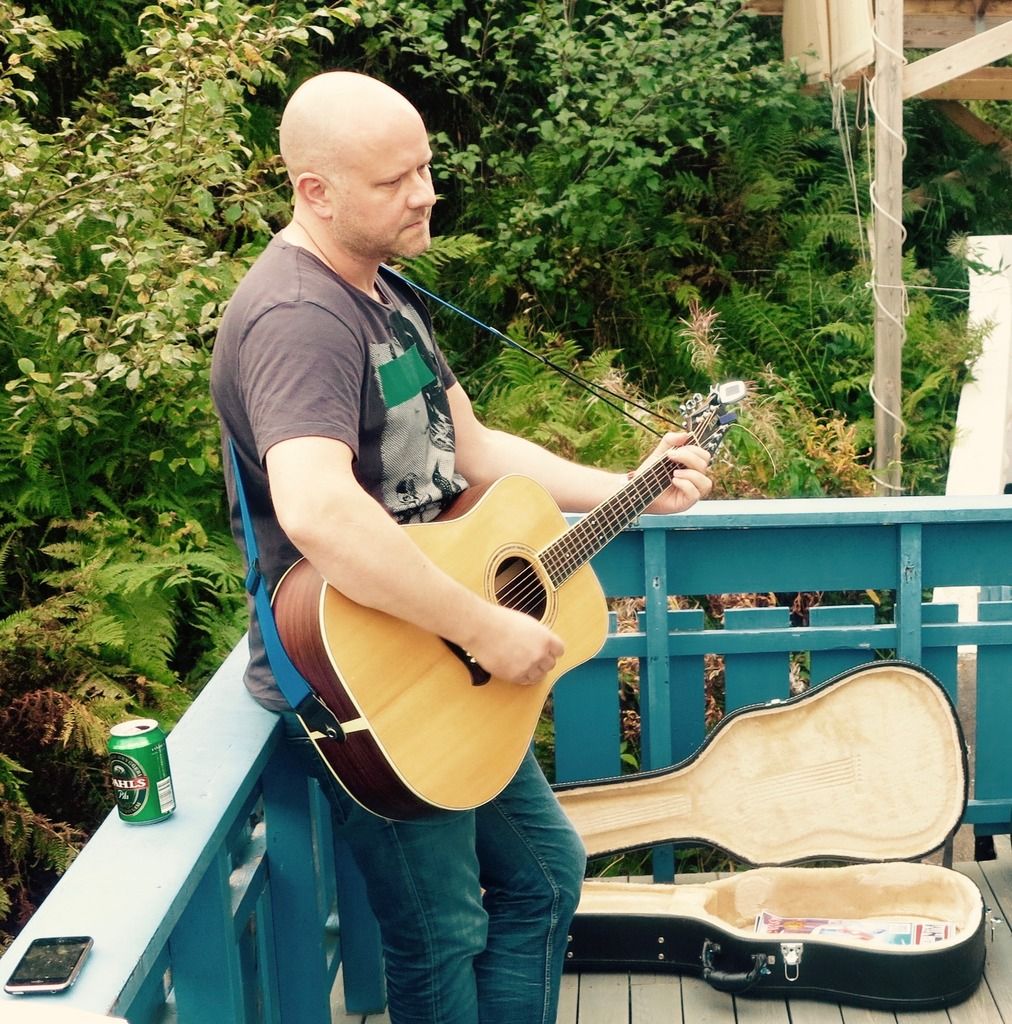 (Trond - Photo by Mark Heybourne)
S4L:
How do you manage to record together? Do you do it in your respective homelands or do you have opportunities to get together in a studio somewhere?
AD:
We have recorded together on 3 occasions- all following when Trond has travelled over for The Gathering (of Alarm fans). All the sessions were at Superfly Studios in Ollerton on the edge of Sherwood Forest. We message each other with ideas for songs from time to time. If you go on our soundcloud pages, there are rough versions of songs there that have been built on. I like to try and work on harmonies and extra guitar parts for Trond's songs. The addition of Trond's Irish whistle and flute to my songs has really taken them up a level.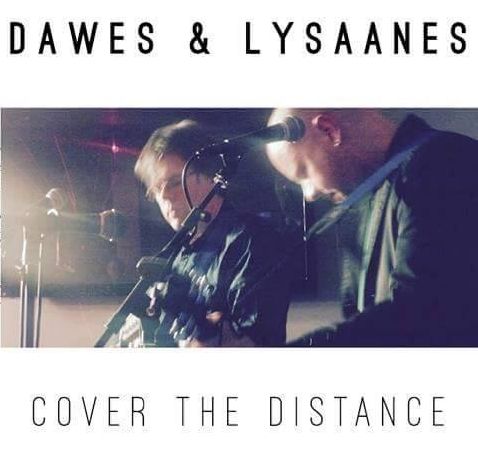 S4L:
Your latest release, Cover the Distance has seen some of the tracks released before on Digital and CD formats, what was thinking behind getting a Vinyl Album out?
AD:
When we recorded last January, the initial thought was to do a 7" single. I'd asked the crowd at a gig in Norway what format they would like our next release to be in. It was 100% for vinyl! It probably wasn't the answer I wanted as I knew it would be complicated and pretty expensive. That was true!

Once we'd recorded the tracks for what I envisaged would be the single (Channel 5 and Wreckage) I started looking at pricings. It was clear it'd make more sense to spend another £200 and do an album using the best of the songs we'd recorded before to make up an album. So, we went for a 9 track album. After some complications with the first test pressing, I'm really happy with the results and the feedback I'm getting off people is really great.
TL:
Our friend Geir Mr Happy Sollie is a vinyl collector, so I guess he is partly the reason that we chose to release our music on vinyl. I grew up with vinyl and cassette tapes, I have always preferred the sound of vinyl to CDs or tapes, and I love the size of the LP too, it's something big, solid and "concrete". I love the revival of vinyl and hope it's here to stay even after the hipsters are gone (joke!)
S4L:
How exciting is it for you seeing the completed work on Vinyl?
AD:
I'm really happy with the flow of the songs on the record and the accompanying sleeve.
S4L:
I know you have had a few opportunites of playing live together both here in the UK and in Norway, is there a greater buzz about performing your songs in front of an audience than just putting a record out?
AD:
I'm probably happier playing live. With recording it feels like you could always tweek a bit here and there. There's pressure with recording too as there are always time and money constraints. All things considered, the record is absolutely amazing considering it was all done in 5 separate days over 3 years.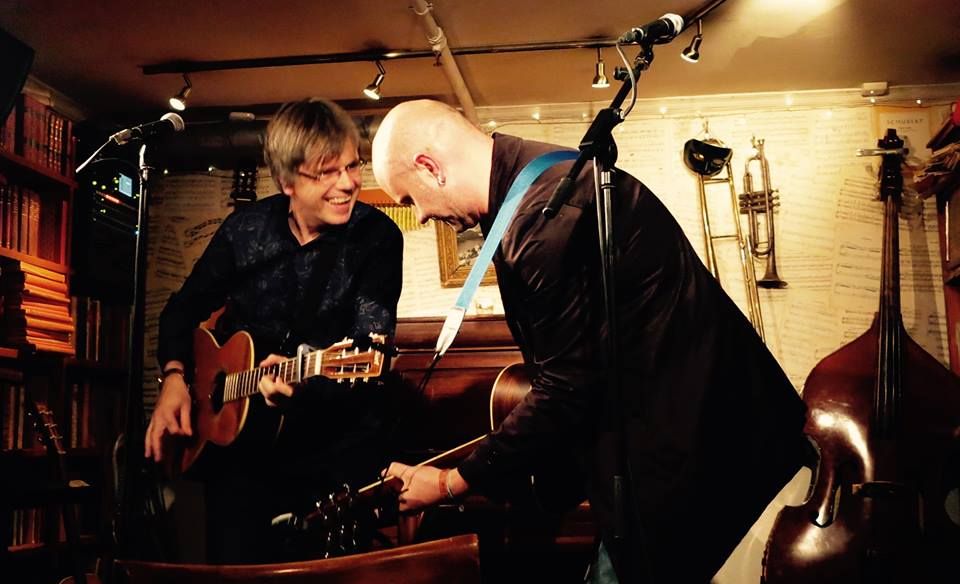 (Andrew and Trond - Photo by Mark Heybourne)
S4L:
Obviously living in two different lands you are not always playing live shows together do you feel a difference between your solo outings than when you have the chance to play on the same stage together?
AD:
We've had some amazing experiences playing live. The one where this photo was taken supporting Dave Sharp at Antikvariatet in Trondheim was a really special one. That was one of the most memorable nights of my life- what with the show and the aftershow party and all!
Without Trond, my songs Northern Light and St Kilda are distinctly lacking! Also though, without Trond, I can experiment a little using different pedals for instance or trying new songs. I think however, as with the slogan for the Wales football team, we are 'togetherstronger'.
S4L:
Where can people obtain a copy of the album from?
AD:
you can e-mail me
HERE
.
S4L:
What avenues are you seeking in order to promote the album? Listening to it last night I thought it might be good enough to send a copy to Bob Harris at the BBC as it seems to fit into his wheelhouse.
AD:
There are a few copies of the album available at Rough Trade in Nottingham. At the moment, we're keeping it fairly low key until we launch the album for real in Trondheim with 2 gigs on the 9th and 11th of September. After that, we'll go for it a bit more. Interesting you mention Bob Harris, the guy who engineered our recordings said our music would suit Radio 2.
(Andrew - Photo by Mark Heybourne)
S4L:
How would you best describe your music to someone who maybe hasn't had the opportunity to listen to you before?
AD:
Alternative-folk or indie-folk suit it quite well. People have told me recently we remind them of the Go-Betweens and the Violent Femmes. I liked both comparisons.
S4L:
Besides your own songs what song or songs would you love to play at a concert?
AD:
I have been practicing the Welsh folk song Calon Lan. It's such a beautiful song. Out at the Euros in France, it was stunning when that was being sung.
Cerys Matthews does a nice version
too. My mum, who's originally from Aberystwyth, has been helping me out a bit!
********************
Andrew Dawes and Trond Lysaanes
In many ways I have been fortunate enough to hear these songs on CD and on Digital Formats before the Vinyl Album releasing so I have absolutely no problem in saying a few words about it. The very fact that it's here on my blog is a testimony to how good I think it is, because I make a point of posting only good music!
Musically it's very tight and lyrically I'm very impressed. Both Andrew and Trond have four songs on the album they have written and a ninth one is a co-write between Trond and Burgess (I'm not too sure who that is exactly but I quite like the song Enter in Disguise).
They said that it's Indie Folk/Alternative Folk - as one who has very little knowledge of Folk Music outside of the music of Richard Thompson and bands like The Men They Couldn't Hang (who do some Indie Folk style music at times) I find myself listening without any specific labels in mind or seeking to compare them to anyone in particular as I honestly wouldn't know who to namecheck.
What I found is this. These lads can write a pretty tidy tune. The Road Ahead, Wreckage, The Storm, Enter In Disguise and St Kilda are probably my favourites from the album.
It's an album that has a nice sense of pace about it with upbeat numbers like Wreckage and more gentle moments like St Kilda at the end of the album that seems almost pastoral with the sound of the Irish Whistle played throughout by Trond.
For a couple of chaps who are not full time musicians (yes some people have to do other things to pay the bills you know!), I think they have managed to bring together their particular talents and make a classy album. I've been playing it for a better part of week now and it's continuing to grow on me.
Links
and More Information
Before we finish up it is worth pointing out that you can listen to music from Dawes and
Lysaanes at various places scattered around the Internet, here's some important links:
St. Kilda and The Road Ahead - both featured on the Cover The Distance LP can be heard here.
Fish King Blues - that is featured on the Cover The Distance LP can be here.
There are tracks from the CD EP that also feature on the Vinyl of
Cover The Distance LP. You can listen to sound clips from it here.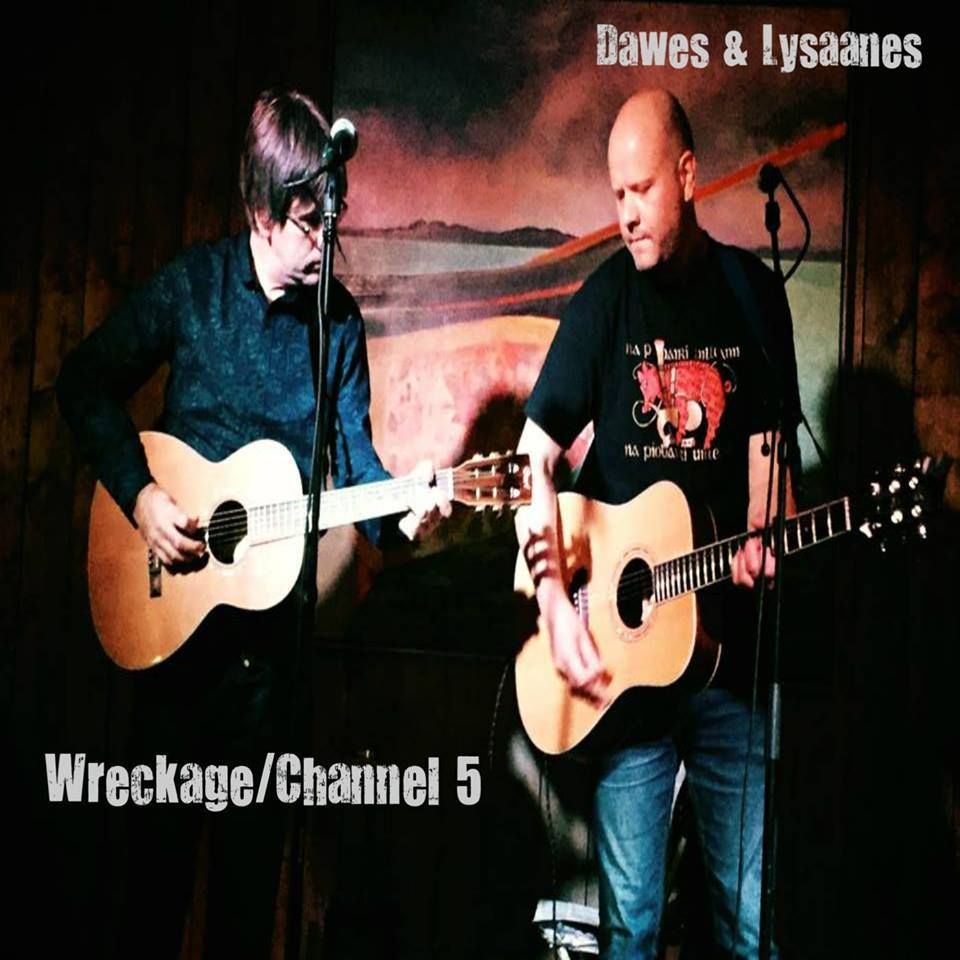 You can listen to sound clips of these two tracks that are also featured on the Vinyl release of
Cover The Distance LP.
Contains Enter in Disguise from the Cover The Distance LP, and there's also the track Seen that sees Andrew joining forces with Trond. There are sound clips for all the songs here.
Also on the
Cover The Distance LP and there's a sound clip for it also.