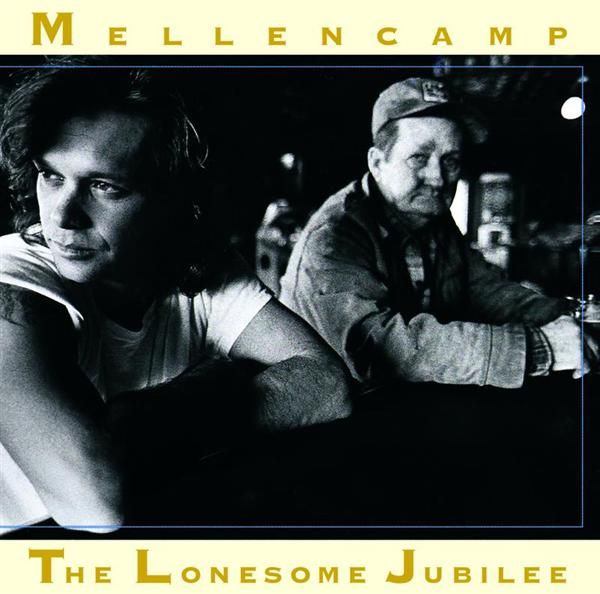 The Lonesome Jubilee - John Cougar Mellencamp
Produced by John Mellencamp and Don Gehman
Released 24th August 1987
UK Charts #31
Personnel
John Mellencamp – vocal, guitar
Kenny Aronoff – drums, percussion, backing vocals
Larry Crane – guitars, mandolin, harmonica, autoharp, banjo, backing vocals
John Cascella – accordion, keyboards, saxophone, melodica, penny whistle, claves
Lisa Germano – fiddle
Toby Myers – bass guitar, banjo, backing vocals
Pat Peterson – backing vocals, cowbell, tambourine
Crystal Taliefero – backing vocals
Mike Wanchic – guitars, dobro, banjo, dulcimer, backing vocals

Singles from The Lonesome Jubilee
The Lonesome Jubilee was the ninth studio album from John Mellencamp and one of his most successful worldwide as it charted in ten countries.
After the success of Scarecrow the band had been on the road a long time and had begun talking about a new project rather than just turn up at the studio and letting it happen.
Mellencamp said in a 1987 Creem Magazine feature. "For the first time ever, we talked about the record before we started. We had a very distinct vision of what should be happening here. At one point, The Lonesome Jubilee was supposed to be a double album, but at least 10 of the songs I'd written just didn't stick together with the idea and the sound we had in mind. So I just put those songs on a shelf, and cut it back down to a single record. Now, in the past, it was always 'Let's make it up as we go along' – and we did make some of The Lonesome Jubilee up as we went along. But we had a very clear idea of what we wanted it to sound like, even before it was written, right through to the day it was mastered."
Over a period of nine months in which the album was recorded Mellencamp took a risk to steer the music in a new direction to the normal rock and roll as he and the band added instrumentation that was more in line with what folk and country musicians would be using to make a record. The risk paid off of course as the album became his fourth Top Ten record in a row.
In my first post on John Mellencamp earlier in the year, where I was looking at his American Fool Album I had said in closing "People have a habit of seeing John Mellencamp as some sort of poor man's Bruce Springsteen and I think that is terribly unfair. He should be recognised as a great songwriter and performer in his own right." I still stand by that. Interestingly during the 1987–88 Lonesome Jubilee Tour, Mellencamp was joined onstage by surprise guest Bruce Springsteen at the end of his May 26, 1988 gig in Irvine, California, for a duet of Bob Dylan's "Like a Rolling Stone," which Mellencamp performed as the penultimate song during each show on that tour.
Let The Day Begin...Let The Day Start!