I was wanting to carry on a little with the theme I kind of started yesterday with the Girls With Guitars posts and that got me thinking about a number of bands and one in particular jumped out at me and as I've not really posted a lot before regarding them I thought I'd rectify that with this one.
Girlschool are a British heavy metal band originating out of the New Wave of British Heavy Metal scene in 1978 and frequently associated with contemporaries Motörhead. They are the longest running all-female rock band, still active after more than 38 years.
Formed from a school band called Painted Lady, Girlschool enjoyed strong media exposure and commercial success in the UK in the early 1980s with three albums of 'punk-tinged metal' and a few singles, but rapidly lost their momentum in the following years.
In the 1990s and 2000s, they concentrated their efforts on live shows and tours, reducing considerably the production of studio albums. They released their 13th Studio album Gulity As Sin a year ago. (You can listen to the Title Track Here and also Take It Like A Band - Here)
During their long career, Girlschool travelled all over the world, playing in many rock and metal festivals and co-headlining with or supporting some of the most important hard rock and heavy metal bands. They maintain a worldwide cult following and are considered an inspiration for many succeeding female rock musicians.
Hit and Run Revisited - Girlschool
Produced by Tim Hamill and Girlschool
Hit and Run Revisited was the 12th Studio album from Girlschool and was a complete re-recording of their second and most commercially successful album from 1981, Hit and Run. It was made to celebrate the 30th Anniversary of the original release and included two bonus cuts - a Re-Recorded version of Demolition that was the title track to their Debut Album and also another version of Hit and Run featuring German Metal vocalist Doro Pesch who had been the lead vocalist for Warlock. You can listen to the original album below.
Girlschool are still on the go today featuring three of the original band: Kim McAuliffe - Rhythm Guitar, Lead and Backing Vocals; Enid Williams - Bass, Lead and Backing Vocals; and Denise Dufort - Drums and Backing Vocals.
Jackie Chambers - Lead Guitar, has been with the band since 1999/2000 but has been connected to various members of Girlschool since the early 1990s.
Kelly Johnson who was a founding member of the band and had performed two tours of duty (1978-1984 and 1993-1999) passed away on the 15th July 2000 at the age of 49 after a six year battle against Spinal Cancer. She remained with the band and toured incessantly until 1999, when she was diagnosed with cancer. After she left the band Johnson remained associated with Girlschool, playing the occasional gig and instructing her substitute Jackie Chambers.
Hit and Run - The Original
1981 was a good year for Girlschool despite still being treated by large numbers of the press as somewhat of a novelty factor for being an All-Female Rock Band. In February they had released alongside
Motörhead the brilliant St. Valentines Day Massacre EP under the banner HeadGirl which reached the dizzy heights of #5 on the UK Singles Chart. Then in April, prior to the release of the second album, they appeared on Top of the Pops performing Hit and Run which peaked just outside of the Top 30 (#32). They also got some TV attention from ITV's Rockstage when they were filmed along with
Motörhead at the Theatre Royal in Nottingham was broadcast (the show had actually been filmed in August 1980). I could only find Furniture Fire/Race With The Devil and Demolition/Emergency on You Tube (I'm not totally sure if there is any other footage or whether this was the only part of their set that was broadcast).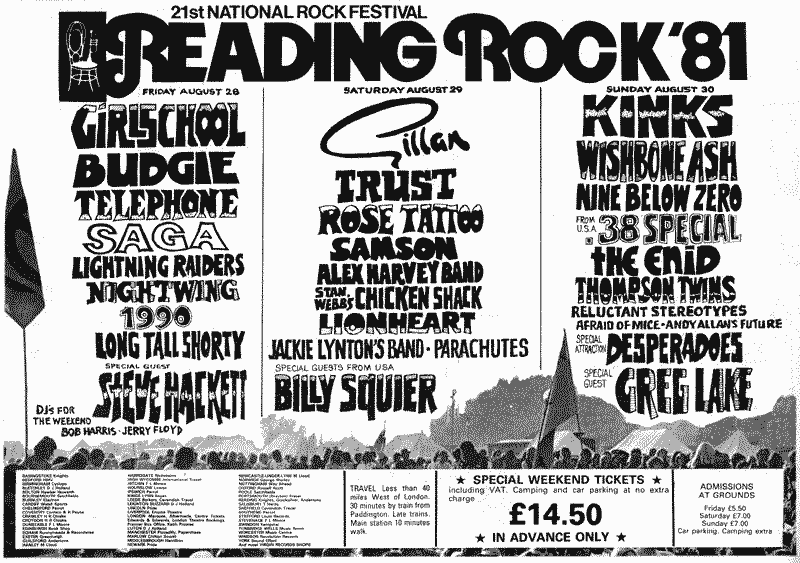 The success of the Hit and Run album led to more opportuites for the band to play at Festivals and also play guest slots alongside Rush and Black Sabbath. Their Hit and Run Tour ended with a Headline performance on the opening Friday of the 21st Reading Rock Festival (Gillan headlined Saturday and The Kinks on the Sunday).
The band were sounding so good and had come along way since the first time that I saw them in 1978 at the Harlsden Roxy supporting Sham 69!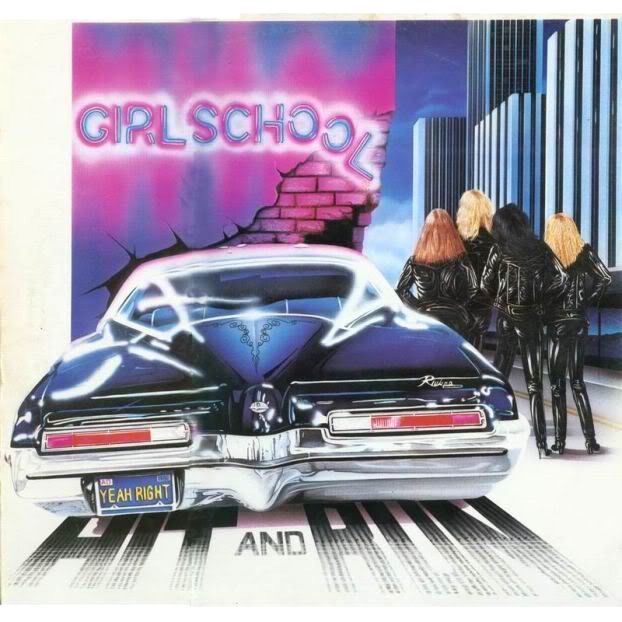 Hit and Run - Girlschool
We'll let Lemmy have the last word as to whether Girlschool were good or not: In an inteview for Crypt Magazine David Necro said "With women rockers, you've always championed them. Like Girlschool, L7, Joan Jett...". Lemmy's response was so typical Lemmy:
"They go through a lot of shit, just 'cause they're chicks. It ain't right. Girlschool, when they started out, guys would say about Kelly Johnson (original lead guitarist) "she's really good for a girl." I'd say, "she's better than you mother******!" Because she was a great guitar player."
You don't want to argue with Lemmy now, do you?
Let The Day Begin...Let The Day Start!