The Wishing Chair - 10,000 Maniacs
Released 23rd September 1985
The Wishing Chair (with Two Bonus Tracks)
Video Above is actually the CD Version of the Album that included two bonus tracks
CD Track Listing
1 Can't Ignore The Train
2 Scorpio Rising
3 Just As The Tide Was A Flowing
4 Lilydale
5 Back O' The Moon
6 Maddox Table
7 The Colonial Wing*
8 Grey Victory*
9 Among The Americans
10 Everyone A Puzzle Lover
11 Cotton Alley
12 Daktari*
13 My Mother The War
14 Tension Makes A Tangle
15 Arbor Day
*Not on the original Release
Singles on The Wishing Chair
(though some versions were re-recorded from the Original Single Versions)
*****************************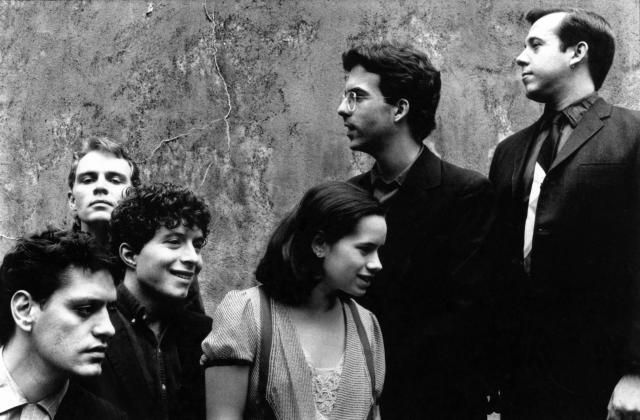 The Wishing Chair was the Major Label Debut from 10,000 Maniacs on Elektra Records. They had released their Debut EP Human Conflict Number Five in 1982 and Debut Album Secrets of the I Ching in 1983 on their own label Christian Burial Music.
Prior to the release of the album the band had recorded a Session for John Peel (like many bands at the time Peel was quite taken with them and had played My Mother The War a number of times on his show that led it to becoming a bit of an Indie Chart hit). It was recorded 23rd June 1985 and first broadcast 1st July 1985. The Session included Just As The Tide Was A' Flowin', Lily Dale, Maddox Table, and Back O' The Moon.
Now, whilst I was sort of aware of the band, I didn't really jump on board until the release of In My Tribe after a good friend had sent me a cassette from the States that included a few tracks from the album and I was instantly hooked by the voice of Natalie Merchant.
That meant then going on a search for the earlier material and was happy to have tracked down a few things and only in the past decade have managed to complete the collection of early material.
The Wishing Chair did not sell bucket loads, and didn't make the chart but it did put them on the map to wider audience and pave the way for a number of fairly successful albums that followed.
Let The Day Begin...Let The Day Start!