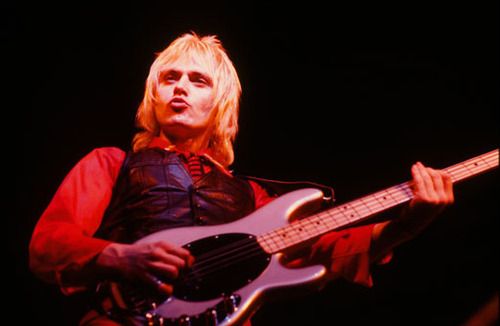 Today would have been the birthday of Benjamin Orr, one of the founding members of the Boston based rock band The Cars. Benjamin sadly lost his life to pancreatic cancer on October 3, 2000 (aged 53).
Whilst today I wanted to honour the memory of Benjamin Orr with the music that he helped create I also wanted to reflect upon the whole issue of cancer.
It's not a pleasant topic of conversation by any means and many of us in some way have been touched by its devastating effects. We could name family members, loved ones and friends who have lost their lives to this terrible disease. Sadly Cancer is no respecter of age and affects both Young and Old and those inbetween.
Others that we know have fought hard against it and have prevailed and bear the scars, both physical and emotional, of the battle. We rejoice with them as each day, week, month, year passes and they remain cancer free.
Then there are others we know of who are currently undergoing treatment and are just coming to grips with the intensity of the fight. They are dependent not just upon the wisdom of Doctors providing the treatment but also upon the love and care of friends and family searching for ways to provide encouragement in the midst of such trying times.
There are many avenues of support for both those going through the battle against cancer and for those who have been touched by it. I have friends and family members who regularly run or walk at events in the name of a loved one in order to raise funds for research into the disease, and there are many other ways that you can get involved with supporting local organizations. Find the groups in your particular area using Google.

I wish to merely point out two groups in particular that I've been pleased to support in small ways and I'm sure you will be aware of others in your area that are seeking to do similar work. So click on the links and find out what these organisations are doing.
Just What I Needed / I'm In Touch
Produced by Ray Thomas Baker
UK Chart #17
Released 25th October 1985
UK Chart #27
1. "Just What I Needed"
2. "Since You're Gone"
3. "You Might Think"
4. "Good Times Roll"
5. "Touch and Go"
6. "Drive"
7. "Tonight She Comes"
8. "My Best Friend's Girl"
9. "Heartbeat City"
10. "Let's Go"
11. "I'm Not the One"
12. "Magic"
13. "Shake it Up"
Add to the list of those Not Forgotten
the list is endless!
Lead Vocal Benjamin Orr
Listen to Rick Ocasek's Musical tribute to his friend Benjamin Orr:
Let The Day Begin...Let The Day Start!