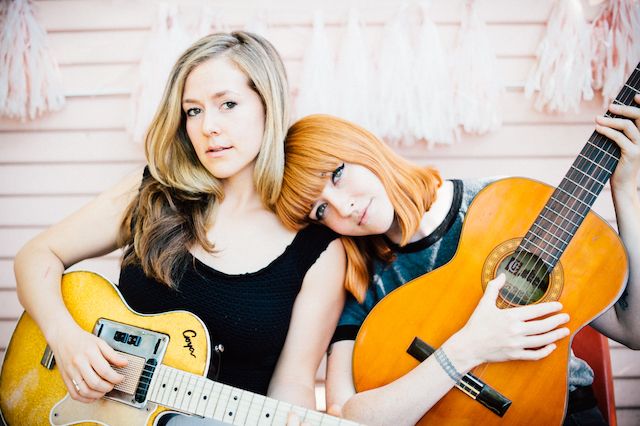 (Katy Goodman + Greta Morgan - Photo by Julia Brokaw)
I love stumbling across new music. Whilst doing the 45RPM piece on Buzzcocks Ever Fallen In Love single I found a cover of it by these two ladies, who I have to confess to not having much knowledge about regarding their particular bands that they are a part of but the cover really impressed me and caused me to check out the album from which it came.
Katy Goodman of Le Sara and Greta Morgan of Springtime Carnivore have teamed up to record an album of cover versions...that usually brings a huge grunt of disapproval from some quarters as cover albums seem like ten a penny these days and are not always very good.
This one is different. I love the fact that they have put their own spin on the songs from some legendary Punk and New Wave Bands like Bad Brains, The Stooges, The Jam, Buzzcocks etc (complete list is down below).
I think this one is going to get a lot of plays in my house in the coming days.
Take It, It's Yours - Katy Goodman + Greta Morgan
Released 29th August 2016
Tracklist
Over The Edge (Wipers)
Pay To Cum (Bad Brains)
Bastards of Young (Replacements)
Sex Beat (Gun Club)
Ever Fallen in Love (Buzzcocks)
Where Eagles Dare (The Misfits)
I Wanna Be Your Dog (The Stooges)*
In The City (The Jam)
Dreaming (Blondie)
Rebel Yell (Billy Idol)
*I Wanna Be Your Dog is missing from the Playlist but you can hear the song as part of the album stream here.