The Wild, The Innocent and The E Street Shuffle - Bruce Springsteen
Produced by Mike Appel, Jim Cretecos
Released 11th September 1973
UK Chart #33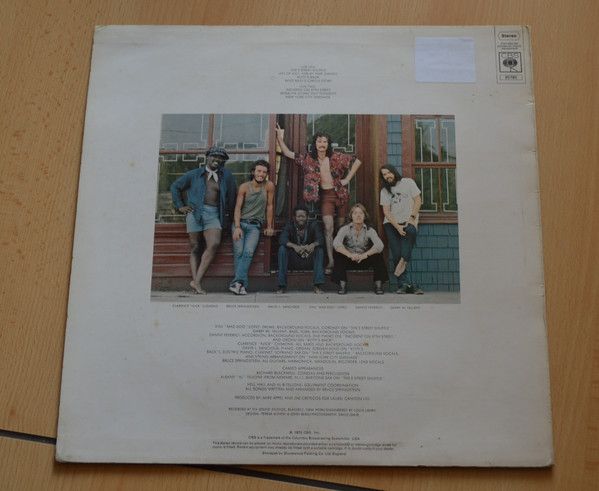 A1 The E Street Shuffle
A2 4th Of July, Asbury Park (Sandy)
A3 Kitty's Back
A4 Wild Billy's Circus Story
B1 Incident On 57th Street
B2 Rosalita (Come Out Tonight)
B3 New York City Serenade
The E Street Band
Bruce Springsteen – guitars, harmonica, mandolin, recorder, maracas, lead vocals
Clarence Clemons – saxophones, backing vocals
David Sancious – piano, organ (including solo on "Kitty's Back"), electric piano, clavinet, soprano saxophone on "The E Street Shuffle", backing vocals, string arrangement on "New York City Serenade"
Danny Federici – accordion, backing vocals, 2nd piano on "Incident on 57th Street", organ on "Kitty's Back"
Garry Tallent – bass, tuba, backing vocals
Vini "Mad Dog" Lopez – drums, backing vocals, cornet on "The E Street Shuffle"

Additional musicians
Richard Blackwell – conga, percussion
Albany "Al" Tellone – baritone saxophone on "The E Street Shuffle"
Suki Lahav - choir vocals on "4th of July, Asbury Park (Sandy)" and "Incident on 57th Street" (uncredited)

The Wild, The Innocent and The E Street Shuffle - Bruce Springsteen and the E Street Band Live in 2016*
Philadelphia 7th September 2016
The Wild, The Innocent and The E Street Shuffle is the second studio album from Bruce Springsteen. It was released on this day in 1973 and was the follow up to Greetings From Asbury Park, N.J. which had been issued 5th January 1973. There's a number of links here, take a chance and click on them to hear some obscure material from Bruce Springsteen.
Springsteen recorded many songs for his second album; at least eleven are known not to have made the final cut. Out of those eleven, "Zero and Blind Terry", "Thundercrack", "Seaside Bar Song" and "Santa Ana" were released on the Tracks box set, whereas "The Fever", a song which had also been recorded by Southside Johnny, was released on 18 Tracks.

The following songs from the album's recording sessions remain officially unreleased:

"Evacuation of the West". Recorded without Sancious and with no overdubs. It circulates in several bootlegs.
"Phantoms" (aka "Over the Hills of St George"). An early version of "Zero and Blind Terry". It circulates in the bootleg Deep Down in the Vaults.
"Fire on the Wing". Considered for inclusion in Tracks. The song remains uncirculated.
"New York Song". An early version of "New York City Serenade", which also included parts of an earlier song called "Vibes Man". The song remains uncirculated.
"Secret to the Blues". Reworking of a previous Springsteen song called "The Band's Just Boppin' the Blues". The song remains uncirculated.
"Angel's Blues" (aka "She So Fine" or "Ride On Sweet William"). Another uncirculated song.
On release the album did not sell well, much like the Debut, and there was even talk that Springsteen might get dropped if his next album didn't meet the mark. Well, we all know what happened with Born to Run don't we?
After hearing many of the songs played live in the past few weeks it's rather odd going back to listen to the album again as they sound a bit empty in places. The E Street Shuffle on the record has almost a very shallow funk sound, but when you hear it live it is way more explosive (watch the version from Paris in 2014 or Roskilde in 2012 with The Roots and you'll get the picture).
43 years on many of the songs are still part of the setlists. In Philadelphia on the 7th September he played five of the seven tracks from it omitting only Wild Billy's Circus Story and 4th of July, Asbury Park (Sandy) and on the 9th September in Philly he played four tracks, omitting Wild Billy's Circus Story, Incident on 57th Street and E Street Shuffle.
On the current tour he has played:
Wild Billy's Circus Story 0 Times
Let The Day Begin...Let The Day Start!