Two events happened on this very day in Ramones World. First, the release of their tenth studio album Halfway To Sanity. Second, the passing of a third member of the original line-up Johnny Ramone.
1987
I've said previously somewhere on this blog that Halfway To Sanity is not one of my favourite Ramones albums as a collection of songs but there are a number of tracks on it that I do think stand up to the what is expected from a quality Ramones song.
The opening three songs I think are great, especially I Wanna Live, after that it all goes a bit down hill. Richie Ramone contributed two tracks (I Know Better Now and I'm Not Jesus) to what would be his final album for the band (he left prior to the release), and they are not good songs at all especially I'm Not Jesus! Johnny got writing credits for his co-writes (Weasel Face and I Lost My Mind) with Dee Dee and they sure ain't pretty! Joey contributed three songs with the standout being Bye Bye Baby (a song that twelve years later would be released as a duet between Ronnie Spector and Joey), the other two - Death of Me and Real Cool Time - are passable but not sure on the wisdom of putting Real Cool Time out as a single as the American B-Side Indian Giver was much better. The UK B-Side Life Goes On has a riff on it that has clearly been lifted from Cum On Feel the Noize by Slade!
I was glad that they released I Wanna Live as a single as it is the strongest song on the album I reckon.
Halfway To Sanity - Ramones
Produced by Daniel Rey and Ramones
Released 15th September 1987
UK Chart #78
Ramones
Joey Ramone – Lead vocals (all but I Lost My Mind)
Johnny Ramone – Rhythm guitar, lead guitar
Dee Dee Ramone – Bass guitar, backing and lead vocals (I Lost My Mind)
Richie Ramone – Drums, backing vocals

Additional musicians
Debbie Harry – Backing vocals (Go Lil' Camaro Go)
Walter Lure - Additional guitar (on some tracks)
Singles from Halfway To Sanity
UK Chart #85
2004
On this day in 2004 news came of the passing of Johnny Ramone (John Cummings). He had been suffering from Prostate Cancer and passed away in Los Angeles.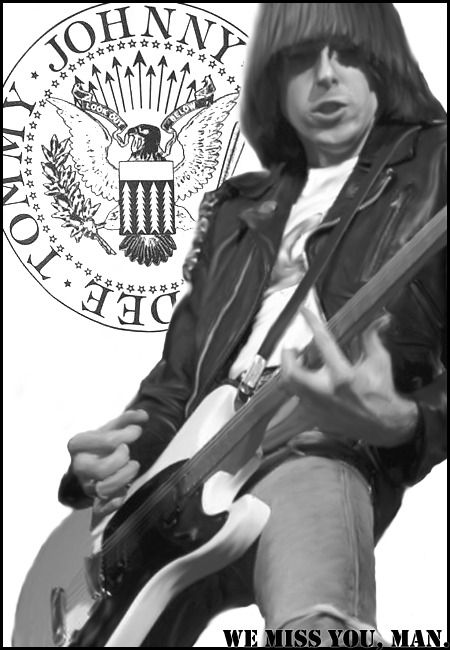 A year later on the anniversary of Johnny's death, the world's first Ramones Museum opened its doors to the public. Located in Berlin, Germany, the museum features more than 500 items of memorabilia, including a pair of stage-worn jeans from Johnny, a stage-worn glove from Joey, Marky's sneakers, and C.J.'s stage-worn bass strap.