2000 CD Reissue with Bonus Tracks
13. Quite Disappointing - (July 1977 B-Side to I'm Alive)
14. Nasty Nasty - (October 1977 A-Side)
15. My Street Stinks - (January 1978 B-Side to Emergency)
Personnel
Nick Cash – Guitar, Vocals
Guy Days – Guitar, Vocals
Pablo Labritain – Drums
Jon Watson – Bass, Vocals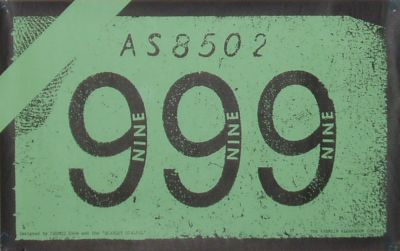 Original Release July 1977
United Artists Reissue 1979
*Not on the original album but included in the CD Reissue
Nasty Nasty* / No Pity
October 1977
*Not on the original album but included in the CD Reissue
Emergency / My Street Stinks*
January 1978
UK Chart #75
*Not on the original album but included in the CD Reissue
Me and My Desire / Crazy
April 1978
****************
999 have been on the go since 1976 and have split up a couple of times only to get back together again. Here's the brief history of the line-up of the band.
Line-ups
Original: Nick Cash (b. Keith Lucas, 6 May 1950) – vocals and guitar; Guy Days – guitar and vocals; Jon Watson – bass; Pablo LaBritain – drums.
End of 1979: Ed Case temporarily replaces an injured LaBritain on drums.
Spring 1980: LaBritain returns after injury.
Split up in 1982 but reformed in 1983.
1986 Watson leaves. Danny Palmer replaces him on bass
Split up in 1987 but reformed in 1993.
1993: Arturo Bassick (of The Lurkers) replaced Palmer on bass.
The fact that three of the original members of the band are still present today is a miracle when you consider that there are a number of Punk Bands out playing that sometimes only have one or at the most two! The band have continued making records and touring and are celebrating 40 years (minus a couple of years when they weren't active) this year.
I always felt that 999 got a bit of a rough ride when it came to the whole Punk scene because they were a little older and had experience from previous bands (Nick Cash had been in Kilburn and the High Roads with Ian Dury).
They signed to United Artists around the same time as Buzzcocks but were never really given the same kind of push. It's a shame because they actually had some quality songs and they didn't always translate so well in the studio. Seeing them live was the best thing.
As I was thinking about The Saints yesterday and their excellent Debut Album it got me thinking about some other bands who were around at the same time. 999 had some great singles and although they jumped from Record Label to Record Label they have managed to put together a great body of work down through the years.
Let The Day Begin...Let The Day Start!