On this day in 1926 The Melody Maker published its first editon. It was nothing like what I read in the late 1970's along with Sounds and the NME (of course it wouldn't have been as I wasn't even a twinkle in my Dad's eye and my Dad wasn't even a twinkle in his Dad's eye! And the bands I love were decades away from even being formed!). It was a music paper that was geared towards Dance Bands and as time moved on it became especially focused on Jazz, it got on the rock and roll wagon a bit late, and was a bit slow introducing things like Charts (Record Mirror had begun issuing an Album Chart in 1956, Melody Maker's first chart was in 1958!).
In the 60's whilst they championed the likes of The Beatles they were also giving coverage to Folk Music and Jazz. They also gave detailed reviews of musical instruments within their pages. They even had classified advertising that would be of great value to bands seeking new members or even bands forming (more about that below).
Into the 1970's Glam and Prog Rock were at the helm so when Punk Rock came a calling Melody Maker were a wee bit slower getting on board unlike Sounds and NME - they eventually did but the better coverage was actually found in their competitors pages!
The early 1980's the paper was at low point having drifted backwards for awhile and then spotlighting more pop orientated music. Then Allan Jones (a staff writer at the paper since 1974) was appointed Editor. Surely the man should be awarded something for taking a stand to not put Kajagoogoo on the front cover one week and instead chose an up-and-coming band out of Manchester called The Smiths!
Into the 90's and the paper was highlighting Indie Music (especially the growing Grunge scene in Seattle led by a band called Nirvana) and also giving space to Dance music, Hip Hop, and Electronica. The writers at the time were known for not always towing the line when it came to current fads like Britpop for instance where it was quite common to have the music press falling over themselves with praise for the bands but at Melody Maker there were dissenting voices over bands like Oasis and Blur.
By the year 2000 it was gone, swallowed up by it's competitor NME.
Why am I talking about the History of a now defunkt Music Paper? No particular reason, well, apart from I was thinking about some bands and about how everybody has to start somewhere. Some got together by word of mouth, others through a note on a school bulletin board, and more still through a Classified Advert in a music paper!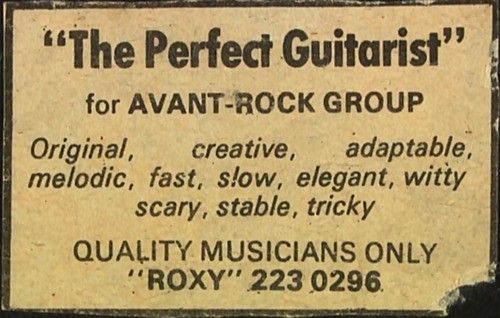 British singer/ex-ceramics teacher Brian Ferry placed an ad in a 1971 issue of Melody Maker for "The Perfect Guitarist". Prospective musicians were asked to be "original, creative, adaptable, melodic, fast, slow, elegant, witty, scary, stable, tricky." And just in case "The Perfect Guitarist" read a little vague to you, Ferry's advert also stated. "QUALITY MUSICIANS ONLY."
Around 20 guitar players responded to the advert, including Phil Manzanera, who didn't make the cut — former The Nice axe-man David O'List got the job. Manzanera accepted a roadie job with Roxy Music instead. But O'List soon quit after a confrontation with drummer Paul Thompson, and the enterprising Manzanera had learned all Roxy Music's art-glam material on the down low. Guess who got the gig next?
There's probably loads of musicians I could mention who joined a band in the same manner and I'll restrict myself to a few who answered a Melody Maker Ad.
I don't personally care for them myself but Duran Duran began putting together the band that would become future pop sensations with an Ad:
LEAD RHYTHM GUITARIST
(Ronson, Manzanera, Gilmour)
Stylish/powerful/inventive to join band with financially strong management
Bassist John Taylor and Keyboardist Nick Rhodes already had the seeds of Duran Duran and were working as house band for a Birmingham Club called Rum Runner. In 1980 they placed the above Ad in Melody Maker and from it they got Geordie based Guitarist Andy Taylor (Simon LeBon would join later but not as a result of an Ad but an Ex-Girlfriend who worked as a Barmaid at the club).
Deep Purple placed an Ad in the paper in 1973 and got a then unknown David Coverdale.
In 1989 the original members of Suede recruited guitarist Bernard Butler via a Melody Maker Ad.
Bill Bruford placed an Ad in 1968 and the result was he got Jon Anderson and Chris Squire and thus the founding line-up of Yes was born.
In 1970 Steve Hackett of Genesis placed an Ad in Melody Maker looking for a Drummer, that Ad was answered by Phil Collins.
Bassist Noel Redding responded to an Ad to join The Animals. The eventual Bassist of the band Chas Chandler introduced Redding to one Jimi Hendrix and so he ended up in The Jimi Hendrix Experience.
The legendary London SS had placed Ads in Melody Maker. The London SS members were more famous for what they did later than they were for anything that they accomplished during the band's existence. Just briefly some of those who passed through were Brian James and Rat Scabies (left to form The Subterraneans and eventually The Damned), Paul Simonon and Mick Jones (who went on to form The Clash - Terry Chimes and Topper Headon as well had the connection), Tony James (hooked up with Billy Idol to form Chelsea and then Generation X),and Matt Dangerfield and Casino Steel (who would go on to form The Boys).
In 1974 Jet Black met Hugh Cornwell after reading an Ad in the paper and they would go on to form The Guildford Stranglers who became The Stranglers and would gain great notoriety in the early days of the emerging Punk Rock Scene of 1976 (due to supporting both Patti Smith and the Ramones). If Jet Black (Brian Duffy as he was known then) hadn't read the Ad in Melody Maker would the two of them have ever met? That's a question I don't think anyone could answer! Whatever the case many of the musicians who hooked up with each other as a result of a Melody Maker Ad have left an interesting body of work for our listening pleasure down through the years (and even today).
I offer up one song from this little lot as a reminder that sometimes opportunity has a fantastic way of presenting itself, even in the small print Classified Adverts of a Music Paper!
And a lyric came to mind when thinking about many of these bands that began or gained a vital musician through an Ad. It has nothing to do really with Melody Maker or any of the bands as such:
"All Cards Are Marked All Fates Will Collide!"
(from 'Where Were You Hiding When The Storm Broke? - The Alarm)
Let The Day Begin...Let The Day Start!