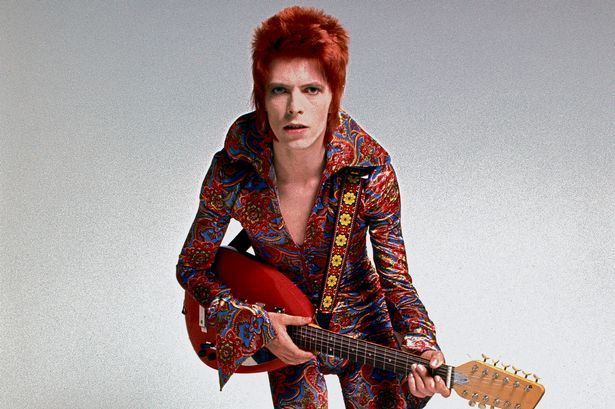 The second Music of the Doctor Series of 2016 (
some odd reason I

forgot to call the last one by #1...that's why this one is called #1!) and it's a special one right off the bat. A Tribute to the Music of David Bowie who so sadly passed away on 10th January 2016.
I've tried to find so interesting performances of Bowie himself playing his songs and the songs of others (the version of The Pixies' 'Cactus' by Moby and Bowie for Jay Leno is so brilliant) and also of other artists performing the songs of The Thin White Duke. Some fascinating covers, and there's loads on You Tube.
Rebel Rebel - David Bowie.
All The Young Dudes - Mott the Hoople

.
The story goes that Mott the Hoople were about to break up due to a lack of commercial success and that Bowie met with bassist Peter Watts. He offered the band 'Suffragette City' (which they rejected - can you believe that?). He then apparently sat down in front of Ian Hunter and wrote 'All the Young Dudes', the rest as they say is history! They released it in 1972 and went on to hit #3 in the UK Singles Chart. Bowie's

own version of the song

, a demo for the Aladdin Sane album went unreleased until 1995.
Sound and Vision (Reimagined) - Beck.
The Man Who Sold the World (Live MTV Unplugged) - Nirvana.
John, I'm Only Dancing (Promo) - David Bowie.
Space Oddity (Live) - Natalie Merchant.
Ashes to Ashes - Warpaint

.
I first heard them doing a version of this at Glastonbury for the BBC and thought it was smashing.
The Jean Genie (Top of the Pops) - David Bowie.
Young Americans - The Cure.
"Helden" ("Heroes" in German) - Andrea Schroeder

.
Rock 'n' Roll Suicide -
Ziggy Stardust and The Spiders From Mars

.
Across the Universe (The Beatles cover) - David Bowie.
Modern Love - Matchbox Twenty.
Diamond Dogs (Live 1996) - David Bowie.
Quicksand - Dinosaur Jnr.
Five Years (Live at iTunes Festival) - Ramona.
Golden Years (Soul Train) - David Bowie.
"Heroes" (Live) - The Coal Porters

.
To demonstrate the breadth of Bowie's influence I added this one because there's probably nowhere else on earth you'd hear a version of the classic "Heroes" done in the style of Bluegrass!
Suffragette City -
Ziggy Stardust and The Spiders From Mars

.
Cactus (Live - The Pixies Cover) - David Bowie and Moby.
I'm Afraid of Americans (Live) - Nine Inch Nails.
Boys Keep Swinging (Live on The White Room) - David Bowie.
Changes - Butterfly Boucher and David Bowie

.
This appears on one of the Shrek Movie Soundtracks. Bizzare but very wonderful.
White Light/White Heat (Velvet Underground Cover) - Ziggy Stardust and The Spiders From Mars.
China Girl (Live) - Iggy Pop.
Absolute Beginners (Live at BBC) - David Bowie.
You Belong in Rock 'n' Roll (Promo) - Tin Machine

.
I wasn't going to include any Tin Machine tracks as I'm not overly fussed by them but I have to confess to liking this one.
Dead Man Walking (Promo) - David Bowie.
Under Pressure (Live) - My Chemical Romance and The Used.
Arnold Layne (Live) David Bowie and David Gilmour.
Moonage Daydream - L.A. Guns.
Cracked Actor - Big Country.
Drive-In Saturday Night (Live) - Morrissey.
The Stars Are Out Tonight - David Bowie.
Like A Rolling Stone - Mick Ronson and David Bowie
.
From Mick Ronson's Heaven and Hull album. I really love this, Ronson's guitar work gives the song a rabid edge the Dylan original lacks.
The second release from Bowie's final album Blackstar and it contains what almost seems like his way of telling us that he was dying:

Look up here, I'm in heaven
I've got scars that can't be seen
I've got drama, can't be stolen
Everybody knows me now