What do PVC2 (featuring future Rich Kid and future lead vocalist with Ultravox Midge Ure), The Killjoys (featuring future Dexys Midnight Runner vocalist Kevin Rowland), Johnny and the Self Abusers (featuring future Simple Minds Jim Kerr, Charlie Burchill and Brian McGee), Arms & Legs (featuring future solo artist Joe Jackson, Dave Cairns furture New Heart and member of Secret Affair), The 101ers (featuring future Clash frontman Joe Strummer) and the Models (featuring future Ants backing Adam, Marco Pirroni and Terry Lee Miall) all have in common?
They all released only one single before disbanding and launching out into other projects.
Particularly back in the days of Punk there were quite a number of bands who only released one single, or album and then vanished off the face of the planet, whilst others from the time went on to have pretty solid careers having hit singles and albums and more than a few of them are still around today (forty years on) still playing live and recording and releasing new music.
Some people are remembered for plenty of things so being remembered for just one thing can have either or positive or negative reaction. That one thing might be something bad and everytime your name is mentioned it is certain that this one thing will come up time and time again. On a positive note if that one thing is something good then that can only be beneficial. In some people's minds the Models might not mean anything at all, but if ever I hear a mention of their name or even Marco Pirroni's name my first thought is this record!
The Models didn't hang around for a long time at all. They formed out of the ashes of a band called The Beastly Cads who had sprung up in the early days of Punk in 1976. Marco Pirroni, guitarist of the band already has his name etched into the history of Punk Rock as being the guitarist for the first ever gig of Siouxsie and the Banshees at the 100 Club Punk Festival.
They released their one and only single on Step Forward Records (set up by Mark Perry - Sniffin' Glue and later founder of Alternative TV). It was the third release on the label and a Double A-Side (though for years I just assumed that it was plain old A-Side and B-Side and I've been saying for years that Man of the Year is the best Punk B-Side ever!). The single was released in June 1977, in October they were out on the road supporting The Heartbreakers and The Killjoys and by April 1978 the band were no more.
Sandy Robertson in Sounds reviewed the single in the 18th June 1977 issue of the weekly music paper and this was the review:
"One Step Forward - two steps backward. Apart from Chelsea the stuff on Step Forward has been of pretty low standard. Watch out for Alternative TV, though!"
Such was the poor standard of actually reviewing the record that Robertson must have failed to notice that Step Forward had only released three singles up to this point and discounting Chelsea's Right To Work single that left The Cortinas Facist Dictator (the first release on the label) and that is now considered a classic!
The only other recording of their music is the 4th July 1977 Session (broadcast 13th July) they recorded for John Peel that contains both tracks from the single and two others (Censorship and Brainwash).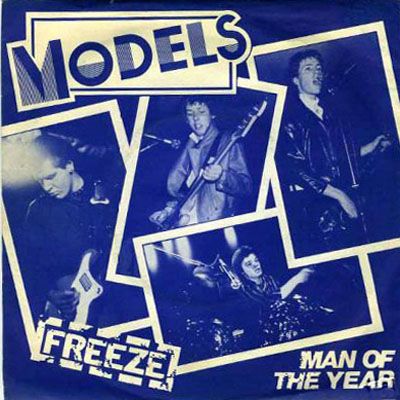 A-Side: Freeze - Models
AA-Side: Man of the Year - Models
Let The Day Begin...Let The Day Start!