(Luther Allison Portrait by Geerke)
Born in Arkansas in 1939 Luther Allison, along with his family moved to Chicago in 1951 and it was here he began listening to the Blues. He taught himself to play guitar and hung around outside clubs in the hope of someone inviting him to play. His big break finally came in 1957 when he was invited to the stage by none other than the great Howlin' Wolf.
Freddie King (another legendary Chicago Blues guitarist who was actually born in Dallas, Texas!) took Allison under his wing and encouraged him to sing as well as play. When King got his record contract Luther took over his spot at Walton's Corner on the Chicago West Side. Throughout the late 1950s and early 1960s Luther Allison worked the club circuit building a reputation and in 1969 he released his first album (Love Me Mama) on Delmark Records. With his live performances he was becoming a major blues attraction.
In 1972 he signed for Motown Records (he was one of the few Blues act on the roster) and released three albums, Bad News is Coming being the first, followed by Luther's Blues (1974) and Night Life (1976).
After touring in Europe in the 1970s he took up residence in France in 1977. He became a bit of a Blues Superstar and released many albums including a few live ones. Later he returned to the States and released Soul Fixin' Man in 1994 (his first domestic album for quite a number of years. The link contains most of the album but the second track has been deleted from the playlist).
During a summer tour in 1997 he checked into hospital complaining of dizziness and lack of coordination.
The news broke that Allison had been diagnosed with inoperable lung cancer in July of 1997, the blues world was shocked. When he died just four weeks later, they were devastated. He went in and out of a coma and sadly passed away in Wisconsin on the 12th August 1997, five days before his 58th birthday. His album Reckless had just recently been released.
Allison was posthumously inducted into the Blues Hall of Fame in 1998. In 2000, the Chicago Sun-Times called him "the Bruce Springsteen of the blues".

Allison is buried at Washington Memory Gardens Cemetery in Homewood, Illinois.
Bad News is Coming - Luther Allison
Motown/Gordy 1972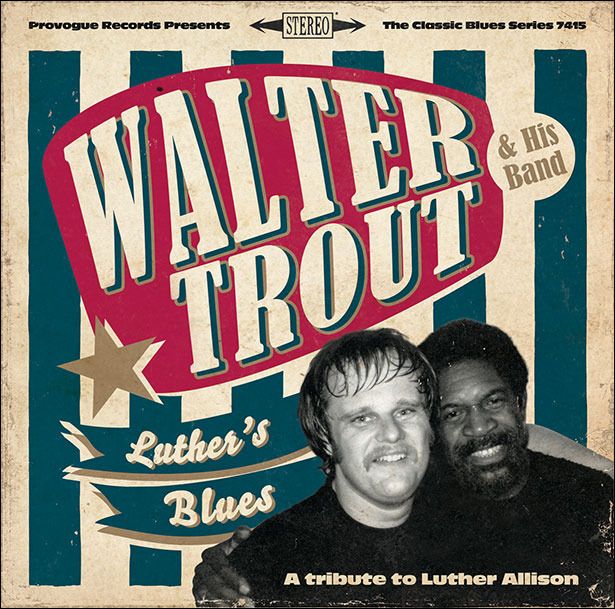 Luther's Blues: A Tribute to Luther Allison - Walter Trout and His Band
2013
I wanted to include the album above for two reasons. Firstly, because I love the respect that fellow Bluesmen/women often show to their fallen. Secondly, it's by a Bluesman I only recently discovered whose music I have come to really enjoy, Walter Trout. The album that first came across my way of his was Battle Scars which was released last year. I kind of stumbled onto it after continually see ads for it on my facebook page on my phone and didn't have a clue who he was. I checked it out, loved it and have been hunting around trying to find more of his music ever since. Like all Bluesmen/women old Walter has one heck of a story to tell!
Let The Day Begin...Let The Day Start!