Posting John Campbell yesterday I felt that maybe this week I'll turn the spotlight on The Blues and maybe share a few of my favourite albums over the next few days.
101 years ago on this day McKinley Morganfield was born (though some actually say there is evidence he was actually born in 1913!). You probably wouldn't know who on earth I was talking about if I failed to mention that he was better known as Muddy Waters. He is often cited as being the "Father of Modern Chicago Blues".
He was born in Mississippi and raised by his Grandmother as his own Mother had passed away shortly after his birth. His nickname 'Muddy' came from his Grandmother because he liked to play in the muddy waters of of Dear Creek. He changed it to first Muddy Water and then later Muddy Waters. He had begun playing Harmonica but by the age of 17 was playing guitar at parties emulating the great Son House and Robert Johnson. In 1943 he moved to Chicago with the hope of becoming a full time musician.
Prior to this, in 1941, he made his first recording. Alan Lomax, who was the Director at the Archive of American Folk Song housed at the Library of Congress. The single that Lomax had Waters record was Country Blues backed by I Be's Troubled. Lomax recorded him again 1942 and released as Down on Stovall's Plantation (most of the songs are in that link, though one of them has been deleted) and the sessions were finally released on CD in 1993 as Muddy Waters: The Complete Plantation Recordings. The Historic 1941–42 Library of Congress Field Recordings on Chess.
In Chicago by day he worked in a factory and drove a truck and at night he got a helping hand opening for Big Bill Broonzy. By 1946 he had recorded some material for Columbia Records but that didn't see the light of day at the time. He did begin recording for a new label called Aristocrat Records set up by brothers Leonard and Phil Chess (and the label changed it's name simply to Chess Records in 1950). You can watch and learn more about the Chess Records Story Here!
Muddy Waters recorded and released more than 20 singles (45's were the way to do things in those days, albums didn't really begin for Muddy Waters until 1960).
I wish I had the time to dig deeper into Muddy Waters, the man who brought to the UK in 1958 probably the first Amplified Blues! There's a good number of albums I could have posted but have chosen a real special one from 1972.
I sticking this album up today as it's one of many that I really love of his. It's an amazing album full of so much talent. Chess had released a London Sessions album the year before in 1971 with Howlin' Wolf (that featured various Rolling Stones, a Beatle and Eric Clapton). Alongside Muddy Waters for this album would be Steve Winwood, Rory Gallagher, Mitch Mitchell (from Jimi Hendrix Experience), and Rick Grech (from Traffic and had also been in Blind Faith).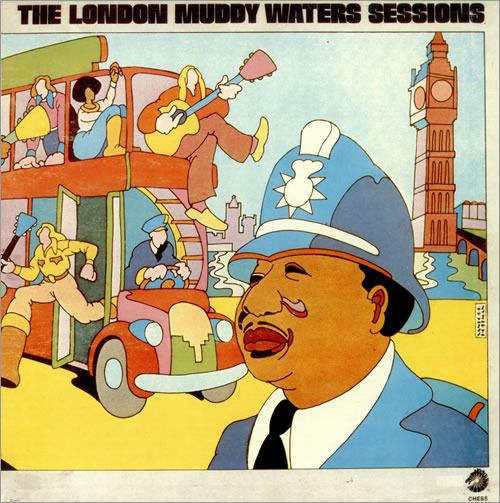 The London Muddy Waters Session - Muddy Waters
Produced by Esmon Edwards and Ian Green
Let The Day Begin...Let The Day Start!