Television had released in 1977 what is, I reckon, one of the best debut albums ever and infact one of the greatest albums ever made in Marquee Moon. I know that might sound over the top to some but hey, that's what I think. Thirty nine years on from its release it's an album that still brings such a sense of pleasure listening to it.
Adventure was not an album that was well received, especially in the US where it fared worse than Marquee Moon (and at home it was a really poor seller for the band). Away from the States it did much better. It entered the UK Album Charts at #7!
Add the poor reception of the album and Richard Lloyd's issues with drugs and the questions regarding the direction of the band by all its members, it is no wonder that later in 1978 the band imploded!
The album may lack the punch that Marquee Moon had but there are a few moments on it that are wonderful I think - the whole of side one is great and maybe the inclusion of the title track might have been a good idea for side two (It wasn't added to the album until the CD Reissue in 2003).
It was released with a Limited Edition Red Vinyl to begin with as was the Foxhole single, which also had the gimmick of four different coloured picture covers (Blue, Green, Yellow and Red) that surely helped them obtain a respectabel #36 on the UK Singles Chart and #7 on the UK Album Chart.
Richard Lloyd and Tom Verlaine went off to begin solo careers. Fourteen years later they got back together again and released a third album simply titled Television. Richard Lloyd departed the band in 2007 and over the years Television have played here and there but not with any great frequency. There were rumours of another album more than five years ago but nothing has seen the light of day as of yet.
Produced by John Jansen and Tom Verlaine
UK Chart #7
Side A
1. "Glory"
2. "Days"
3. "Foxhole"
4. "Careful"
5. "Carried Away"

Side B
1. "The Fire"
2. "Ain't That Nothin'"
3. "The Dream's Dream"
2003 CD Reissue Bonus Tracks
Ain't That Nothin (Single Version).
Glory (Early Version).
Ain't That Nothin' (Instrumental).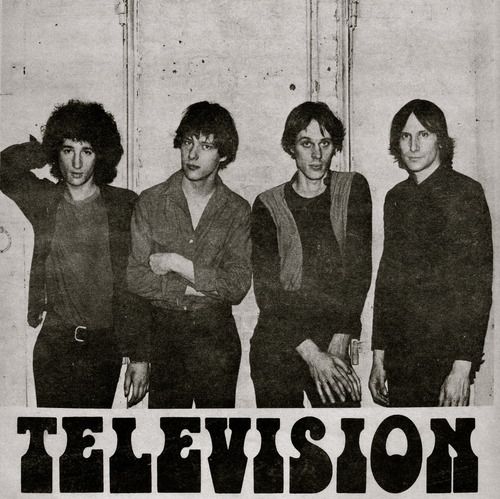 Television
Tom Verlaine – lead vocals, guitar, piano
Richard Lloyd – guitar, vocals
Fred Smith – bass, vocals
Billy Ficca – drums
Television - I Need a New Adventure

Adventure LP Outtakes
1. Ain't That Nothin'
2. Adventure
3. Glory
4. Days
5. Foxhole
6. Carried Away (a.k.a. The Vibrato Song)
7. Ain't That Nothin'
8. Careful
9. Glory
10. Carried Away
11. Up All Night (unreleased)
12. Grip of Love (later appeared on Tom's first solo album)
13. Last Night (a.k.a. Piano Song. This song ended up on Tom's 1st solo album)
14. The Dream's Dream
15. Glory
16. The Fire

Let The Day Begin...Let The Day Start!