The fourteenth studio album by Bruce Springsteen was released on this day in 2006 and followed hot on the heels of his 2005 release Devils and Dust.
This one though was a bit of a different Springsteen album in that it contained no Springsteen songs (until the American Land Edition was issued) but was loaded with songs from the American Folk songbook. It actually had its roots back in 1997 when he recorded We Shall Overcome for the Where Have All the Flowers Gone: the Songs of Pete Seeger tribute album.
Bringing together some lesser known musicians from New Jersey and New York, and a few he had worked with before like the Miami Horns they recorded in an informal, large band setting in Springsteen's Colts Neck, New Jersey farm. This group would become The Seeger Sessions Band and between 30th April and 21st November 2006 they would perform 56 shows under that banner.
The date in London on the 9th May was broadcast on Radio 2 and filmed for BBC 4 (though broadcast in edited highlights). The 17th-19th November shows at The Point Theatre in Dublin were filmed and recorded and later released as a CD and DVD package in June 2007 as Live in Dublin.
Those blasted critics were divided how about how good or bad it was! David Browne of Entertainment Weekly felt that Springsteen successfully imbues the songs with a "rock & roll energy" rather than an adherence to folk's blander musical aesthetic, and Gavin Martin of Uncut called it "a great teeming flood of Americana" and "a powerful example of how songs reverberate through the years to accrue contemporary meaning".
On the other hand it was panned in The Village Voice and Neil Spencer writing for The Observer said it is "mostly too corny to have much drama restored to them".

The man himself Pete Seeger said, "It was a great honor. [Springsteen]'s an extraordinary person, as well as an extraordinary singer."
The album would go on to win at the 49th Grammy Awards a Grammy Award for The Best Traditional Folk Album.
Among my many friends who are Springsteen fans there are many who loved it and many that loathe it.Whilst it is not my favourite of releases by Bruce I do think it has a real charm to and he should be applauded for being brave enough to put out a record that didn't contain any of his own material.
For Bruce fans longing for some original material it would not be too long of a wait as Magic was unleashed in in September 2007 and a new raft of dates with the E Street Band would follow (100 shows between 2nd October 2007 and 30th August 2008).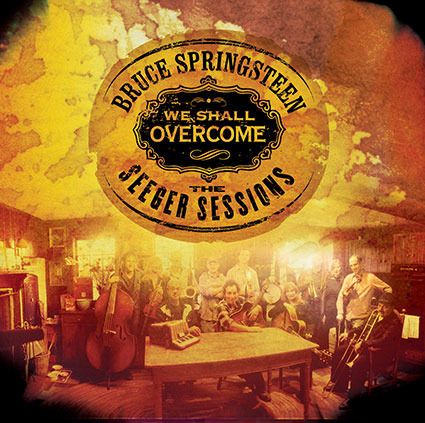 We Shall Overcome: The Seeger Sessions - Bruce Springsteen
Columbia
Produced by Bruce Springsteen and Jon Landau
Released 25th April 2006
US Chart #3
UK Chart #3
Personnel
Bruce Springsteen – lead vocals, guitar, harmonica, B-3 organ, and percussion
Sam Bardfeld – violin
Art Baron – tuba
Frank Bruno – guitar
Jeremy Chatzky – upright bass
Mark Clifford – banjo
Larry Eagle – drums and percussion
Charles Giordano – B-3 organ, piano, and accordion
Ed Manion – saxophone
Mark Pender – trumpet, backing vocals
Richie "La Bamba" Rosenberg – trombone, backing vocals
Patti Scialfa – backing vocals
Soozie Tyrell – violin, backing vocals
Bonus Tracks on the American Land Edition (3rd October 2006).
Buffalo Gals.
How Can I Keep From Singing.
How Can A Poor Man Stand Such Times and Live

.
Bring 'em Home.
American Land.