I remember legendary Christian Rocker Larry Norman once telling a story of how he got off a flight to Norway and being confronted by some press asking the question whever he agreed with The Bishop of Norway about Heavy Rock. Larry Norman didn't know what The Bishop had said about it and was told that he had remarked that Heavy Rock was bad. He was asked again if he agreed with that. Larry Norman's response was classic, "Is Heavy Rock bad? Yes, I agree with that...but it could be better if they practised more!"
I tell that story because it's funny but also because it reminded me that I was in no way a big fan of Heavy Rock at all (and that's still the case). But when Iron Maiden released their debut album there was a huge change happening in the world of music.
Many of the punk bands had all but outgrown the genre and the new breed of Punks like Discharge, GBH, The Expoited etc were experimenting with a more primal sound. The Mod revival was soon to be on it's last legs, as was Two Tone. The New Romantics were about to rise up and yet somewhere in the background to all of this was the rumble of thunder, I mean the sound of heavy metal!
Sounds, the weekly music paper was totally on board with what was being termed as the New Wave of British Heavy Metal and bands seemed to be crawling out of the woodwork on a daily basis. There was Tygers of Pan Tang, Praying Mantis, Angel Witch, Samson, Def Leppard, Diamond Head, Mama's Boys, Saxon, Venom, and Vardis to name but a few. Girlschool and Motörhead had been sniffing around throughout the early years of Punk and a band like Judas Priest was about to get a new lease of life as well.
I saw many of these bands at The Marquee in late '79 and into the 80s.
The best of this new crop of Heavy Rockers though surely was Iron Maiden. They were formed in 1975 and it took a long while to get recognition, and to find a stable line-up which was completed in November 1978 when Steve Harris found vocalist Paul Di 'Anno. By December 1979 they had signed with EMI. Their first appearance on an album was the February 1980 release called Metal For Muthas Volume 1. They had two tracks on it, Sanctuary and Wrathchild. Also on the album were a few of the bands I mentioned above: Angel Witch, Praying Mantis and Samson. The other bands were Sledgehammer, E.F. Band, Toad the Wet Sprocket, Ethel the Frog, and Nutz.
A live version of title track, Iron Maiden, was also one of the first videos to be shown on MTV.
I always thought their second single Sanctuary was quite punky sounding but Steve Harris has gone on record saying the band despised everything about punk!
They appeared on Top of the Pops performing Running Free and refused to toe the line and mime the song and became the first band since The Who in 1972 to actually sing and play their instruments live on the show (the link for the performance is down below).
Geoff Barton of Sounds said the album is "Heavy metal for the '80s, its blinding speed and rampant ferocity making most plastic heavy rock tracks from the '60s and '70s sound sloth-like and funeral-dirgey by comparison."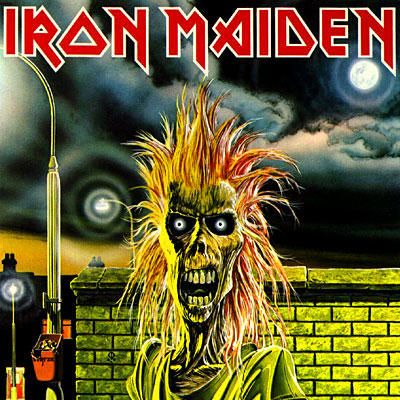 Iron Maiden - Iron Maiden
UK Chart #4
Swedish Chart #36

Iron Maiden
Paul Di'Anno – lead vocals
Steve Harris – bass guitar, backing vocals
Dennis Stratton – guitar, backing vocals
Dave Murray – guitar
Clive Burr – drums
Singles from Iron Maiden
*wasn't originally on the album but was added to the American Release in August 1980.