If you want a career in music the Blues might be a place to look. I say that because the careers of many popstars are often shortlived but the Blues, and if you are good at your craft, can be something that lasts a very long time! Longevity is something that is characteristic of the great Bluesmen and Women.
A great example of that is B.B. King. He began playing back in 1943 with the St John's Quartet in Mississippi as a guitarist playing in various churches.
Around 1948 he got a spot on Sonny Boy Williamson II's Radio Show on KWEM in West Memphis. And in 1951 began recording for Los Angeles based RPM Records (though he did release some music for Bullet Records in 1949-50 including his debut single Miss Martha King and his second Got The Blues both 10" 78's). On RPM Records he released a number of singles and five of these turned up on the debut album Singin' the Blues (released on Crown Records which was also owned by the Bihari Brothers who owned RPM Records). Three of the singles had actually been #1 on the Billboard Rhythm and Blues chart (3 O'Clock Blues, Please Love Me and You Upset Me Baby). The album came after six years of singles.
B.B. King was playing almost up to his death. He had been unwell but had contined playing right up until he was forced to cancel the last eight shows of his 2014 tour due to health concerns. Between October 2014 and April 2015 he had been hospitalized a couple of times due to high blood pressure and his diabetes. Then came the news that he was getting hospice care at his home and on 14th May 2015 at aged 1989 he passed out of this world. The cause was Alzheimers and congestive heart failure.
In his long career of 66 years performing as a Bluesman he released more than 40 Studio Albums, 16 Live Albums and 138 singles. There are stacks of B.B. King compilations, the latest of which is the 5CD set The Complete Singles As & Bs 1949-62 put out by Acrobat Music last year.
Singin' The Blues - B.B. King
Produced by Florette Bihari
Released 1956
Personnel
Red Callender – bass
Maxwell Davis – sax (tenor)
Jewell L. Grant – sax (alto)
Billy Hadnot – bass
Ralph Hamilton – bass
Lorenzo Holden – sax (tenor)
B. B. King – guitar, vocals
Willard McDaniel – piano
Jack McVea – sax (tenor)
Bumps Myers – sax (tenor)
Jake "Vernon" Porter – trumpet
Jesse Price – drums
Jesse Sailes – drums
Maurice Simon – sax (tenor)
Floyd Turnham – sax (alto), sax (baritone)
Charles Waller – sax (tenor)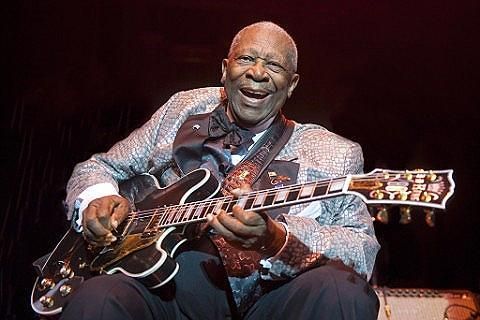 Let The Day Begin...Let The Day Start!