The debut album from Beastie Boys, Licensed To Ill was huge reaching #1 in the US and #7 in the UK and was pretty much warmly received by the music press. Melody Maker had declared, "There's lots of self-reverential bragging, more tenuous rhymes than are usually permitted by law and, most importantly of all, an unshakably glorious celebration of being alive.… A surprisingly enduring classic." But in some ways it kind of gave the image of the Beasties as some sort of cartoon, Three Stooges-like type of band that seemed to prosper inspite of the often over zealous buffoonary!
1989's follow up Paul's Boutique was a bit of a slow burner. Capitol were prepared to write it off as a commercial failure but then it began rising in the charts and peaking at #14. Whilst not moving the same kind of quantity of the debut it has sold enough to go Double Platinum (Licensed To Ill sold enough to go Diamond - that's 10 x Platinum). The album is quite standout from the fact that most of the music on the album is made from samples!
The third installment of Beastie Boys, Check Your Head, was different again in that the boys went back to doing what they had done before they hit the big time, playing their instruments and also reviving something of their Punk Rock Sound that was found on the Polly Wog Stew EP from 1982.
Rolling Stone gave the album three out of five stars, saying "…their most unconventional outing to date… Beneath the seeming chaos, the Beastie Boys have created a harmonious playground out of their musical fantasies."
There's a rather interesting mix of sound on the album ranging from Hardcore Punk to Jazz-Funk to Rap-Rock and straight up Hip Hop.
I saw them on the tour for this album at Barrowlands in Glasgow. The support on the tour was the Rollins Band who were out promoting their The End of Silence album (in the States they also had Cypress Hill). I thought they were much better than when I saw them on the road doing Licensed to Ill as I don't recall them playing instruments then. I can remember a few people not being too impressed that they had seemingly abandoned their goofiness (it was still there but a more finer tuned version). There were plenty of people there to see Rollins as well but if I were to hazard a guess, a number of folks who had been swept up in the hype of the first album would have disowned the band after seeing them perform many of the songs from Check Your Head (they did do a couple from the debut but not many from what I remember).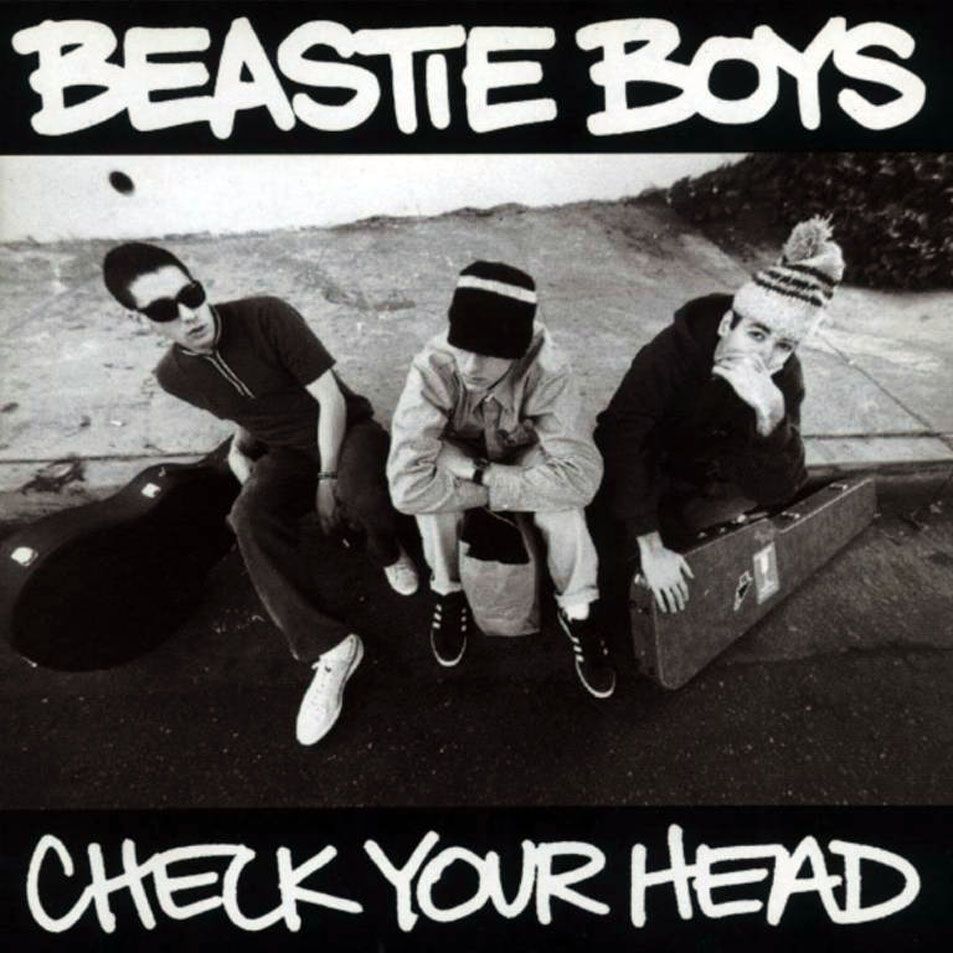 Check Your Head - Beastie Boys
Produced by Mario Caldato Jr.
UK Chart #106
Personnel
Beastie Boys:
Ad-Rock – Vocals, guitar
Mike D – Vocals, drums
MCA – Vocals, bass

Additional Musicians:
Marcel Hall - Vocals on "The Biz Vs. The Nuge"
James Bradley, Jr. – Percussion
Drew Lawrence – Percussion
Money Mark – Organ, synthesizer, keyboards, clavinet, wurlitzer
Art Oliva – Percussion
Juanito Vazquez – Percussion, conga, cuica
Charted Singles From Check Your Head
UK Chart #47
US Chart #93
Let The Day Begin...Let The Day Start!