Desperate Character - Kirsty MacColl
Produced by Barry "Bazza" Farmer
Did Not Chart
The musical career of Kirsty Ann MacColl was a very hit and miss affair. Just when you thought she was on the verge of something really good happening she seemed to fade stage left and out of sight.
Her musical debut had been as vocalist Mandy Doubt in 1978 with Punk band The Drug Addix on their Make A Record EP for Chiswick Records. Stiff Records had been underwhelmed by The Drug Addix as a band but saw something in the young Kirsty MacColl and signed her and released her excellent Debut Single They Don't Know. The single went nowhere (and wouldn't actually be a hit until Tracy Ullman took it up the charts to #2 four years later - Kirsty performed backing vocals on the single) but this was mainly due to a strike by the distributors that had prevented it (not specifically) from being shipped and released. The follow-up, You Caught Me Out, did not see the light of day as Kirsty left Stiff as she thought they were not giving her the sufficient backing.
She seemed to drift off the radar for awhile but resurfaced in February 1981 with Polydor Records who released as her first single a cover of the Goffin/King song Keep Your Hands Off My Baby (a song that The Beatles and Little Eva had performed in the 1960s). It's an absolutely gorgeous version of the song and it shows off Kirsty's incredible vocal abilities (listen to the backing vocals on it, that's all Kirsty!). The single didn't make the charts either which I really cannot understand why not!
Three months later she got her big break with the release of There's A Guy Works Down The Chip Shop Who Swears He's Elvis. It hung around the charts for nine weeks and peaked at #14. She even got on Top of the Pops.
Her Debut Album was released as Chip Shop was going down the chart but sadly the album never charted. Another single from the album was issued, See That Girl, and that failed to chart as did a further three singles and Polydor let her go in 1983 just as she had completed work on her second album (that has never seen the light of day). She would return to Stiff Records and that would be yet another journey of hits and misses!
The Debut Album though is what's the focus today and whilst receiving critical acclaim it didn't sell. It had been out of print for many years until October 2012 when it was released on CD for the first time as part of Union Square's Reissue programme of Kirsty's Albums.
The album itself shows off how eclectic her tastes were as it embraced a nice 60s feel in places, Country, Reggae, Swing Jazz, and some Latin American sounds that would turn up a lot more in her music as she progressed in her career. There's humour as well throughout the record. Most of the songs on it are written or co-written by Kirsty and there's two covers, Just One Look (originally a hit by The Hollies) and He Thinks I Still Care (which had been a Country Hit for George Jones) - both done as only Kirsty could ever think of doing them.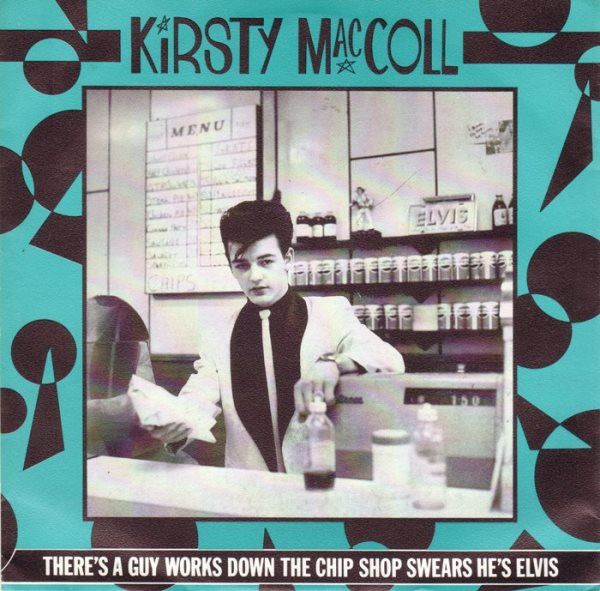 Irish Top 30 #9
A- Side: There's A Guy Works Down The Chip Shop Swears He's Elvis
Let The Day Begin...Let The Day Start!