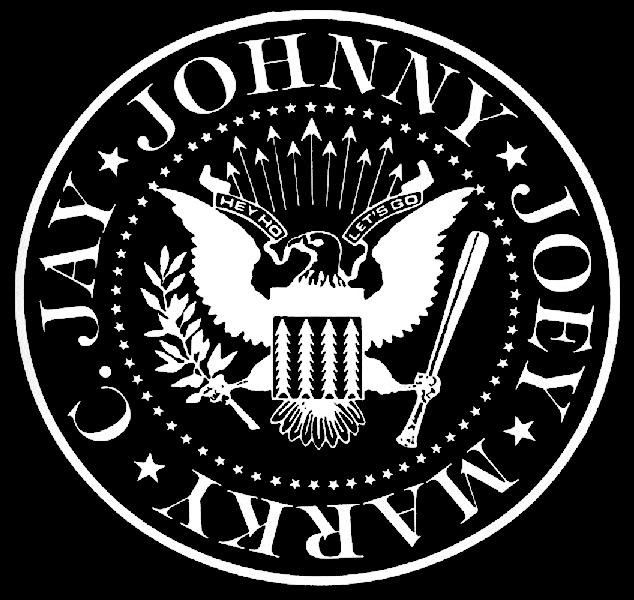 There's quite a number of links on here today so click on them to listen to more music from the Ramones.
After releasing their fourteenth studio album, ¡Adios Amigos! the band had announced that if it was unsuccessful then they would be disbanding. You got the feeling though that the decision was already decided upon with the choice of album title!
The band had already been together for 21 years (they formed in 1974) and in that time had only one album (End of the Century in 1980) break into the Top 50 in their homeland (it peaked at #44), the same album had been their top placed record in the UK reaching the dizzy heights of #14. 1983's Subterranean Jungle had been the last Ramones studio album to infiltrate the Top 100 (#83).
It's incredible to think that albums like Too Tough To Die - 1984 (US #171, UK #63), Animal Boy - 1986 (US #143, UK #38), Halfway To Sanity - 1987 (US #172, UK #78), Brain Drain - 1989 (US #122, UK #75), Mondo Bizzaro - 1987 (US #190, UK #87),and Acid Eaters - 1993 (US #179) - all had disappointing sales and yet their concerts were continually sold out wherever they played and in South America they were performing in front of crowds of thousands!
¡Adios Amigos!- Ramones
Released 18th July 1995
Radioactive Records
Produced by Daniel Rey
US Chart #148
Five of the tracks are co-written by Dee Dee and Daniel Rey (with a sixth credited to Dee Dee and John Carco - 'Born To Die In Berlin'). Joey contributed two songs, the brilliant 'Life's a Gas' and the even more amazing 'She Talks to Rainbows'. C.Jay had two songs ('Scattergun' and 'Got A Lot To Say') and Marky had co-written one for the final project ('Have a Nice Day').

According to the Ramones Wiki page the reason C.Jay got to sing on five (if you include the bonus track 'R.A.M.O.N.E.S.' - originally recorded by Motorhead) was:

"In a reverse decision, many tracks on this album are performed at a slower pace because of Joey's maturing, ailing vocals, a factor the band had acknowledged in previous years. In preceding tours the band had originally played faster with negative reviews of the shows being the result."

But maybe the real reason was that Joey was sick and it was far too much of a strain for him to be able to do a whole albums worth of material.

The album opens with a classic cover version of a Tom Waits song, 'I Don't Want To Grow Up'. It's a song that sets the tone for the rest of the album as they get back to singing perfect pop songs about dysfunction, love and broken hearts.

Dee Dee's songs were interesting. Three of them he had released before ('Makin' Monsters for My Friends' and 'It's Not For Me to Know' had appeared on his 'I Hate Freaks Like You' album and 'The Crusher' was taken from his rap project as Dee Dee King) and each one of them sounded like old school Ramones, none more so than 'Cretin Family'. C.Jay on vocals for all of these sounded more like Dee Dee than Dee Dee did! Shame that his own two songs ('Scattergun' and 'Got A Lot To Say') didn't really make their mark, the same goes for Marky's 'Have A Nice Day'. The other cover on the album is 'I Love You', originally recorded by The Heartbreakers (featuring Johnny Thunders) for their debut

'L.A.M.F.'

back in 1977. It doesn't quite have the sleaziness of The Heartbreakers version but it is passable. It's another of my favourite cover versions performed by the Ramones.
Marky, C.Jay, Joey and Johnny
Ramones would spend the following year on a farewell tour that culminated in their final show.
The band may have broken up twenty years ago but their music still finds a place on my own Soundtrack4Life.
Let The Day Begin...Let The Day Start!