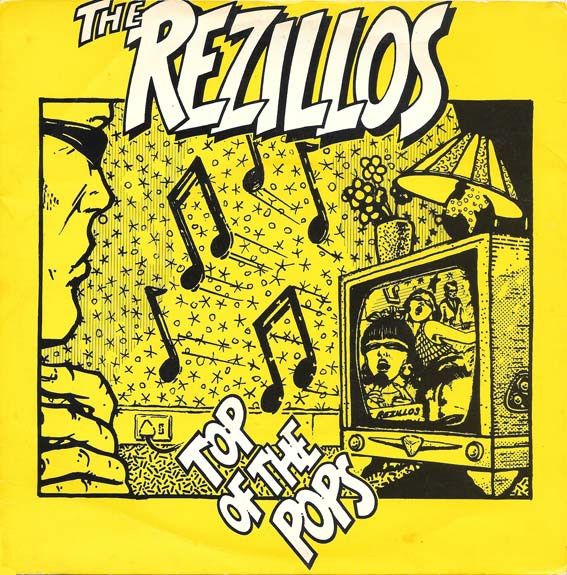 Produced by Rezillos and Alan Taylor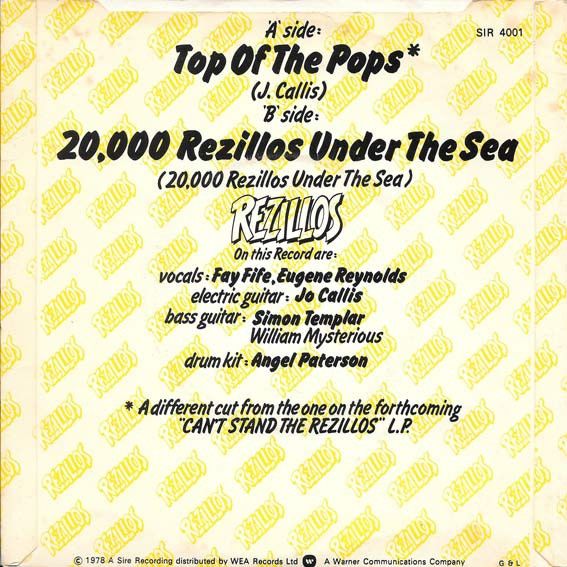 Live on Revolver 1978
Formed in 1976 in Edinburgh the Rezillos were very different to the many of the early UK Punk bands as their influences of 1950s Rock and Roll, 60s Pop, B-Movies and Science Fiction dominated everything from their stagewear to the songs they were performing.
Top of the Pops was their third single (the 2nd on Sire) and turned out to be a biggish hit for them. The band sadly didn't quite make it to the end of the year as they split up playing their final show together in December 1978.
What's quite ironic about the single is that they got to perform it on Top of the Pops despite the obvious digs at the show in the lyrics (see below).
Let me say a quick word about Punk and Top of the Pops. It was maybe not the best show musically speaking to appear on but I can remember the absolute joy of seeing the likes of Generation X and The Jam etc appearing on it. A lot of people point back to moments like Bowie performing Starman on Top of the Pops as a life altering, who knows what moments The Clash could have created had they gone on, but they stuck to their "principles" - though I've clearly forgotten exactly what the principles were with regard to Top of the Pops.
So as Isaid pretty much all the bands who had hit records went on: Generation X, The Damned, The Jam, Buzzcocks, Siouxsie and the Banshees to name but a few, abd they appeared on the show a number of times. Even the Sex Pistols were on the show (though their performance was actual a film). The Clash were one of the only bands who held out and never appeared (though there's that famous moment of Legs & Co dancing to Bankrobber!). They seemed to hold onto their non-compliance as if it was some kind of credibility badge which I thought was actually quite sad (I was glad that Mick Jones when he formed Big Audio Dynamite took a different stance!).
It still sounds like a great record all these years on I think and a worthy single to be part of the 45RPM Series.
Top of the Pops - Rezillos
On Top of the Pops!
(John Callis)
Hold Tight - Now we're on our own
Cue light - Now it's ready to roll
Tonight - How I've waited for aggravated for years
It's fun - Oh I just can't wait
Hold on - Do I look up to date
Your on - I'll do anything if that's the right thing to see

Does it matter what is shown
Just as long as everyone knows
What is selling what to buy
The stock market for your hi-fi

Take the money - Leave the box
Everybody's on Top Of The Pops

There's one - Born every day
Sing song - Then fade away
Ding dong - What's the future in the pop music industry
Alright - So you make the grade
Hold tight - To the buck you made
Just wait - You been rated for constipated peak viewing time

Does it matter what is shown
Just as long as everyone knows
What's in fashion what is seen
On the front of a television screen

Take the money - Leave the box
Everybody's on Top Of The Pops

Hold Tight - Now we're on our own
Cue light - Now it's ready to roll
Tonight - How I've waited for aggravated for years
It's fun - Oh I just can't wait
Hold on - Do I look up to date
Your on - I'll do anything if that's the right thing to see

Does it matter what is shown
Just as long as everyone knows
What is selling what to buy
The stock market for your hi-fi

Take the money - Leave the box
Everybody's on Top Of The Pops
Pay the money - Watch the box
Everybody's on Top Of The Pops
Everybody's on Top Of The Pops