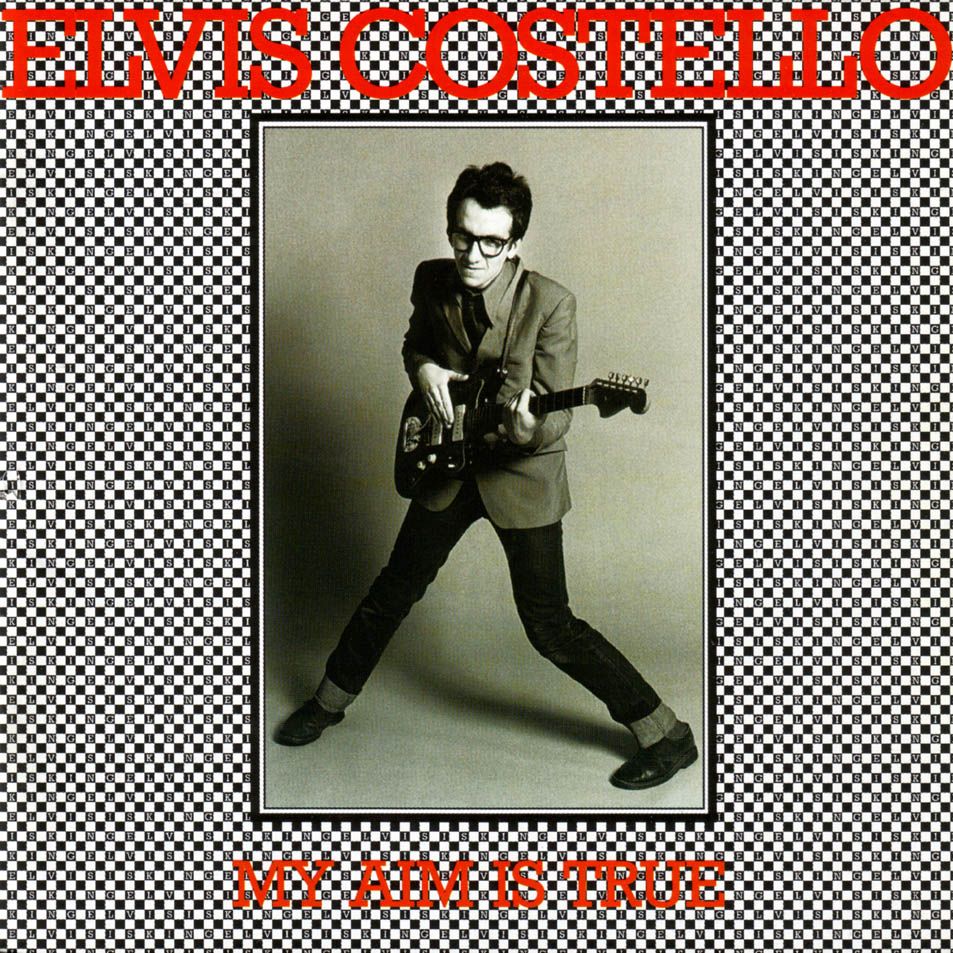 My Aim is True - Elvis Costello
Original Tracklist
Side One
"Welcome to the Working Week" – 1:22
"Miracle Man" – 3:31
"No Dancing" – 2:39
"Blame It on Cain" – 2:49
"Alison" – 2:54
"Sneaky Feelings" – 2:09

Side Two
"(The Angels Wanna Wear My) Red Shoes" – 2:47
"Less Than Zero" – 3:15
"Mystery Dance" – 1:38
"Pay It Back" – 2:33
"I'm Not Angry" – 2:57
"Waiting for the End of the World" – 3:22
"Watching the Detectives", released in the UK as a single in October 1977, was not on the original UK release of the album, but was added to the US release as the last track on Side One. On the version above it is placed at the end of the album.
Singles on My Aim is True
*****************************
Between 1974-1976 D.P. Costello (as he was known then) was living in London and had formed a band called Flip City (you can hear some of the early demos they recorded by Clicking Here). Some of the songs he was performing with them went through a process of re-writing and became the songs that he would perform as he came to make his debut album My Aim is True. The song Radio Soul which was recorded in 1975 at the Attic Studio at the Hope and Anchor Pub in Islington would later be transformed to become Radio Radio.
Not totally sure when Flip City packed it in but by 1976 Costello was looking for a possible solo deal. At the time when he was working as a Data Entry Clerk for the Midland Bank he plucked up the courage to pass on a demo tape of some of his songs to the newly formed Stiff Records and on the basis of that tape they signed him. It was Jake Rivera who had suggested dropping the D.P. and adding Elvis to his name.
Stiff Records had originally want Costello as a songwriter for Dave Edmunds but the Welsh rocker seemed to be unwilling to be involved and even a demo of some songs recorded with Nick Lowe producing didn't move him. I'm not 100% sure if those demos are known as The Pathway Demos that were laid down in January 1977 (though I think maybe not as I'm sure that the backing band was used on those recordings whereas these Pathway demos are just Costello on guitar). Whatever the case, whilst maybe not appealing to Edmunds the songs were very appealing to Rivera and those at Stiff Records.
The first suggestion had been to record a Split Debut with labelmate Wreckless Eric but Costello had plenty of songs to be able to fill an album on his own. He had called in sick at work in order to rehearse with the band Clover who would be recording with him. The album would be recorded over six four hour sessions costing about £1,000.
Personnel
Elvis Costello – vocals, guitar, piano and drumsticks on "Mystery Dance"
John McFee – lead guitar, pedal steel guitar, backing vocals
Sean Hopper – piano, organ, backing vocals
Johnny Ciambotti – bass, backing vocals
Mickey Shine – drums
Stan Shaw – organ on "Less Than Zero"
Nick Lowe – backing vocals, piano, drumsticks and bass on "Mystery Dance"
A quick word should maybe said about Clover, who were the backing band on the album (this was before the formation of The Attractions). The band were a Country Rock outfit from California and had been on the go since 1967. By the time they had come to work with Costello they had recorded and released four albums and a bucket load of singles (you can listen to their 1976 album Unavailable by Clicking Here). They supported Thin Lizzy on tour during the 1970s. They disbanded in 1978 and returned to the USA. Sean Hopper and Huey Lewis were instrumental in forming Huey Lewis and the News. McFee joined Southern Pacific and then the Doobie Brothers. Johnny Ciambotti had played on sessions with Lucinda Williams, John Prine and Carlene Carter before becoming a Doctor serving as a Chiropractor in Toluca Lake, Calfornia (he passed away in 2010).
One last thing regarding Clover. In November 2007 Costello reunited with members of Clover to perform some songs from My Aim is True (you can watch some of it by Clicking Here). This was the first and only time to date that the original ensemble who had recorded them got to play them live together. This is absolutely fascinating to watch so please take the time to do so, you won't be disappointed.
Costello had remained at his job with the release of the first two singles and then quit his job becoming a professional musician. Stiff Records matched his office wages and gave him and advance of £150, an amp and a tape recorder. Within three weeks of the release of the album he was on the front pages of the music press! He described this situation as being "an overnight success after seven years".

It's a great debut album loaded with some tasty tunes, magnificent Cover Art designed by Barney Bubbles that cheekily declared "Elvis is King" all over the black and white checks and the picture is so iconic. He looks anything but a rocker, more a Science Teacher pretending to be a Pop star in front of his bedroom mirror. The old maxim of don't judge a book by looking at its cover rings true because it was the songs that blew everything up. With the crazy rocking tunes like album opener Welcome to the Working Week to the sensitive Alison, you just knew that Costello was bound for stardom.
The release of the single (The Angels Wanna Wear My) Red Shoes somehow or another got him on Top of the Pops, this was most unusal as the single did not actually chart. He performed with his Musician's Union Card in his top pocket just incase someone asked him if he should actually be on the show!
With the release of Watching the Detectives single Elvis Costello would become a household name and since My Aim is True he has gone on to release another 29 studio albums (11 of them Top 10 in the UK), 6 live albums, and 62 singles (37 of which have charted in the UK). There at least 16 official Compilations of the music of Elvis Costello.
Let The Day Begin...Let The Day Start!