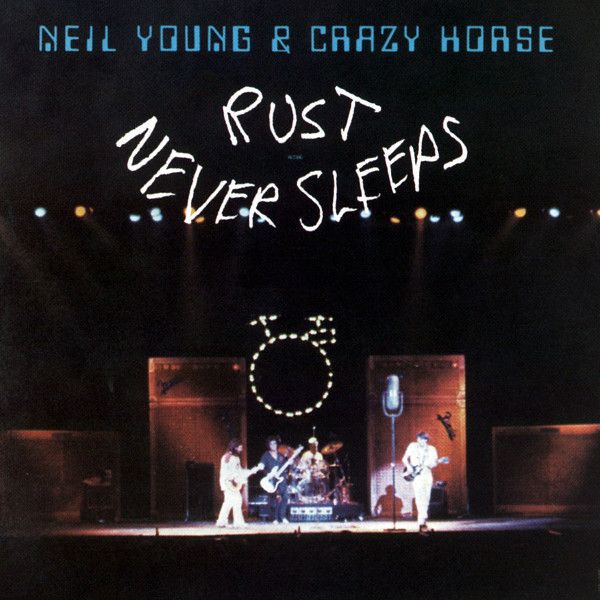 Rust Never Sleeps - Neil Young and Crazy Horse
Produced by Neil Young, David Briggs and Tim Mulligan
UK Chart #13

We seem to have been flirting around with the whole New Wave/Punk scene the passed few days with The Motors (1977), The Soft Boys (1980), Gang of Four (1979), The Real Kids (1977), Suburban Studs (1978) and today we are moving away from that towards a fantastic rock album from 1979 by Neil Young and Crazy Horse.
I don't intend to say too much about the album because the quality of the music on it pretty muchs speaks for itself. But I did want to say a couple of things regarding Neil Young.
I am by no means a great authority on the music of Neil Young, I have to confess that I am not a lover of everything that he has released (and I've heard pretty much all the albums), though there are a number of albums of his that I have gone out of my way to obtain because I do think they are pretty classy records.
Rust Never Sleeps and its companion live album Live Rust are two of my favourites of his. Rust is an album of two phases - acoustic and electric - and it's hard to pick out a standout song because they are all very good but I'll try.
On the acoustic side Pocohantas - originally recorded for the album Chrome Dreams (which went unreleased but I do have a copy of the bootleg of it). It's a bizzare story of an Indian Massacre by European Settlers that morphs into the modern world with a meeting between Pocohantas and Indian Rights Advisor Marlon Brando!
On the electric side I was tempted to say Powderfinger but I'll go with Hey Hey, My My, (Into the Black). The song that closes the album is also the album opener on the acoustic side. Word has it that it was inspired by Devo, the rise of Punk and thoughts regarding his own irrelevance in the world. I like the chaos of the electric version a lot and there's almost an urgency or a panic to it that seems lacking in the acoustic version.
It's a song that seems to have made an impact in many different ways down through the years and has given rise to a lot of discussion as to exactly what Young was trying to communicate.
Hey Hey, My My's most memorable impact on modern rock comes from the line "It's better to burn out than to fade away" (actually only spoken in full in the acoustic My My, Hey Hey and the Human Highway film recording). Kurt Cobain's suicide note ended with the same line, shaking Young and inadvertently cementing his place as the so-called "Godfather of Grunge".

Ex-Beatle John Lennon commented on the message of the song in a 1980 interview with David Sheff from Playboy:
Sheff: You disagree with Neil Young's lyric in Rust Never Sleeps: "It's better to burn out than to fade away..."

Lennon: I hate it. It's better to fade away like an old soldier than to burn out. If he was talking about burning out like Sid Vicious, forget it. I don't appreciate the worship of dead Sid Vicious or of dead James Dean or dead John Wayne. It's the same thing. Making Sid Vicious a hero, Jim Morrison—it's garbage to me. I worship the people who survive—Gloria Swanson, Greta Garbo. They're saying John Wayne conquered cancer—he whipped it like a man. You know, I'm sorry that he died and all that—I'm sorry for his family—but he didn't whip cancer. It whipped him. I don't want Sean worshiping John Wayne or Johnny Rotten or Sid Vicious. What do they teach you? Nothing. Death. Sid Vicious died for what? So that we might rock? I mean, it's garbage you know. If Neil Young admires that sentiment so much, why doesn't he do it? Because he sure as hell faded away and came back many times, like all of us. No, thank you. I'll take the living and the healthy.

Young would reply two years later when asked to respond to Lennon's comments:

"The rock'n'roll spirit is not survival. Of course the people who play rock'n'roll should survive. But the essence of the rock'n'roll spirit to me, is that it's better to burn out really bright than to sort of decay off into infinity. Even though if you look at it in a mature way, you'll think, well, yes ... you should decay off into infinity, and keep going along. Rock'n'roll doesn't look that far ahead. Rock'n'roll is right now. What's happening right this second. Is it bright? Or is it dim because it's waiting for tomorrow—that's what people want to know. And that's why I say that."
Let The Day Begin...Let The Day Start!