Just Roll The Tape: April 26, 1968 - Stephen Stills
Produced by Stephen Stills
Released 10th July 2007
I have to confess that it was actually only about 25 years ago that I really sat down and began to listen to the music of Stephen Stills. I had heard his music before of course, a few solo tracks here and there, the work he had done with Crosby, Stills & Nash (and with Neil Young) and Buffalo Springfield but I had never with any great purpose sat down and listened to a whole record all the way through because I probably assumed for someone like me, who loved fast guitar rock and roll, it wouldn't suit my tastes at all.
This moment of change though came when I was at a work colleague's flat one night in the West End of Glasgow. Now, Neil had some interesting tastes in music, very diverse and a lot of it was due to the fact that he was a drummer and he loved listening to the drumming styles of many different stickmen. He was in an up and coming band called Glass Onion, who actually were a pretty tidy bunch of lads and would actually find fame and fortune when they changed their name and became Travis. But that's not what I wanted to really talk about at all. Neil was very instrumental in getting me to sit and listen to Stephen Stills as he played the debut album Stephen Stills from 1970, you know that funky little album with Stills sitting playing guitar in the snow seated next to a toy Giraffe, as you do!
One of the reasons he had got it was that Ringo Starr featured on the album playing drums on two tracks (To A Flame and We Are Not Helpless) and Jimi Hendrix plays guitar on Old Times Good Times. Stephen Stills had dedicated the album to Jimi Hendrix who had passed away a month before the release of the album.
So, that's how I came to then begin picking up copies of Stephen Stills albums because I was quite fascinated in him a writer and he always seemed to have some interesting musicians working on his records.
So to this album, Just Roll The Tape: April 26, 1968. The sticker on the sleeve gives a wee bit of background on the making of it. But the time of the recording is actually questionable.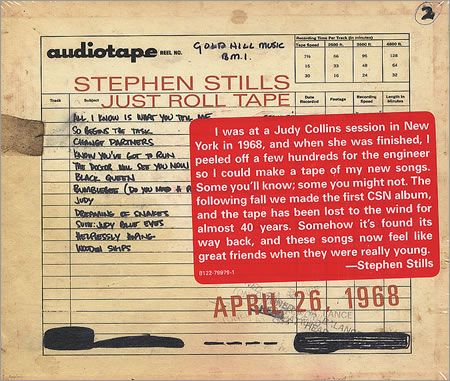 (This section I've taken from Wikipedia and as far as I'm aware this is the truth of what happened)
Stills left the tapes in the studio and eventually considered them lost.

When the studio was about to close in 1978, musician Joe Colasurdo, who was rehearsing there, was told by the owner that he could take away any tapes he wanted to before they cleared the place out. After seeing Stills' names on several of the boxes, Colasurdo kept them safe until he could find a reel-to-reel machine to play them on. Colasurdo began attempting to get the masters safely back into Stills's hands, an undertaking that took 25 years. In 2003, he was connected to Graham Nash after happening to meet a close friend of his named Dan Curland, who owns the Mystic Disc Record Store. Nash received the tapes, passed them on to Stills, encouraging him to release them.

Stills is the only musician on the album. He sings all the songs and plays acoustic guitar and dobro. "Treetop Flyer" is not from the 1968 sessions.

Note that the April 26, 1968 date cited in the album's title is not correct, as Stills was performing at the Arizona State Fairgrounds in Phoenix, AZ on that date as a member of Buffalo Springfield.
It's highly probable that the New York session by Judy Collins that Stills referred to was actually sometime in 1967 as Collins was recording her album Wildflowers there at the time. That album was released in October 1967 so it must have been during those sessions that Stephen Stills recorded this tape. Quite why it ended up with a date a year or so later stamped on it I guess we will never know!
The Album finally got an Official Release in 2007.
Some of these "new" songs that Stephen Stills recorded that day (whatever day it really was) were not all complete songs, so were just snippets of a song in the works and from the tracklist below you can see where they ended up. I'll put links to the recorded versions where available so you can hear how they got fleshed out.

01. "All I Know is What You Tell Me" (Stephen Stills) – 1:41
02. "So Begins the Task" (Stills) – 2:26
Later recorded for Manassas
03. "Change Partners" (Stills) – 3:14
Later recorded for Stephen Stills 2
04. "Know You Got To Run" (Stills) – 3:12
Later recorded (and much rearranged) for Stephen Stills 2
Also forms the first part of "Everybody I Love You" on Déjà Vu
05. "The Doctor Will See You Now" (Stills) – 2:38
06. "Black Queen" (Stills) – 3:06
Later recorded for Stephen Stills
07. "Bumblebee (Do You Need A Place to Hide?)" (Stills) – 1:54
Later recorded as "The Love Gangster" on Manassas
08. "Judy" (Stills) – 2:02
09. "Dreaming of Snakes" (Stills) – 1:45
10. "Suite: Judy Blue Eyes" (Stills) – 6:33
Later recorded for Crosby, Stills & Nash
11. "Helplessly Hoping" (Stills) – 2:11
Later recorded for Crosby, Stills & Nash
12. "Wooden Ships" (Stills, David Crosby, Paul Kantner) – 2:26
Later recorded for Crosby, Stills & Nash
13. "Treetop Flyer" (Stills) – 7:04
Later recorded for Stills Alone

Let The Day Begin...Let The Day Start!