The Ballroom Blitz & More Sweet Hits - Sweet
01. The Ballroom Blitz
02. Fox On The Run
03. Wig Wam Bam
04. Little Willy
05. Co-Co
06. Alexander Graham Bell
07. Funny Funny
08. The Sixteens
09. Lies In Your Eyes
10. Poppa Joe
11. Blockbuster
12. Hell Raiser
13. Teenage Rampage
14. Action
15. Peppermint Twist
16. Stairway To The Stars
17. Jeanie
18. Chop Chop
19. Spotlight
20. Love Is Like Oxygen
*************************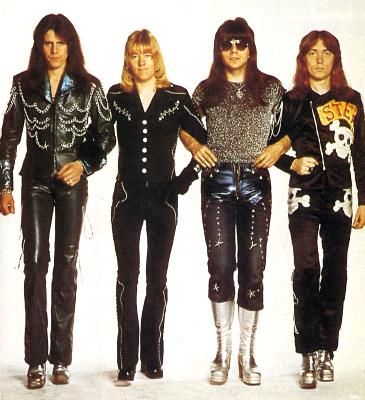 Mick Tucker - Drums and Backing Vocals, Brian Connolly - Lead Vocals, Andy Scott - Guitars, Backing Vocals, Keyboards and Synthesisers, and Steve Priest - Bass and Backing Vocals
On this day in musical history The Sweet (as they were known up until the end of 1973) had their American and Canadian Debut released on Bell Records entitled The Sweet. In essence it was just a compilation of some singles and B-sides and a couple of other tracks thrown in for good measure. It peaked at #46 in Canada and #191 in the USA. The minimal chart success they had in both Canada and the US had come from Little Willy (#1 Canada and #3 US) and Blockbuster (#30 Canada, #73 US).
I was going to put together a playlist of the album but decided instead to provide another Compilation of music from Sweet, this time a 1992 album that was released in Australia that reached #19 in their charts. The reason for this particular choice was I was having a listen to it last night (I have no idea where I acquired the album from - maybe a charity shop) and I liked the great mix of songs that were on it.
Many of these songs were my favourites when I was a kid. Next to Slade, Sweet were my second favourite band. What was really amazing about Sweet though was that pretty much all their hit singles were penned by Nicky Chinn and Mike Chapman whilst most of the B-Sides were written by the band and they were very different to the Pop tunes they were having hits with, more rock and even heavy rock at times (especially from 1974 onwards)! They were also known not to play their hit singles in concert, resorting more to B-Sides and Album Tracks! This didn't always go down well with the fans!
These days though with the two versions of Sweet that are going around some of these classic songs can be heard. If you go on their Wikipedia page you can read about all of that!
I posted back in March this year about stumbling across their New York Connection album from 2012 that I did even know existed before. A really impressive album from the Andy Scott line-up of the band.
Let The Day Begin...Let The Day Start!