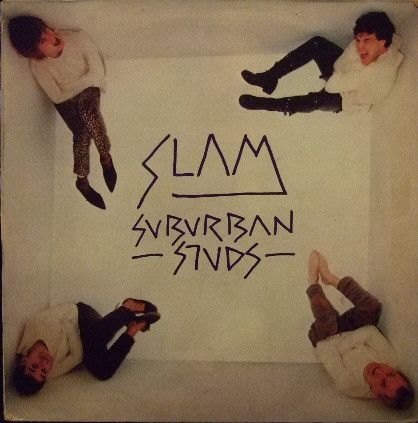 Released 1978
A1 Suburban Studs
A2 Disatisfied
A3 Rumble
A4 Resistor
A5 I Hate School
A6 My Generation
A7 Traffic Jam
A8 Revenge (not listed on Album Sleeve)
A9 Questions
Side Two


B1 Necro
B2 Razor Blades
B3 Two Victims
B4 Young Power
B5 Panda Patrol
B6 Bondage
B7 Throbbing Lust
B8 No Faith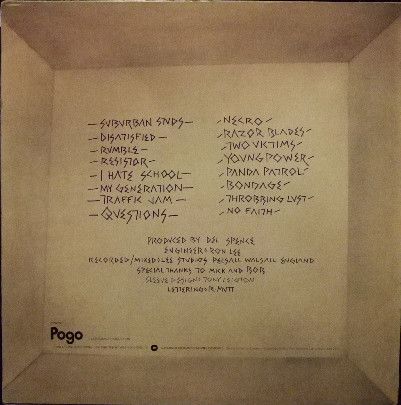 Suburban Studs
Eddy Zipps - vocals, guitar
Keith Owen - guitar
Paul Morton - bass
Steve Pool - drums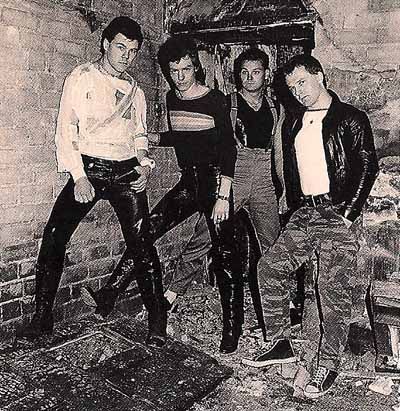 (Suburban Studs 1978)
Birmingham based Suburban Studs formed in 1976 and played their first London Gig on the 31st August at 100 Club supporting the Sex Pistols and The Clash. Apparently they weren't too good! They also headlined at Barbarellas with The Clash as support in October 1976.
They somehow managed to get a deal with Pogo Records which was set up by WEA Records as an Indie Label. WEA thought that no one would buy Punk Rock Records on their label (funny that as a couple of years later the Angelic Upstarts managed to sell a few!).
When the band formed they were a five piece that included Steve Harrington (Steve Heart or Steve Neon Heart) on Saxophone but not long after their first recording for Pogo they got rid of him as the sax was deemed "not punk enough" (mmm...I wonder what X-Ray Spex would have to say about that!). Harrington went on to form Neon Hearts who released a cracking single Venus Eccentric / Regulations in 1977.
The first Suburban Studs single Questions / No Faith was released in June 1977 and the first 500 copies contained the Sax Version of Questions whilst the remaining singles did not and also featured a Picture Cover whereas the first 500 didn't!
Possibly due to their being linked with WEA they were one of the bands that featured on the Hope and Anchor - Front Line Festival double album (released in 1978) with a storming version of I Hate School.
I Hate School / Young Power was released as the 2nd single in March 1978 and the album followed. That is basically the whole of their output as the band broke up later in 1978! Unlike some other Punk bands they had managed to release an album, two singles and also got a

John Peel Session

(No Faith for some reason is missing from the link).
Poor reviews, poor sales and a lack of real support from the record label (who I assume thought that anything that was Punk would sell bucket loads) obviously led to the band's demise. Also maybe getting support slots with the likes of AC/DC and Judas Priest didn't help either!
I was listening to the album afresh last night and it's a bit "Punk by Numbers" though there were some interesting tracks like Suburban Stud, Disatisfied, Revenge and of course the singles Questions, No Faith and I Hate School, which were actually their best tracks. Their cover of The Who's My Generation is woeful and the less said about it the better!
It was a reminder to me that not everything was great that came out of the Punk Scene and that some bands maybe had one, two or even three great songs and maybe in releasing them it was better that they stopped whilst they were ahead! The Killjoys (also from Birmingham) only ever released one single (and it's a real classic) as did The Models (from Harrow).

Depsite a relatively poor album Suburban Studs make it onto this blog on the basis of their two excellent singles and it is them that they are fondly remembered for.
Eddy Zipps by the way went on to become a teacher, so much for I Hate School eh?
They did reform for a short while in 1996 where they played at The Holiday in the Sun event in Blackpool (which was released on CD and DVD). They broke up again soon after the event.
Let The Day Begin...Let The Day Start!