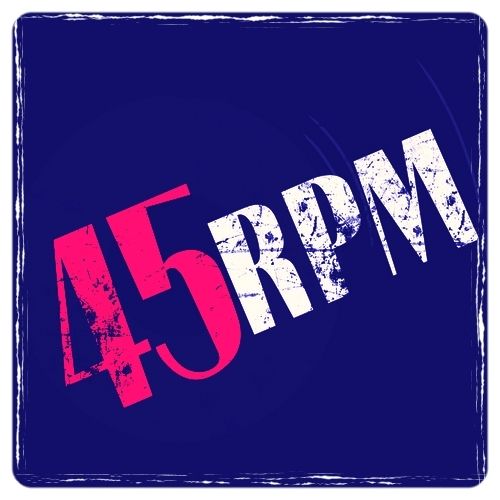 One of the bands who don't always seem to get a lot of credit during the early days of Punk are Subway Sect. They were there right at the start when Malcom McLaren suggested Vic Godard and his friends form a band to appear on the bill of the
100 Club

Punk Festival in September of 1976. Despite their lack of experience they played and then went on tour with The Clash on the White Riot Tour (there's a poor film from Sussex University on 25/05/77 of the band playing Rock 'n' Roll Even on the tour).
The debut single Nobodys Scared was released in March 1978 but they had recorded the song (and the B-Side Dontsplitit) for a John Peel Session in October 1977 (that session is at the bottom of the page). Braik Records (actually this Subway Sect single was the only record released on the label) was owned by Bernie Rhodes who as well as managing The Clash at the time was also managing Subway Sect.
Bernie Rhodes oversaw the recording of the debut album from Subway Sect but for reasons unknown (to this day I still believe) prior to it's possible release Bernie sacked all the band except Vic Godard! The album didn't see the light of day! A second single was taken from the sessions for the album and I'll speak about that in the next 45RPM.
I am of the opinion, and have been for many years, that this single should be regarded as one of The Best and spoken of in the same breath and heaped with a similar amount of praise as one does for Complete Control by The Clash, Anarchy in the UK by the Pistols, New Rose by The Damned etc
Nobodys Scared / Dontsplitit
Produced by George Alexander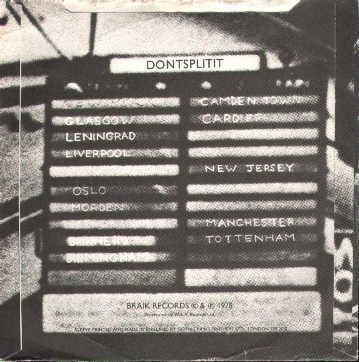 Recorded 17th October 1977
Broadcast 24th October 1977
04 Nobodys Scared