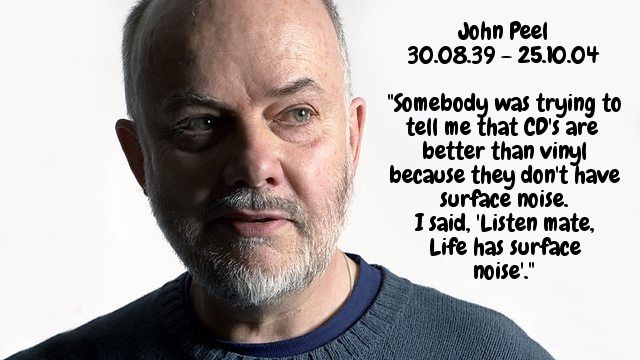 I hadn't forgot that today is John Peel Day. To honour the day I thought I'd stick together a playlist of some of my favourite Peel Sessions spread over the course of many years and involving a number of very different bands and styles.
I've chosen 60 (though a couple of the vids include Complete Sessions - The Smiths that kicks it off, Joy Division, Jesus and Mary Chain, Napalm Death, and there's also a live session with The White Stripes which I recall was pretty exceptional). Some of the other artists included are for example: The Fall, Cocteau Twins, The Damned, Prince Far I and Creation Rebel, Culture, Syd Barrett, Pulp, XTC and Fugazi, The Models, The Bodysnatchers, Billy Bragg, The Men They Couldn't Hang, Steel Pulse, The Wedding Present and Million Dead to name but a few.
I also felt that this should be posted as it got dark because Peel was on the radio at night mostly and it's when many of these Sessions were first heard. Not that you can only listen to them in the dark because you may not have time to do that now. Whenever you get the chance to listen I hope you enjoy them. On any number of Peel Sessions there would be songs that maybe were later released as singles or album tracks etc and many of the bands got their first airplay (or even their only airplay) on Peel's show on BBC Radio One as a result of a session or a single.