Fool Around - Rachel Sweet
Released 6th October 1978
US Chart #97
Fool Around (Remastered Version with 5 Bonus Tracks)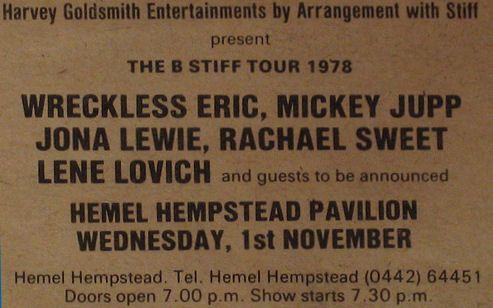 Rachel's backing band on the Be Stiff Tour in 1978 (other artists on the tour were Micky Jupp, Lene Lovich, Wreckless Eric and Jona Lewie) were The Records but here on the album are contributions from Brinsley Schwarz, Lene Lovich, and a couple of folk from the Blockheads.
There's actually some smashing photos from the Be Stiff Tour 1978 that are worth checking out (Click Here). I'd love to know what happened to the Stiff Train Carriage.
Rachel was 16 years old when the album was released and had dropped out of school to pursue a musical career.
These days she's more well known for her work in Televison having been a writer and Executive Producer on comedy Dharma and Gregg and also on Hot in Cleveland. She's starred in a couple of movies as well and was the voice of Barbie in the kids tv Animated Series. She's been working in TV Production since the 1990's.
After the release of this debut album she never really had any success apart from a few hit singles here and there.
Original Tracklist
1. Just My Style
2. B-A-B-Y
3. Who Does Lisa Like?
4. Wildwood Saloon
5. Stay Awhile
6. Suspended Animation
7. Its So Different Here
8. Cuckoo Clock
9. Pin A Medal On Mary
10. Girl With A Synthesizer
11. Stranger In The House
US Version included I Go To Pieces
B-A-B-Y. Promo Video
UK Chart #35