Forty Years ago Flamin' Groovies released their Fourth Studio Album 'Shake Some Action', actually it was their first album for five years and they had returned to action without their lead vocalist Roy Loney and also with a bit of different sound. The other founding member Cyril Jordan took up the reins of leadership for the band.
Shake Some Action was the very first song I ever heard of the Flamin' Groovies and on deeper investigation (we didn't have Google or even the Internet back then in 1977!) I was a bit shocked to discover that this band had begun life in 1965, and yet here they were being linked to the Punk/New Wave movement of 1976! Musically they were nothing like what was coming out of New York with the likes of Ramones, Television, Patti Smith, Blondie, Talking Heads and The Heartbreakers etc
The first place I heard them was on a 1977 album called New Wave put out by Vertigo Records. It's actually a really brilliant compilation that includes, Ramones, Dead Boys, Patti Smith, New York Dolls, Runaways, Skyhooks, Richard Hell and the Voidoids, Little Bob Story, Boomtown Rats, Talking Heads, The Damned and Flamin' Groovies. Maybe there's loads of folks out there who heard 'Shake Some Action' for the very first time in the same place.
The first music they released was the Self-released 10" EP Sneakers in 1968 on the Snazz Recording label, only 2,000 of it were pressed. The San Franciso band were a Garage meets Psychedelic band that evolved into Rock 'n' Roll, Blues Rock etc
They had released their debut album Supersnazz in 1969 on Epic, and followed that with two albums on Karma Sutra label, Flamingo (1970) and Teenage Head (1971) before disbanding.
The return of the Groovies saw them come to London to play The Roundhouse at Chalk Farm, London for a very special show on 4th July 1976. Also on the bill were Ramones and The Stranglers. The retro, Beatlely sound of the Groovies would have been a bit of a shocker especially after hearing the opening bands! They were like a band who were stuck in a bit of a time warp because the tide was turning and they no longer seemed relevant.
I've read in many places that they are deemed as one of the forerunners of Punk and also that they are considered to be one of the major influences upon the whole Power Pop scene. They reminded me more of some of the bands making it in and around the Pub Rock scene like Dr Feelgood for instance (especially on the Teenage Head album).
I said above they were a band who seemed to have lost their relevance but in one way or another they have never lost their place because forty years on we are still talking about them and the fact that even though they didn't seem to fit they did actually make some brilliant records. To prove this point I suggest a listening of their compilation Groovies Greatest Grooves from 1989 on Sire Records.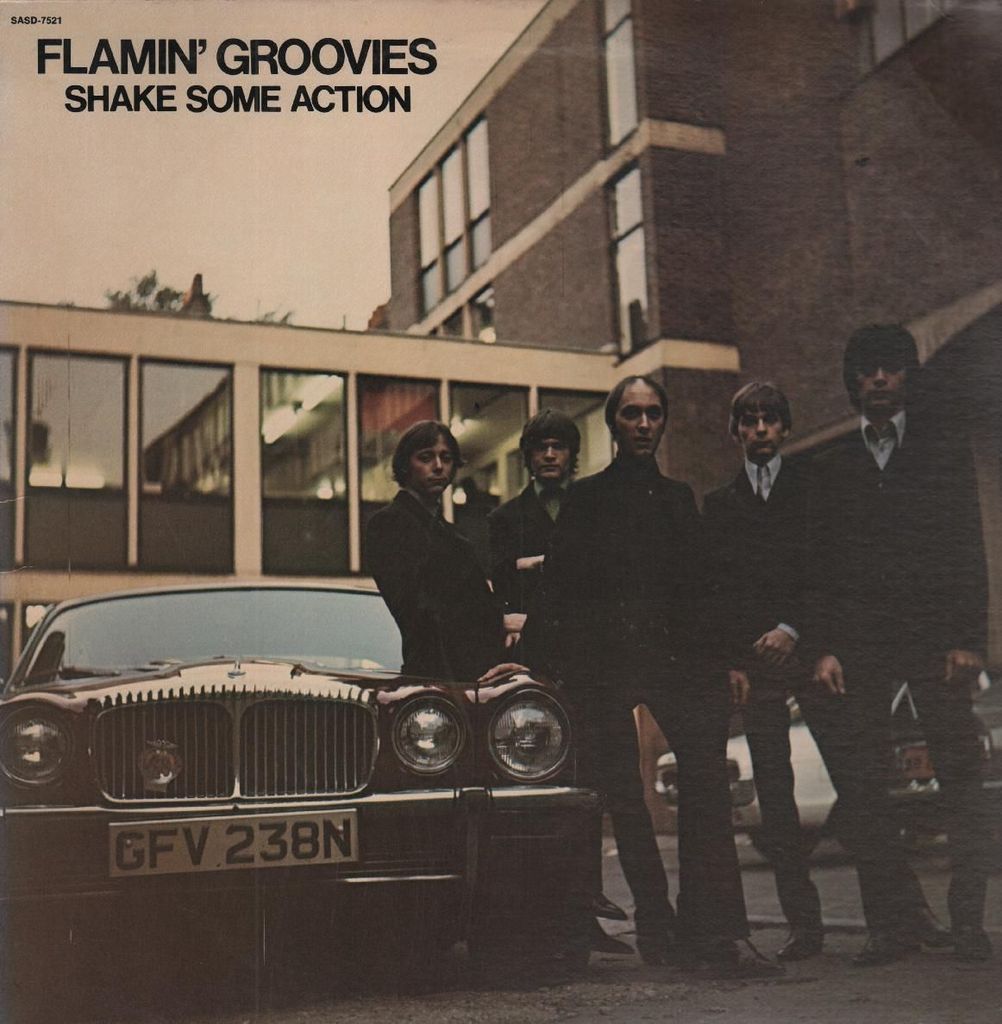 Shake Some Action - Flamin' Groovies
Produced by Greg Shaw and Dave Edmunds
US Chart #142
Let The Day Begin...Let The Day Start!