Sham 69 are one of those bands that are a bit like marmite, you either loved them or you hated them with a passion.
When they released their debut on Step Forward Records (I Don't Wanna / Ulster / Red London SF4) in 1977 I was quite impressed with them. And their Session for John Peel was pretty good as well. It included what would become their 2nd single: Borstal Breakout, Hey Little Rich Boy, They Don't Understand, Rip Off and a reworked version of What 'ave We Got?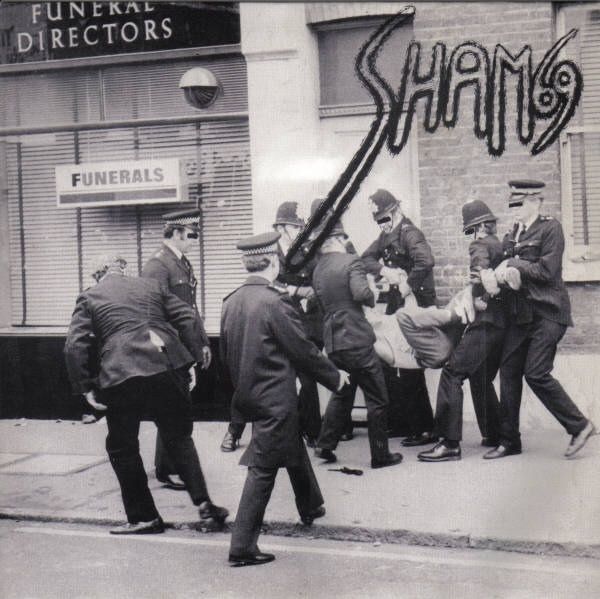 When the Debut Album was released I was quite taken with it having both a Live Side and a Studio Side to enjoy. Their songs were quite simplistic dealing with stuff like getting ripped off whilst out shopping, poverty, crime, the police, and the mundane life of trying to get a job.
Whilst it was safe listening to their records at home, going to a show was another matter altogether. I saw them a few times in 1978 and again in 1979 and the levels of violence seemed to increase every time. At their gigs I first stumbled on Skinheads, or should I say they stumbled on me? The first time I ended up with a good kicking by a bunch of numbnuts who seemed to think that Sham were their band and that just because I was a punk I was invading their space. This was not a one off because I know of plenty of others who also were on the wrong end of steel toe cap boot.
If the Skinheads were a problem, a far greater issue was manifesting itself at Sham 69 gigs, and it was Right Wing Extremism mixed with lethal violence - an expolosive cocktail indeed!
Jimmy Pursey tried time and time again to put an end to this but it merely stoked their fire even more and they unleashed their violence on anyone who wasn't a Skinhead with the ferocity of a pack of rabid dogs!
Many people questioned whether Sham were aiding in the promotion of the National Front, and that was strenuously denied by one and all in the Sham camp. To prove it Pursey even turned up at the Rock Against Racism show in Victoria Park joining The Clash on stage for White Riot. At another Rock Against Racism show at Brockwell Park, Herne Hill the National Front had threatened to storm the place if Pursey appeared, and whilst people thought he'd stay away to prevent any violence at the concert he turned up and from out of nowhere it seemed the right wing thugs appeared and were beating on everyone they could get their hands on.
A gig at the Harlesden Roxy was pretty much the same. It was the night after they appeared on Top of the Pops doing Angels with Dirty Faces and you could almost smell the fear of those who were not Skinheads! Violence was everywhere in the venue and the security could do nothing about it, busted up Punks were carried out of the place and given first aid, whilst others were carted off to hospital! The Skins even got on stage!
At their Rainbow show in 1979 it was almost impossible to avoid getting beaten up as there seemed to be more White Power Skinheads in that place than ever. So braving it on the Underground to go to Finsbury Park was almost like a suicide mission. The Skins were beating up any punks and stealing their tickets and if you did manage to avoid the beating out on the streets there was no guarantee that you would avoid it inside The Rainbow!
All of this reminds me of those words penned by Paul Weller of The Jam in his song Down At The Tube Station At Midnight:
"I first felt a fist, and then a kick
I could now smell their breath
They smelt of pubs and Wormwood Scrubs
And too many right wing meetings
My life swam around me
It took a look and drowned me in its own existence
The smell of brown leather
It blended in with the weather
It filled my eyes, ears, nose and mouth
It blocked all my senses
Couldn't see, hear, speak any longer"
Not all music conjures up good memories!
There was a BBC Documentary called Arena that spotlighted Sham 69 after they had released their 2nd album That's Life. In that you will see some of the violence that the atmosphere of fear that was present at their shows. Click Here to Watch.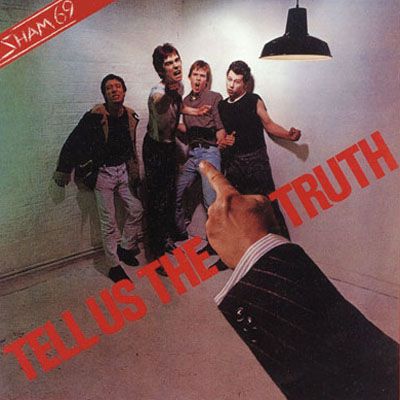 Tell Us The Truth - Sham 69
Released 18th February 1978
UK Chart #25
Track listing
All songs written by Jimmy Pursey and Dave Parsons

Live side
"We Got A Fight"
"Rip Off"
"Ulster"
"George Davis Is Innocent"
"They Don't Understand"
"Borstal Breakout"

Studio side
"Family Life"
"Hey Little Rich Boy"
"I'm A Man, I'm A Boy"
"What About the Lonely?"
"Tell Us The Truth"
"It's Never Too Late"
"Who's Generation!"



Personnel


Jimmy Pursey - vocals,
Dave Parsons - guitars
Dave Treganna - bass guitar
Mark "Dodie" Cain - drums